ZHENG WANLING GOES PUBLIC ON INSTAGRAM ACCOUNT AND GIVES US FOOD PORN
Just because she's been away, doesn't mean she's out of the game.
Since her reappearance on Instagram in mid-February, Zheng Wanling has changed her Instagram account settings from private to public, and we can now see what she has been 'gramming: food. The former SBC actress, who is in her 50s, has been serving up a load of food shots (though not the most Instagrammable ones) of the cuisine she's been digging into.
For the uninitiated, Wanling was a familiar face on local television during the 1980s but she quit showbiz after marrying a Panamanian diplomat in the late 1990s and moved out of Singapore. She recently popped up on Instagram when local veteran actresses Aileen Tan and Xiang Yun both posted photos of themselves with Wanling and her daughter Monique, celebrating the latter's 21st birthday.
Right now, Wanling has 568 followers, a far cry from her peers. However, it might just be a matter of time before her former fans find their way back to her. After all, an Instagram user left the following comment on her post: " Hi, chanced upon your Instagram [account]. Just want to say I enjoyed watching your acting and now I am really wowed by the food posts. Do you mind sharing your recipes too?"
AARON KWOK DIDN'T GET TO SAY GOODBYE TO MUM BEFORE HER DEATH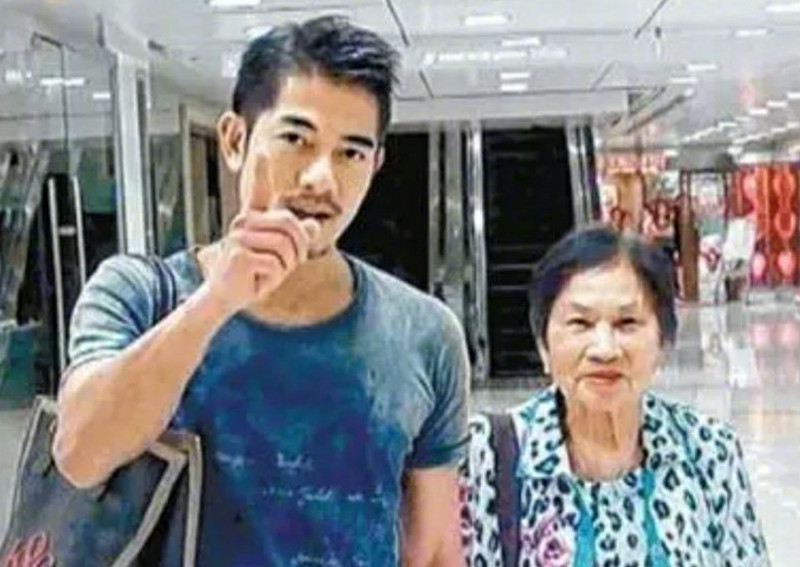 Aaron Kwok and his mother. PHOTO: Weibo
To many of us, the chance to say goodbye to our loved ones is a precious gift. Alas, Heavenly King Aaron Kwok wasn't able to experience it.
According to Hong Kong media, the 54-year-old singer was on a tour in America when his mother, who was in her 90s, died at home on Feb 7. The Hong Kong star, who is the youngest of five children, is known to be close to his mother, and has even attributed his success to her. It was reported that during his Macau concert in January, Aaron expressed concern over his mother's health and got all emotional as he said: "I wouldn't be who I am if it wasn't for her."
On Feb 25, Aaron's manager Leung May May confirmed the news that Aaron's mother passed away peacefully earlier this month and said that Aaron and his family are focused on making the funeral preparations. The manager also revealed that Aaron is aware of everyone's thoughts and condolences, and he is thankful for it.
The funeral is scheduled for Mar 4 and she will be buried at Tseung Kwan O Chinese Permanent Cemetery the next day.
IS HYUN BIN'S CHARACTER IN CRASH LANDING ON YOU BASED ON KIM JONG-UN?
South Korean actor Hyun Bin has people swooning over his caring, suave, and charismatic character on the hit drama series Crash Landing on You.
However, netizens recently uncovered pieces of trivia which fueled speculations that Hyun Bin's character Ri Jeong-hyuk might have been inspired by the North Korea leader Kim Jong-un. They pointed out that Jeong-hyuk studied in Switzerland, similar to Kim who was rumoured to have studied in Bern, the capital of Switzerland.
And just like Kim is the son of the late North Korean leader Kim Jong-il, Jeong-hyuk's father is a high-ranking chief in the military. In another coincidence, there is a scene in which Jeong-hyuk borrowed a government car and raced from Pyongyang to his home in the village, which netizens saw as a reference to Kim's rumoured love for sports cars.
While these are unsubstantiated claims, it hasn't stopped fans from feeling disillusioned as they regard Jeong-hyuk as the perfect boyfriend.
bryanlim@asiaone.com