A honeymoon's meant to be the sweetest time for a newlywed couple, but there's three in this picture.
On Dec 26 last year, Joshua Tan married his doctor sweetheart of five years, Zoen Tay, and the two planned for a trip to Japan as part of their honeymoon.
However, from a recent episode of Mediacorp's #JustSwipeLah, it seems their trip also had an unexpected guest — Noah Yap. 
And Noah, 29, did more than just 'gatecrash' the honeymoon — at some points, he made Zoen, 25, look like the 'third wheel'.
In one hilarious scene, the trio could be seen looking at the scenery from the top of an observatory tower in Japan, all smiles, when Noah and 32-year-old Joshua suddenly hold each other's hands behind Zoen's back.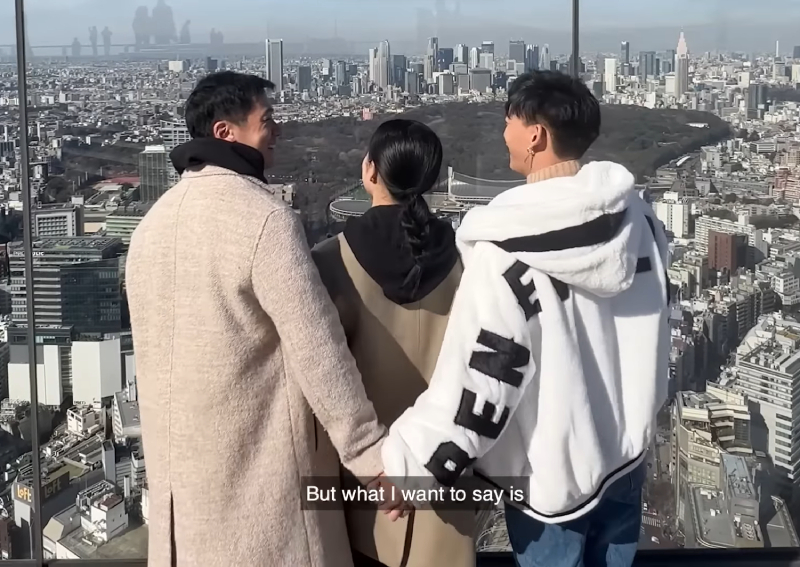 And while walking along a shopping street, Noah tried to put his arm around Joshua's shoulder, only to have Zoen — who's standing on the other side of Joshua — shove it away.
So Joshua and Noah wrapped their arms around each others' waists instead.
We're sure they are just hamming it up for the camera, but who knew the bromance between the two Ah Boys To Men stars would be so strong? 
In a separate interview, Noah explained the trio's strange predicament in this honeymoon.
"They are the ones who came to ask me [to join them]," he said. 
"Maybe they thought that it'd be a little awkward, so they would need another friend to 'break the ice' — so they were right to look for me!"
But Noah did so much more than break the ice.
"We thought that going to Japan would be different — but we never thought that it would be this different because there was a weird person travelling with us," Joshua said with a smile.
He deadpanned: "You must be prepared [when you go to the onsen], because I went together with that 'third wheel' (Noah), so I saw everything.
"So you have to choose who you want to go to the onsen with carefully."
Zoen quipped: "And for this honeymoon, it's you (Joshua) with him (Noah), and me alone in the onsen."
'They're already kissing'
But even with Noah around, the couple still found quick moments for themselves.
"Sometimes they're too sweet. I'm doing my own things and I suddenly turn around, only to see that they're already kissing," Noah said. 
"It's not that they have no 'alone time', it's me who couldn't get any time alone, okay?"
ALSO READ: 'I fought with her for 5 days': Joshua Tan lets wife choose most furniture in new home except 'ideal' toilet bowl
khooyihang@asiaone.com
No part of this article can be reproduced without permission from AsiaOne.