'I never thought this would happen to me': Sex tape of Taiwanese rapper Nana Liang leaked
PHOTO: Instagram/Nana Liang
PUBLISHED ON
April 19, 2023 11:02 AM
By
Khoo Yi-Hang
Another sex tape involving a female celebrity has been leaked, and Taiwanese rapper Nana Liang has seemingly implied that she's in it.
In an Instagram Story post yesterday (April 18), Nana said she's "very scared" and "really hurt".
The 31-year-old rapper wrote in a now-deleted post, according to Hong Kong media outlet HK01: "I never thought this would happen to me, but things happen. 
"I really wanted to escape from all of this and didn't intend to give any response — I'm really very scared.
"But I told myself that I need to bravely face this issue because there are people that I deeply love and people that I want to protect. I'm really hurt, and it's even worse for my boyfriend. 
"The video is something from many years ago, I don't know how it's spreading now. The only thing I can do is ask that people stop spreading it.
"That's all I can muster up to write for now. I will be taking legal measures as well, please don't spread it anymore."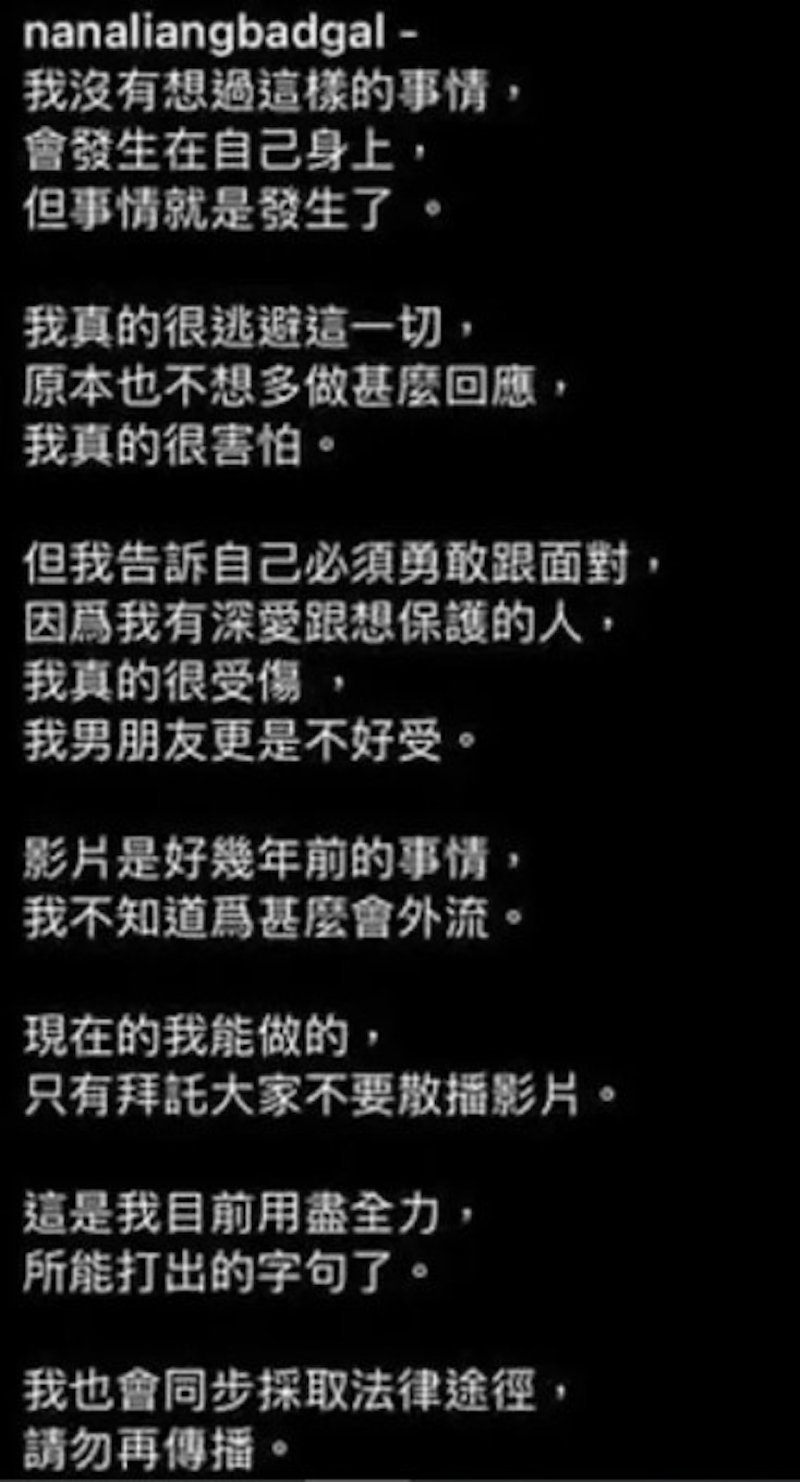 Taiwanese media reported that the man in the video is allegedly a wealthy, married man and that the video itself was shot around the Lunar New Year period this year, contradicting what Nana said on her post. 
Some netizens also suspected that Nana's old beau, Taiwanese actor Lee Hsin Chiao, also known as King Kong, is the man in the video.
Responding to these allegations, King Kong, 42, exasperatedly and repeatedly wrote in an Instagram Story this morning: "It's not me!"
He also posted an image of his middle finger and wrote: "Can't you just live out your life by yourself? Don't bring me into every situation!
"And I do not, do not, do not, do anything like this!"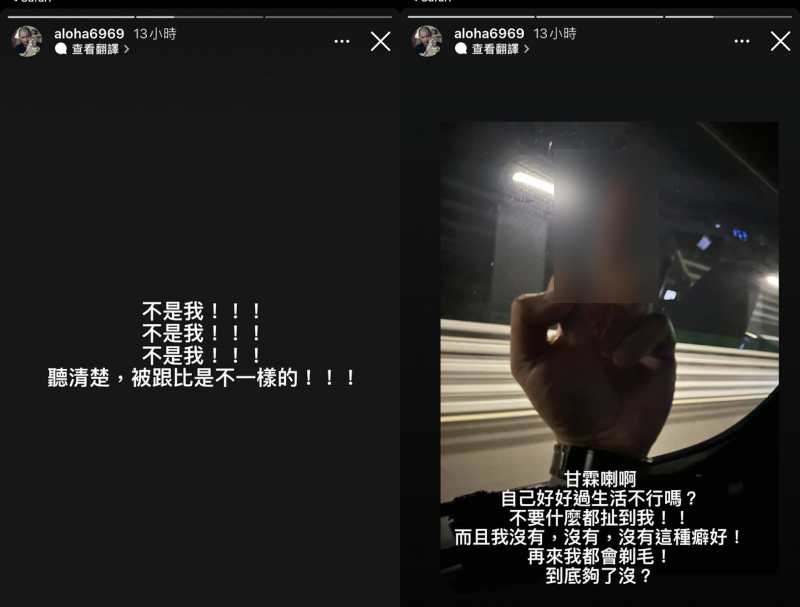 A troubled past
According to media reports, Nana previously revealed in a talk show that an ex-boyfriend had secretly video-taped their intercourse while she was drunk and unconscious. 
[[nid:624162]]
She only knew of the video's existence when a friend informed her about it. By then, she had already broken up with the man. 
The friend deleted the video from the man's computer, on her behalf. However, years later, Nana's girlfriend discovered the same video on the man's Cloud storage, and later helped her to delete it again. 
Nana also previously said in a Taiwan talk show that she ran away from home at age 14, but found herself homeless after a friend robbed her of money. 
She said that she was then sexually assaulted multiple times by men that she thought she could trust.
ALSO READ: Stephen Chow answers internet's questions on sex, his ex Jacqueline Law and longtime collaborator Ng Man-tat
khooyihang@asiaone.com