Chaos ensues when a mean girl meets her match, and singer-comedian Annette Lee has found it in actress-producer Michelle Chong.
In an Instagram Reel uploaded yesterday (Jan 9), Annette's 'influencer' persona Chantelle faces off against Michelle's 'sarong party girl' Summerella in a battle of backhanded compliments, which are really just thinly-veiled insults.
Playing two women who run into each other at the mall, the first "compliment" has Chantelle telling Summerella she looks so good… for her age.
"You're dressing much nicer now, I really love these funeral clothes and everything, it's so Addams Family," Summerella replied about Chantelle's black dress.
Chantelle retorted by telling her she really liked her "messy, frizzy lion's mane hair," which only Summerella could pull off.
Summerella delivered the coup de grace: "Actually, I love your hair too. This is, what, a Korean fringe? Really goes with your Korean pre-surgery eyes!"
Ouch.
The toxicity didn't just end with the video.
Michelle, 45, commented under the post, emulating Summerella's accent: "Mees you babz!! Wow your veedio is so funny I barely noticed the audio off-sync!"
"Wow tankew babe, so glad to know your eyesight and hearing is as sharp as your scriichy voice!" Annette, 30, responded in character.
The skit was a hit among fans and celebrities alike.
Singer Benjamin Kheng commented: "What a [beach emoji]" while director and online content creator Ming H wrote: "The fact that y'all did this in public."
A fan wrote that the skit was "the crossover we never knew we needed" while others mused that Chantelle should have run into Michelle's character from The Noose, Barbarella, instead.
While people were in stitches over the "Korean pre-surgery eyes" line, others commented that the Addams Family comparison wasn't an insult but a genuine compliment.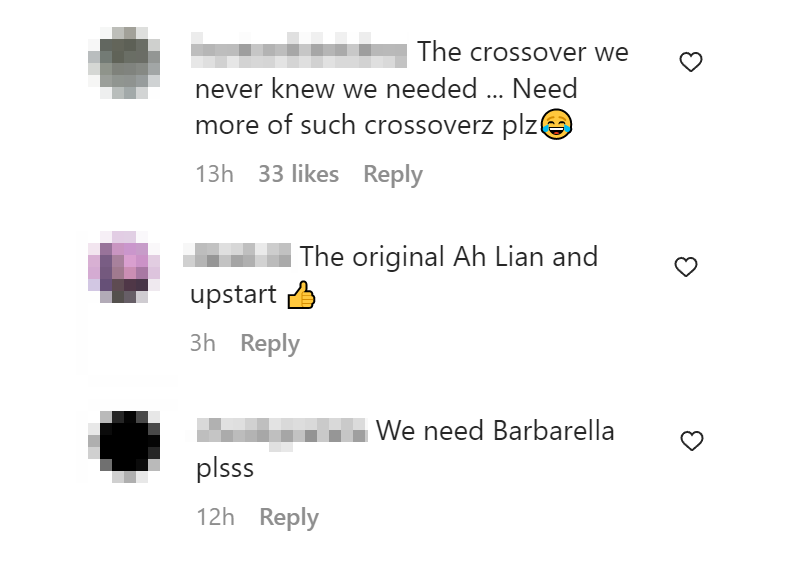 The skit was far from the first time Annette has collaborated with local celebrities.
Appearing as a guest on Rebecca Lim's show With Love, Becks last November, Annette — as Chantelle — poked fun at Rebecca's engagement with a skit trying to one-up each other about the size of their engagement rings.
https://www.tiktok.com/@annetteandafish/video/7166235337688222977
Skits aren't the only comedic form Annette uses either. A singer-songwriter by day, she released a music video for new song We Are… on Jan 4 with Benjamin, 32, about their "distinct Singaporean Chinese identity."
In it, they describe themselves as: "We need hanyu pinyin to read Chinese characters — that type of Chinese."
https://www.tiktok.com/@annetteandafish/video/7184746890683092226
ALSO READ: 'Scared die me', 'see what see': Annette Lee and Benjamin Kheng strike a chord with new song on being Singaporean Chinese
drimac@asiaone.com
No part of this article can be reproduced without permission from AsiaOne.