Privacy of BTS' RM violated: Railway employee steals details including address and mobile number
PUBLISHED ON
March 02, 2023 10:39 AM
By
Drima Chakraborty
How far would a fan go to get close to their favourite idol?
Too far it seems, as one fan of BTS' RM used their work connections to look up the idol's personal information a reported 18 times over three years since 2019.
In a report by South Korean media SBS News, a Korea Railroad Corporation (Korail) employee was caught to have accessed RM's train bookings after a coworker tipped the company off.
The employee reportedly told coworkers things like: "I checked RM's reservation details, and went to see him in person," and "I told my friend where he was sitting so they could get a nearby seat".
According to the report, the employee — who has since been suspended after an audit — was employed in Korail's IT department, which works on the company's reservation system.
From there, they not only accessed RM's booking details, but the phone number and address he had used while making train reservations as well.
Korail said in a statement: "We have confirmed that the employee accessed personal information without permission, but it has not been confirmed if they leaked the information outside the company."
"I inquired out of simple curiosity, and I am reflecting on my mistakes," the employee reportedly said.
BTS' music label BigHit Music said: "We will verify the details and take the necessary steps to protect our artist afterwards."
RM, whose real name is Kim Nam-joon, responded to the fiasco with a simple 'sweating' emoticon on Instagram Stories.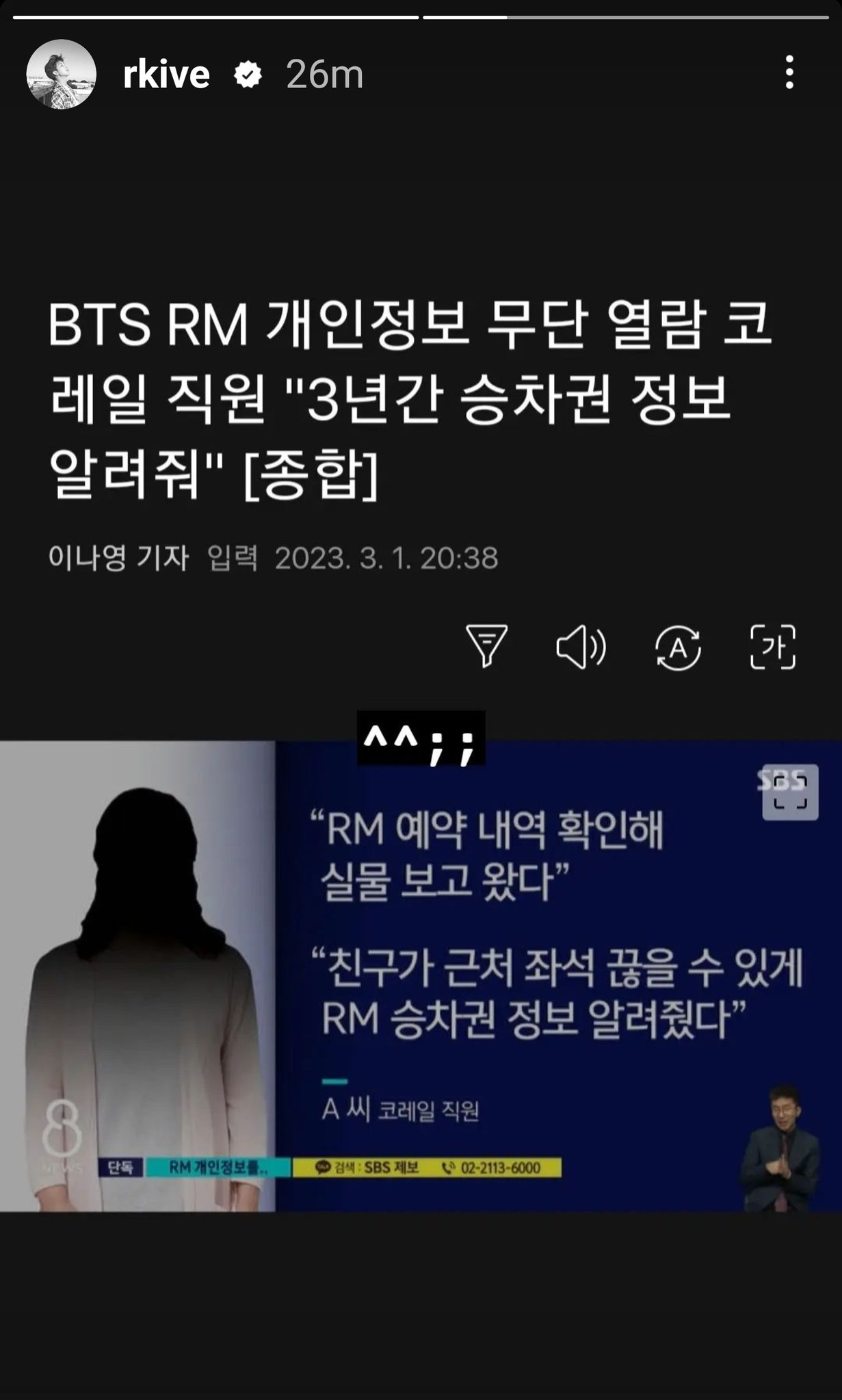 RM, 28, is known for being an avid art collector who often travels via train to galleries and exhibitions, but this is not the first time his privacy has been compromised.
On Dec 29 last year, RM went to Hwaeomsa Temple on Mount Jirisan and details about his visit were leaked, including the donations he had made and private conversations he had with the head monk about his future military conscription.
RM later responded through Instagram Stories: "I was grateful for the time spent there, but didn't expect an article about it.
"Next time, I'll visit a different temple and go there and come back quietly."
He added the hashtag "#lowkeymustbelowkey" in English.
ALSO READ: 'I didn't need it': BTS' Jungkook deletes Instagram account with 52m followers
drimac@asiaone.com