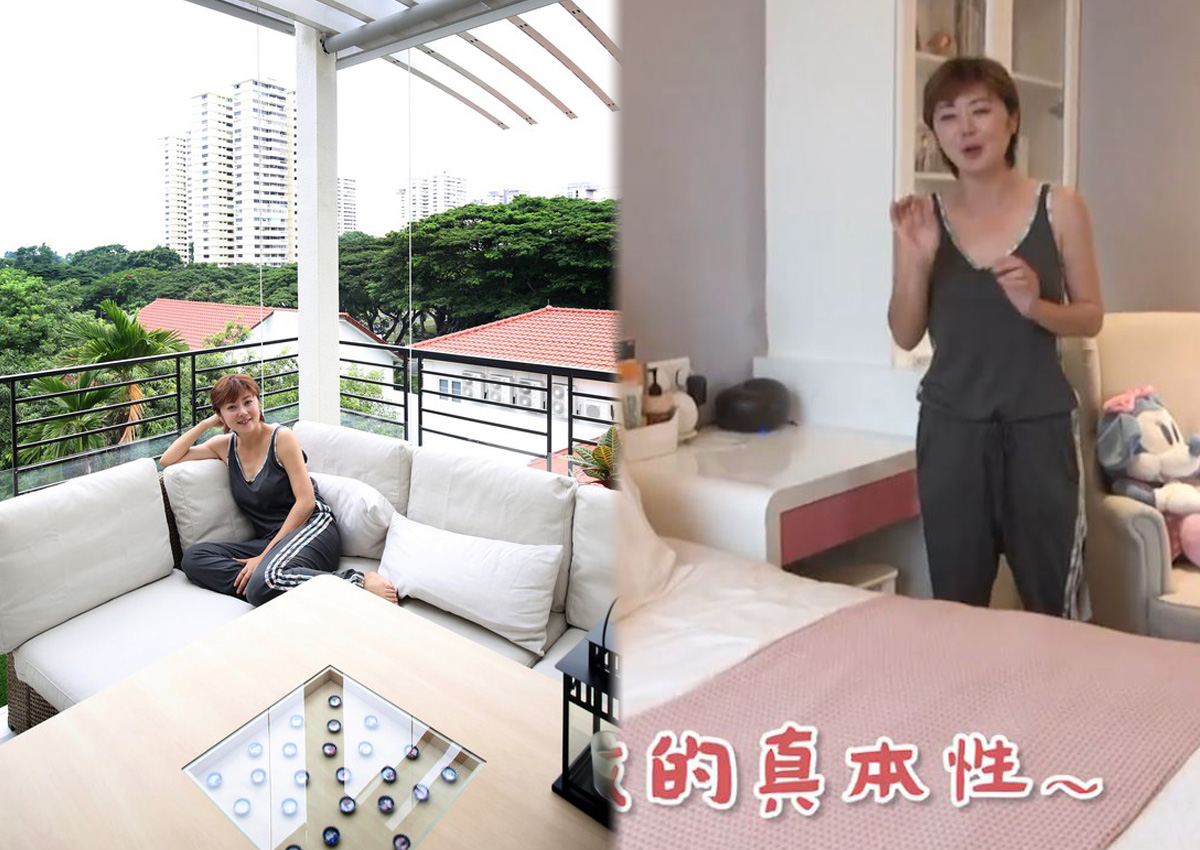 Local host Quan Yi Fong's recent home renovations included one important change -- replacing her daughter's old single mattress bedframe with one that can hold a double.
So, does the proud single mother know something we don't? 
In an interview with Lianhe Wanbao at Quan's two-storey, three-bedroom apartment in Siglap where she's stayed for six years, Quan said renovation works began in July, a month before her daughter, Eleanor Lee, flew back home from Beijing for her holidays.
Lee has been working in China for the past two years, appearing in commercials and TV dramas. The 18-year-old is currently enrolled in the prestigious Beijing Film Academy, alma mater to Chinese stars like Zhao Wei and Huang Xiaoming.
The Taiwan-born host had sought her daughter's opinion on how she wanted the home done up, but she simply requested for the place to still feel like home.
In her discussions with the interior design firm on renovation ideas, they had boldly suggested that Quan should prepare for the day that Lee would have a boyfriend and eventually get married. But, they added, if she prepares a room that can fit both of them, Lee may not have to move out.
Quan was initially taken aback by the suggestion but soon warmed to the idea.
Upon seeing her 'new room', Lee told her mum: "I can finally bring someone home for a sleepover!" 
But hold on, don't get the wrong idea.
Quan clarified that it was always a dream of her daughter's to have sleepovers at home with her girlfriends. And now, if her classmates fly over to visit, they won't have to sleep on a mattress on the floor.
ALSO READ: A look inside Vivian Lai's $8m home
CHANGES 
Quan's one request to her designers was to make her home appear bigger. 
"I told them: 'My apartment is small and packed with many things. Is it possible to make it appear more spacious?'"
The most surprising thing about Quan's home, however, is her bedroom, which is awash in girlish hues of pink and lavender, complete with a Minnie Mouse plushie. 
Said Quan unabashedly: "That's who I really am." 
The 44-year-old host said prior to the renovation, her bedroom resembled a hospital ward, crammed with "so many things that one would have to walk on the bed after entering".
The other big transformation in the home is her balcony. 
Quan joked: "I hung bamboo blinds here to keep out the sun -- I lived like a lonely old person!" 
Now fitted with automatic drapes, the space feels more fresh and modern, allowing Quan, who dislikes being cooped up in an air-conditioned space, to get some fresh air. 
The balcony is also where the dining table has been placed, where she can have long chats with her daughter. The entire balcony is also bordered by grass carpeting, giving the area a garden feel. 
candicec@sph.com.sg