Ruby Lin accused by netizens of not wearing bra to kids' event, but was it a misunderstanding?
PHOTO: Screengrab/Weibo/Kitty Cheung
PUBLISHED ON
May 30, 2023 9:13 AM
By
Drima Chakraborty
Is that a nipple?
That's what netizens on Weibo have been debating since a video of Taiwanese actress Ruby Lin gained attention, albeit for all the wrong reasons.
In the video, the 47-year-old can be seen onstage at an event, interacting with the host and a baby seated in a stroller.
Though it is unclear what the occasion is, a photo of a stroller can be seen on the screen in the background, pointing to an event geared towards parents of young children.
"I see something, it's not pretty," a comment on the video read.
Others concurred, writing: "Her nipples are protruding" and "I feel like she's not wearing a bra."
Indeed, Ruby can be seen wearing an off-shoulder baby pink pantsuit, with a conspicuous bump over both breasts.
One particularly enraged netizen even wrote: "I hate her the most!"
While some netizens chalked it up to a wardrobe malfunction — a particularly unfortunate one at an event involving children — others offered an alternative explanation.
[[nid:628604]]
"I don't like her either, but I have one thing to say — this seems to be the result of failing to press the clothes properly," one netizen wrote.
Another netizen agreed, replying: "After carefully inspecting it several times, it seems like the hemming of her clothes."
One comment pointed out that Ruby wouldn't need to resort to going braless to gain popularity.
"Although I'm not a fan of hers, I feel like her status in Taiwan's entertainment industry means she doesn't need to rely on [such] leaks to gain popularity," it read.
This dress looks fishy
Another celeb being roasted for her fashion choices lately is Cantopop singer-actress Miriam Yeung.
The 49-year-old recently held two concerts in Guangzhou, China, for her My Tree of Live world tour, and one of her onstage looks has netizens feeling peckish. The offending dress is a shimmery gold and silver number with large, angled shoulders and a fishtail skirt that puffs at the bottom.
Some Hong Kong netizens think it looks like dried salted fish that can be found hanging at the renowned Tai O Seafood Market.
Or perhaps it looks more like a squid from the back.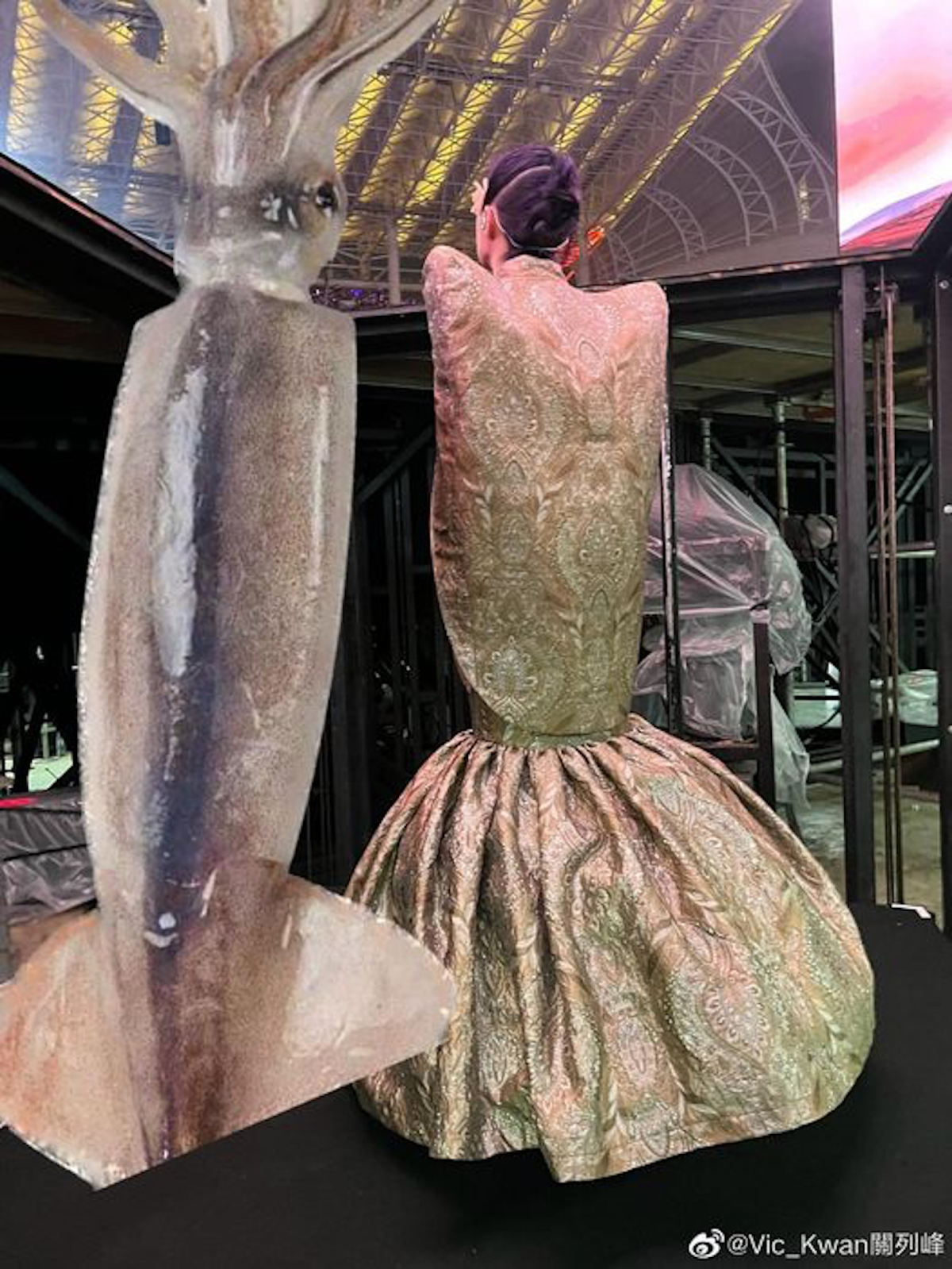 ALSO READ: 'Laugh die me': Netizens in stitches over actress Denise Camillia Tan's gaffe on live TV show
drimac@asiaone.com
No part of this article can be reproduced without permission from AsiaOne.