She may not win every episode of Running Man, but Song Ji-hyo's won over our hearts.
In a viral TikTok video uploaded on Sunday (March 19), TikTok user Sngmsyn shared footage of the South Korean actress using sign language to communicate with her supporters  at a fan-meet in Malaysia.
The video has since garnered 1.6 million views and over 295,000 likes.
"Ji-hyo really knew how to use sign language, she used it to communicate with her fans! She's really the sweetest and best girl!" Sngmsyn wrote on her post.
The 41-year-old was in Sentul Depot, Kuala Lumpur, to attend the Watsons K-Beauty Festa event that took place last Friday and Saturday.
In the video, Ji-hyo can be seen seated and signing to a woman while three young girls look on. The woman smiles brightly and Ji-hyo bows her head a few times, then extends her arms and takes two of the children in her embrace.
One Tiktok user commented: "This is rare, not many people can do sign language… Ji-hyo is indeed a very special person. God bless her."
Another said: "Is everyone called Ji-hyo an angel? Because wow, she's so kind and sweet!"
"I swear she's the best at fan-service, no one can defeat her," a comment asserted in Malay. "She's genuinely kind and attentive to all her fans."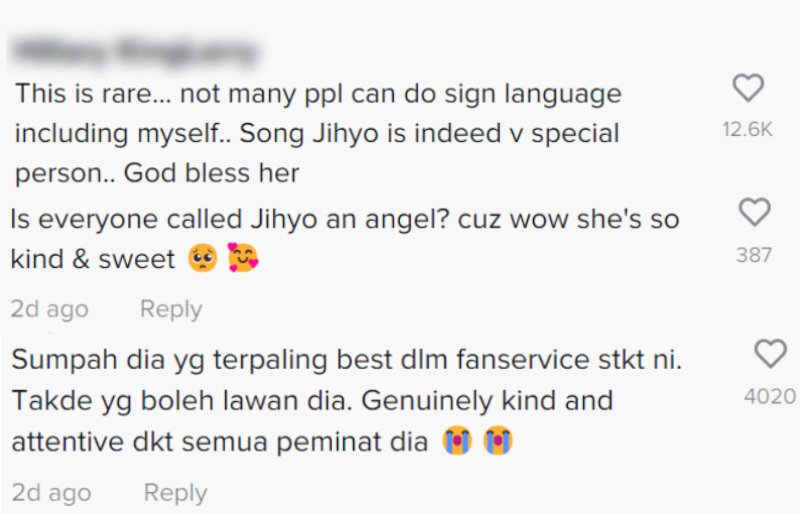 One user also offered an explanation of why the discussion between the two was so smooth.
"They're doing South Korean sign language and the fans apparently learn it beforehand so Ji-hyo can understand it," the user commented.
ALSO READ: Nude scene in Song Hye-kyo's Netflix drama The Glory stuns viewers
khooyihang@asiaone.com
No part of this article can be reproduced without permission from AsiaOne.