Chinese dialects are a rich (and sadly declining) part of Singapore history, and who better to teach us than a native speaker?
In an Instagram video posted yesterday (Feb 6), local actor Chew Chor Meng said: "The Teochew phrase I am sharing with everyone today is something my grandma always used to tell me: Don't 'tong tong hee'."
"Which means to play a fool, or do nothing productive, or when you keep fidgeting and can't stay still," the 54-year-old added while clips of Mr Bean played in the background of the video.
"That's tong tong hee."
Donning a curly wig and emulating his grandma, Chor Meng shared some examples of how the phrase would be used in Teochew.
"My grandma always used to say, 'Meng oi! Sit there and eat properly, don't shake your leg! Don't tong tong hee!'"
To which, Chor Meng would respond: "Okay, ah ma. I won't tong tong hee. I shall sit here and eat properly."
That ended the lesson and Chor Meng said he would share another Teochew phrase next time: Pueh liang pueh zhua.
One comment on the video read: "That's so cute, how would you write it in Chinese?" while others recalled how their mothers would be the ones to tell them not to tong tong hee.
"I love Teochew! Sad to say but younger generations killed off the use of dialects so soon," another comment read.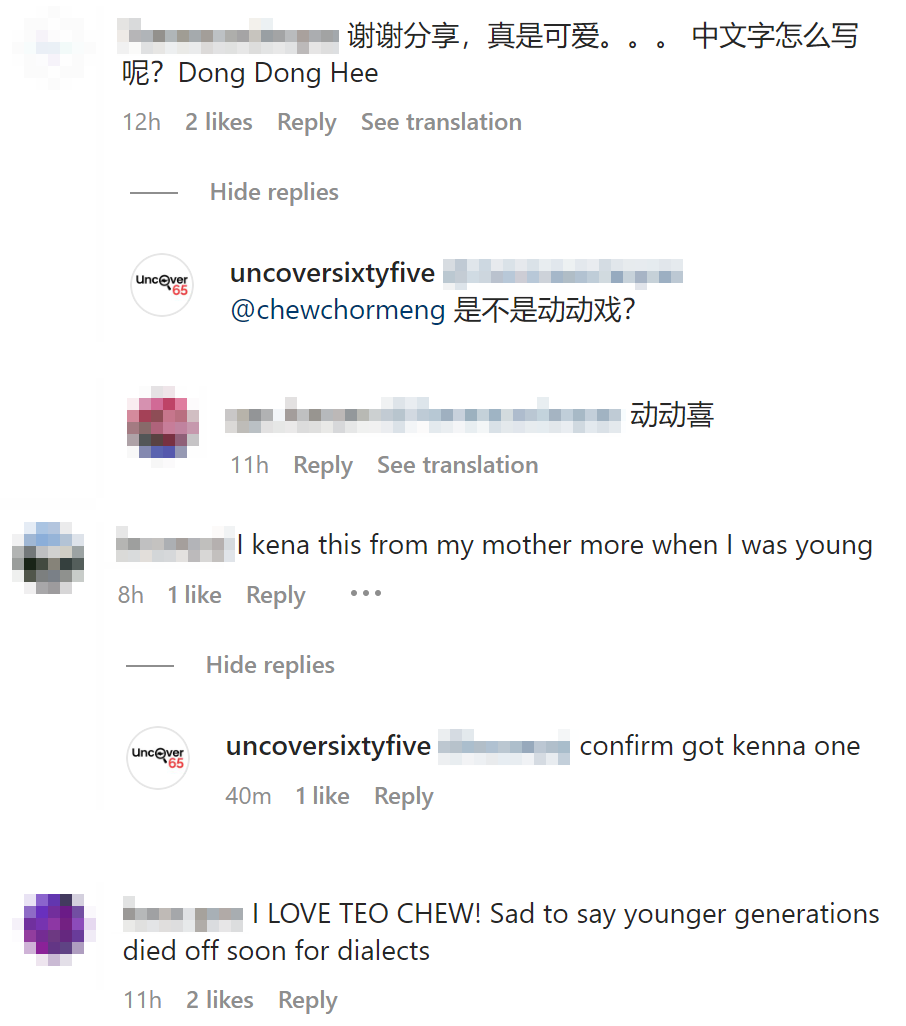 Blast from the past
It's not just speaking in dialect that evokes nostalgia when it comes to Chor Meng.
Just last month, former actress Zeng Huifen made a rare appearance at Chor Meng's new Thai bistro bar in a reunion organised by veteran actress Chen Liping.
"It's great to have many friends, and it's even better if you have many old friends," Chor Meng wrote then, adding that it had been over a decade since he had met with the Samsui Woman star.
The pair had acted together in Fiery Passion (1992) as siblings and The Teochew Family (1995) as mother and son.
In August last year, Chor Meng also hosted ex-TVB actress Kitty Lai, his co-star in 1994's telemovie Challenge of Truth, at another one of his eateries, 888 Mookata Bistro. This time, actress Aileen Tan was to thank for the reunion.
ALSO READ: Chew Chor Meng renovates landed home of 16 years to include lift and ramps for future ahead
drimac@asiaone.com
No part of this article can be reproduced without permission from AsiaOne.