When the people want their voices heard, sometimes a way to do it is through a different sense — smell.
In Instagram Stories shared between March 16 and 17, Sharon Au shared her thoughts on an ongoing protest in France and how it has even affected the smell of Parisian air.
"Eight thousand tonnes of garbage uncollected, piled up on the streets of Paris," the 47-year-old Singaporean former actress said. "France is on a nationwide protest against pension reform and this is the 11th day garbage collection is on strike.
"The stench is getting unbearable as the weather turns warmer to 18 degrees Celsius today."
Sharon, who moved to Paris in 2018, added that even though the city has essentially been paralysed, two-thirds of the French support this movement.
She said: "This is how power is passed to the people who want their voices heard."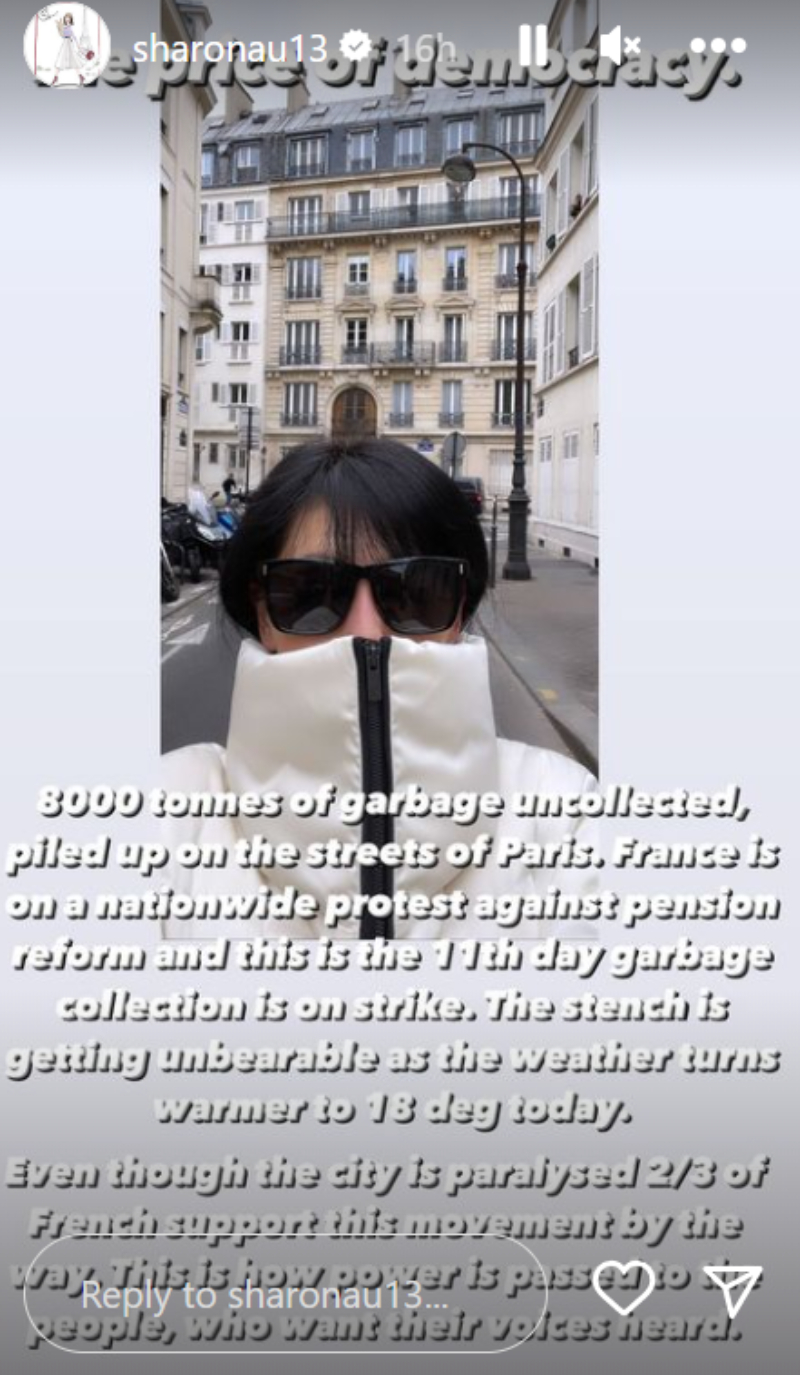 Approximately 1.3 million people are taking part in the strikes in France, Reuters reported today (March 17).
The movement began in January this year following a bill to increase the retirement age from 62 to 64 years old.
In an Instagram Story this morning, Sharon warned that protests have worsened around the La Concorde area following the French government triggering article 49.3 of the French Constitution which allows the government to skip a vote and push the reform through.
Sharon commented while watching live coverage of Place de la Concorde burning that she was reminded of an essay she wrote on the "global rise and damaging impact of populism, not to be confused with degradation of mature democratic structures".
Sharon graduated with a Bachelor of Liberal Arts degree from Waseda University in Tokyo back in 2011.
Drawing a comparison to her classes and the real-life events happening before her, she also said: "In a classroom, we were able to discuss politics without assigning blame or praise. 
"Now in the real world, as I live in a city with protests and strikes that aim to paralyse a country, I realise the ideologies stand, but human nature is much more complicated and policy reforms more often than not affect the majority of the working class and the low-income bracket."
Sharon also questioned: "Is the current government a trustworthy and strong-enough state to enforce their mandate for the future good in the face of their citizens exercising rightful liberties? Or is the state broken?
"The clash between the rioters and the police force has turned violent and destructive. Is this the dialogue they are seeking?"
ALSO READ: A collaboration with Stephen Chow? Mark Lee says 'nothing is impossible these days'
khooyihang@asiaone.com
No part of this story or photos can be reproduced without permission from AsiaOne.