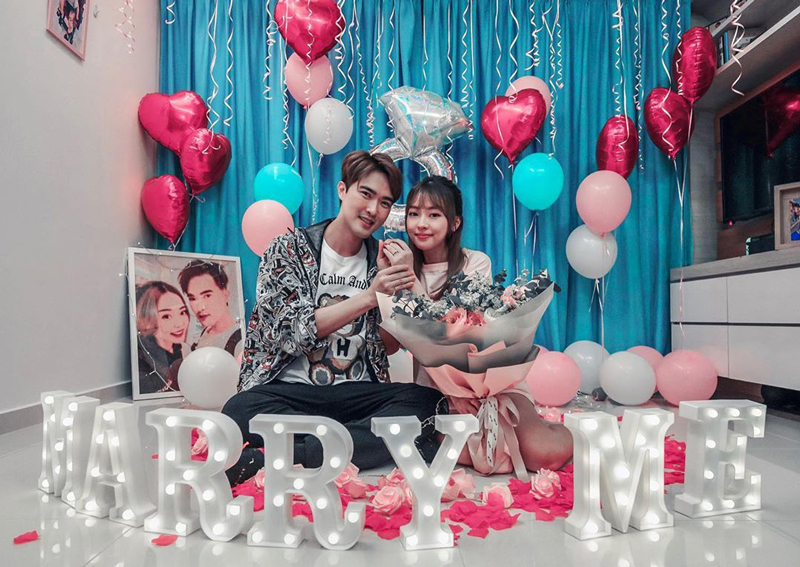 It may seem like the world is burning, what with the Covid-19 pandemic and lockdowns in other countries.
But amid the flood of depressing news, homegrown host Lee Teng just made an announcement showing us that love, actually, is all around.
In an Instagram post yesterday (March 24), the 36-year-old Taiwanese announced his engagement to his girlfriend Gina Lin. The 28-year-old hails from Taiwan as well and works in a multinational company here.
The post was accompanied by a picture of Lin showing off her 'rock' and the caption: "Hi, Mrs Lee. This is a simple and warm surprise. I hope to learn from you in the second half of my life. The rest of my life is in your hands."
And if you think the setting of the proposal looks a little homely, you're not wrong.
Lee Teng told 8Days that he decided to propose in a cosy setting because his girlfriend would have wanted it that way. "She's not from showbiz, so she doesn't like settings that are too large-scale. She'd also feel awkward if I made the proposal overly grand or fancy," he said, though he didn't reveal the exact location of the proposal.
ALSO READ: Lee Teng makes girlfriend Instagram official on Valentine's Day
When asked if he was concerned about Covid-19 throwing a wrench in his plans, Lee Teng revealed that he had already started working on the proposal a few months ago. He added: "We don't have any confirmed plans on when we'll be getting married or registering our marriage, but if we do, we'll definitely share more details with everyone."
After going public on Valentine's Day last year, Lee Teng shared with Toggle that he first saw Lin's photo on Instagram's explore section and thought that "she was really cute".
Then, he found out Lin and his younger sister Rainnie are friends.
His sibling assured him that Lin looked "exactly the same" in person as she did in photos. Happy to play cupid, Rainnie was "enthusiastic in setting them up" and the pair finally got together in Oct 2018.
Lee Teng also said then that they were dating with marriage in mind.
Guess he finally put a ring on it.
bryanlim@asiaone.com