Many would say that Bruneian singer-actor Wu Chun was the hottest idol in Taiwanese boyband Fahrenheit when they debuted in 2005, leaving many fans gushing over his looks and hot bod.
But some fans are now feeling dismayed and disillusioned to the point that they feel cheated. This because the 40-year-old was actually already married to his wife Lin Liying when he debuted.
Wu Chun and Madam Lin recently appeared on the Chinese variety show Before Wedding, where they admitted that they've never had a wedding ceremony. Hence, they're hoping to organise one and it'll be recorded for the show. 
The truth was revealed during the show when they took out their marriage certificate, which showed they tied the knot on Dec 2, 2004. This revelation reportedly angered fans as he previously said that he married his wife in 2009.
Things took a turn for the worse when netizens discovered that Fahrenheit was created in 2005, which meant that Wu Chun was already married when the boyband made their debut. Fans were understandably upset and some even commented that they felt cheated.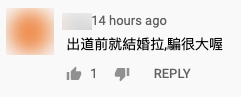 One netizen commented on Wu Chun's Weibo account: "You can't recall if it's 2009 or 2004 and you still got it wrong in the end."

In response, Wu Chun admitted that he and his wife don't celebrate their wedding anniversary so they can't remember when they got married.
DID HIS WIFE GET A C-SECTION?
While news about Wu Chun's marriage and upcoming ceremony made the headlines, ugly rumours about his relationship with his wife surfaced on the internet as well.
According to media reports, the rumours claimed that Wu Chun asked his wife to have a Caesarean birth so their children's birthdays could coincide with theirs. Wu Chun shares a birthday with his daughter NeiNei on Oct 10, while his wife shares a birthday with their son Max on Oct 11.
ALSO READ: Wu Chun's 9-year-old daughter writes letter to Sultan of Brunei
In response, Wu Chun's management put out a statement that rubbished those claims and said it cannot be further from the truth. They clarified that Wu Chun and his wife are in a loving and trusting relationship and they take great care of their children.
They also disclosed that the rumours have caused harm to the couple and urged netizens to discontinue further discussions and spreading of the rumours.
"We strongly condemn those who started the rumours and reserve the right to take legal action against them," the statement read.
bryanlim@asiaone.com