Whether you live to entertain or want to become a better host , setting up your home just right is vital to having a successful party your guests will be talking about for months.
It's important to make sure that your home feels warm and welcoming for guests to linger, have conversation and ultimately have a good time in.
Check out how these 12 inviting local homes have spruced up their living, dining and outdoor spaces.
1. Contemporary class
This landed home in Ang Mo Kio, with a gorgeously-lit dining area, is stylish but not overdone. Everything fits together – from the furniture to the finishing, each with a touch of class! Here's a simple trick this homeowner used to make their dining room look more inviting.
The muted palette makes the living room look ultra-cosy and welcoming, and a sofa with ample seating is a must-have for any social butterfly!
Plus, a well-maintained garden is ideal for hosting outdoor gatherings.
2. Resort vibes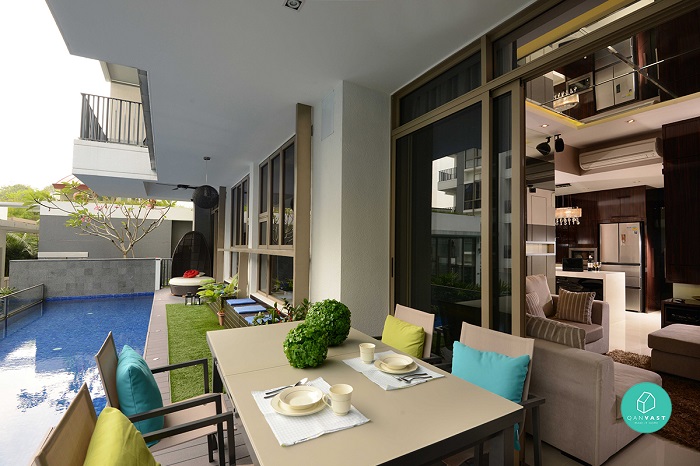 This three-bedroom condo could easily pass off as a five-star hotel, complete with outdoor dining area by a private pool. Who doesn't love a great dinner pool party with drinks?
A clever use of mirrored surfaces help enlarge the space, as the use of darker colours prevent the reflections from becoming too overwhelming. This creates a warm, inviting feeling that encourages conversation and relaxation.
Also,  guests will most likely use your bathroom so a beautifully designed conversation starter is the way to go. Here's how to turn your bathroom into a luxurious spa retreat.
3. Colourful personality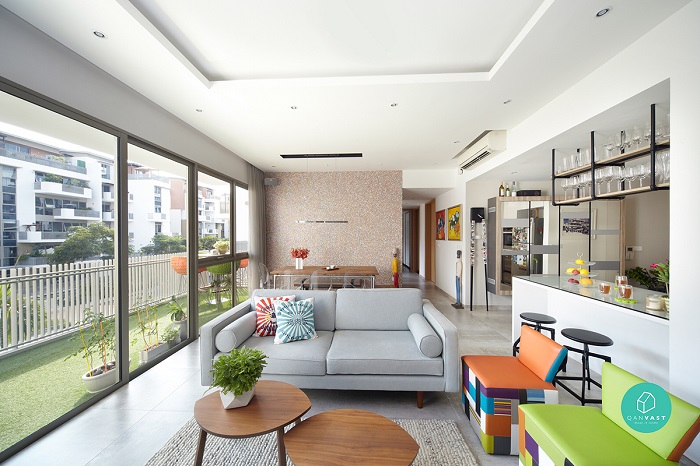 This three-room condominium has all the right ingredients for a perfect party – a vibrant design, eclectic furniture and just enough quirk to show off the homeowner's unique style – a definite way to leave a lasting impression!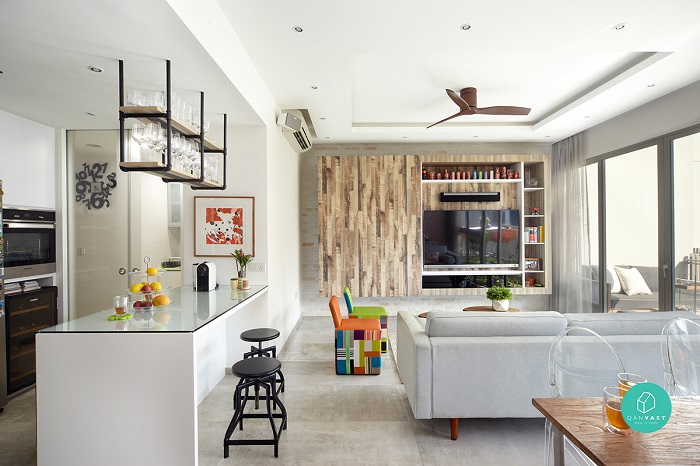 A well-designed open bar counter is an excellent way of segregating the kitchen from the living room whilst maintaining a bright, open and breezy feel in your home.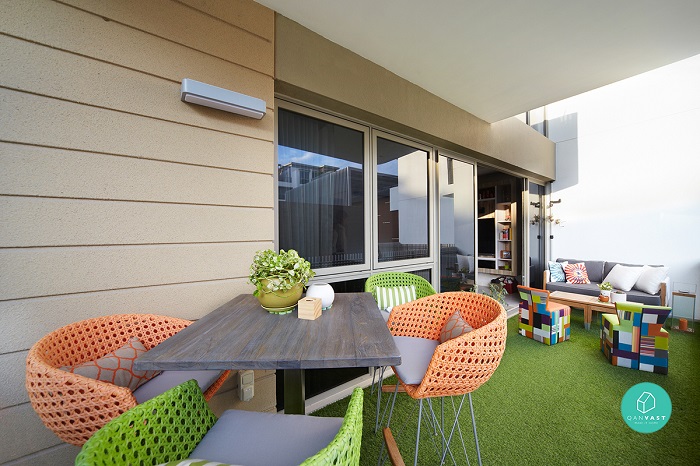 Got a balcony? Transform it into a fun and cheerful lounge area with an artificial grass carpet and colourful seating options.
4. Boutique home
Give your guests an elevated dining experience by transforming your dining area into an elegant space with a sophisticated use of patterns and monochrome colours, as well as white leather furniture and illuminating light fixtures.
This four-room Parc Olympia condominium also offers loved ones a relaxing TV-viewing experience with a large screen and plush seating. Doesn't the entire place simply exude elegance?
We love how the bedrooms open up to a somewhat al fresco area that's perfect for casual conversation with a glass of red.
5. So chill
Another way to make use of balcony space, especially if you happen to have a large one, is to create a conversation pit that's the perfect cosy social setting for casual gatherings.
You'll be chatting away all day… just make sure there is plenty of ventilation to beat the heat and keep it cool and comfortable!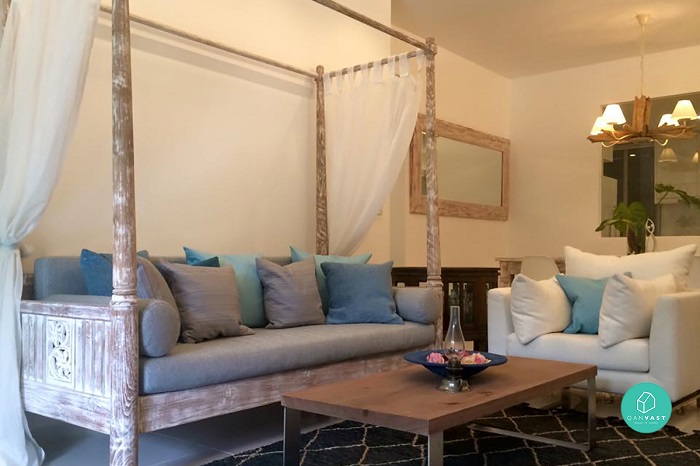 Besides a pit in the balcony, this homeowner also decked his home with lots of rustic finishings for that ultimate holiday resort vibe.
Make your guests feel at home by having plenty of different seating options!
6. Curated home
This gallery-inspired home is a collector's dream! With unique curios that will keep your guests interested, everything here is a conversation starter that gives your home a special and endearing character.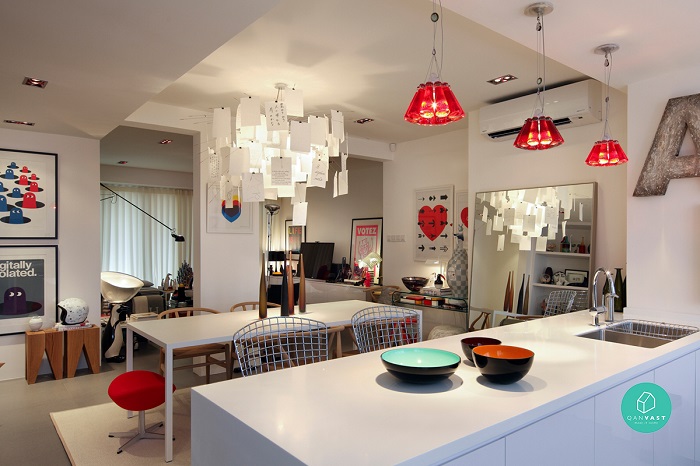 The trick to keep it cool not cluttered is to work with a minimal colour scheme. Keep your walls and tables white and clean so as to really make your decor pieces pop.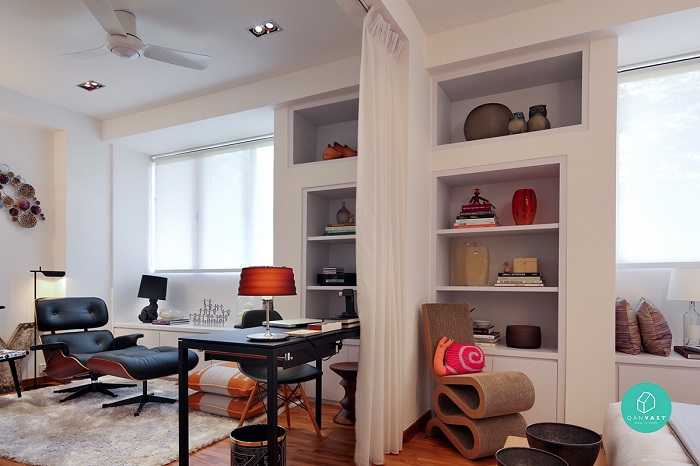 If you have fun ornaments to show off, curate the right "exhibition" space to display them. Your guests will love marvelling at your trinkets.
7. Big on style
If you're blessed with an abundance of space, why not go all out with lavish furniture and sleek finishing –  your guests will be talking about your home for days!
A warmly-lit bathroom that's neat and clutterfree will wow your guests.
8. Super homey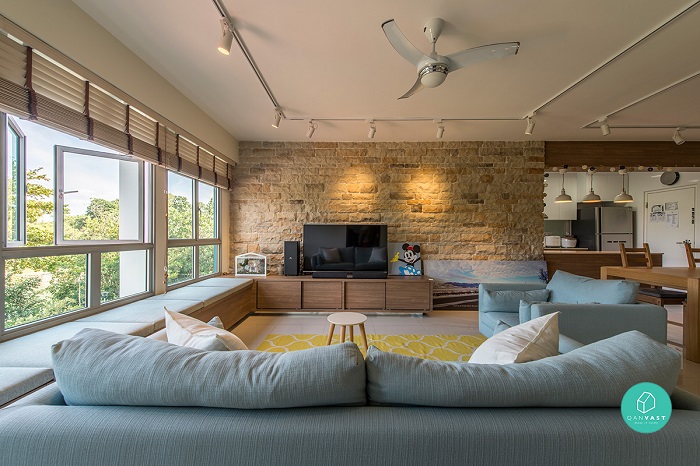 Even if you don't have that much space, opting for an open layout will give your home the illusion of being more spacious than it truly is.
The living area in this Fernvale Link flat is a picture of comfort, with its pastel furniture and minimalist finishing that make it a warm and unpretentious abode.
Tip: Turn a bay window into extra seating by adding a cushiony layer for comfort!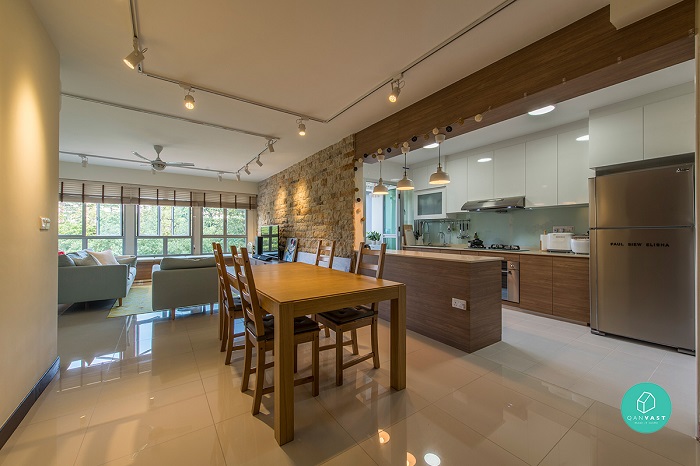 Warm lighting makes the entire place feel inviting and comfortable, and guests will love the down-to-earth approach so much so that they'll feel right at home.
9. Cabin retreat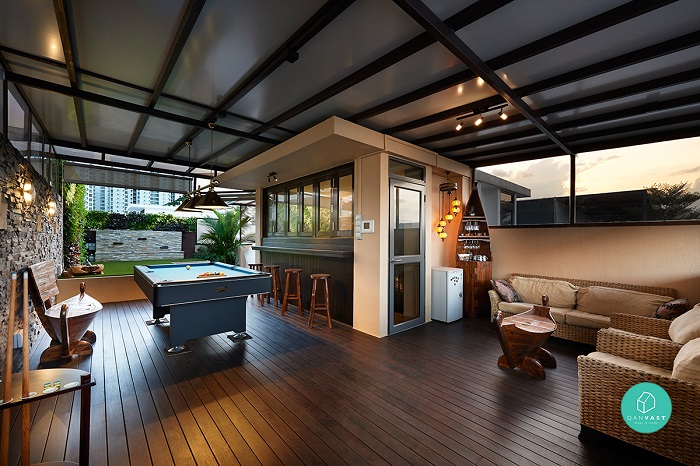 We love this rec and bar area for guests to enjoy a game of pool while sipping on Kahlua. Modeled after a beach bar, it gives off chill holiday vibes with its wooden flooring and simple outdoor furniture.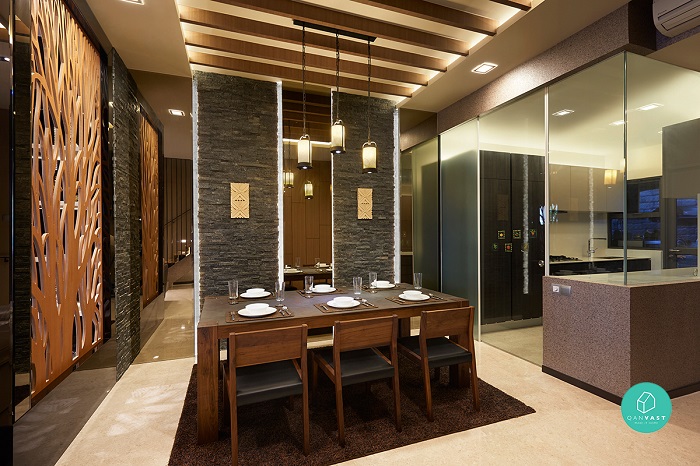 Meanwhile, entertain friends and family in a sophisticated contemporary style dining area with good food and even better wine.
10. Chic space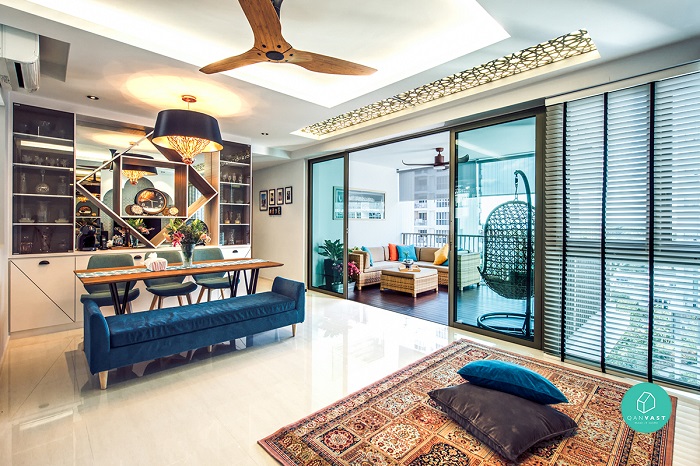 Mis-matching dining seats are hot right now. Add a trendy bench into the mix for that communal vibe that encourages get-togethers over delish meals and fun conversation. We also love how the homeowner's refined taste shows through the unique cabinet display.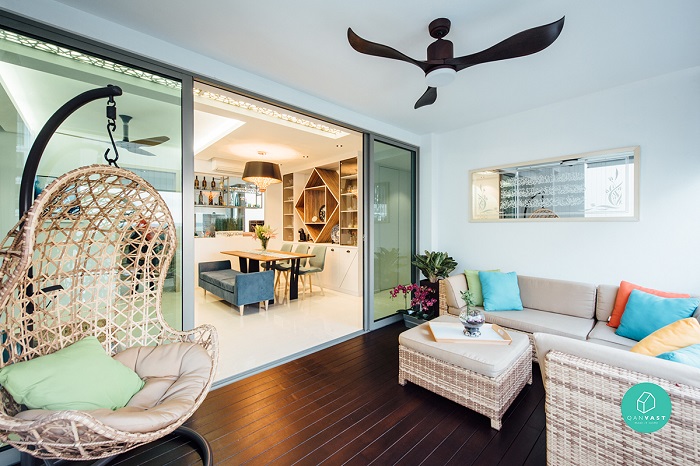 After feasting, retreat to the balcony lounge for a cuppa or a sip of vino!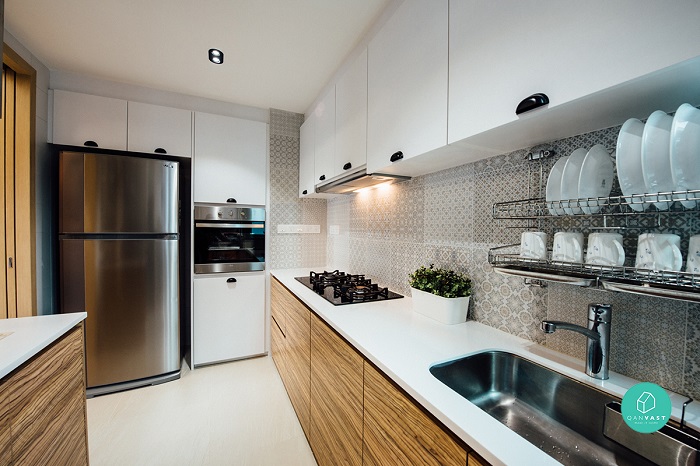 Most guests love to linger around the kitchen so give them something to go gaga over, like cool tile patterns as a kitchen backwash.
11. Vibrant home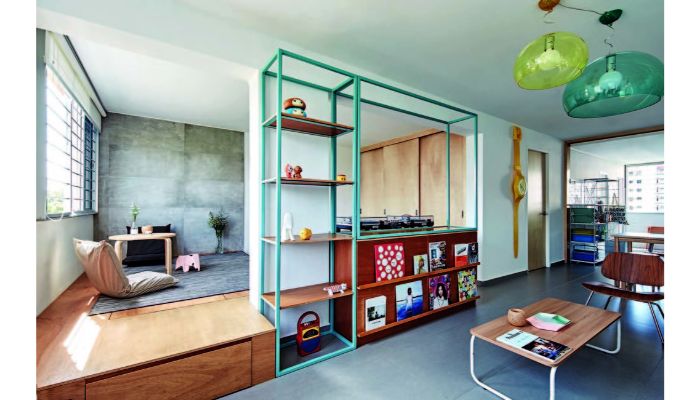 We take a peek into this home owned by Choo Chin Nian, the creative head of National Gallery Singapore who lives and breathes design.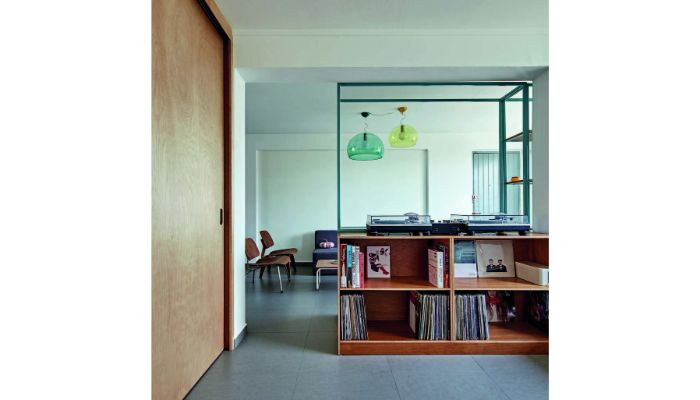 Showcase your hobby in the living room. If you can play the turn-table and if you own one, why not display them in the center of the home for all to see your pride and joy? When your friends come around, you can entertain them by showing off your skills.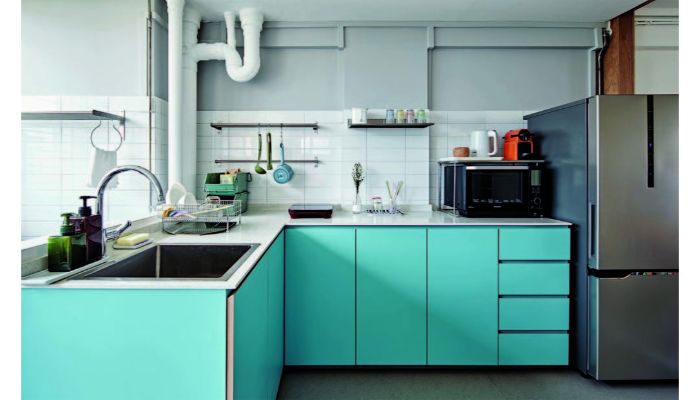 The kitchen doesn't have to be all function without the fun. Add a pastel pop of colour in the kitchen and it will sure to be a conversational-starter when your guests come around.
12. Tree house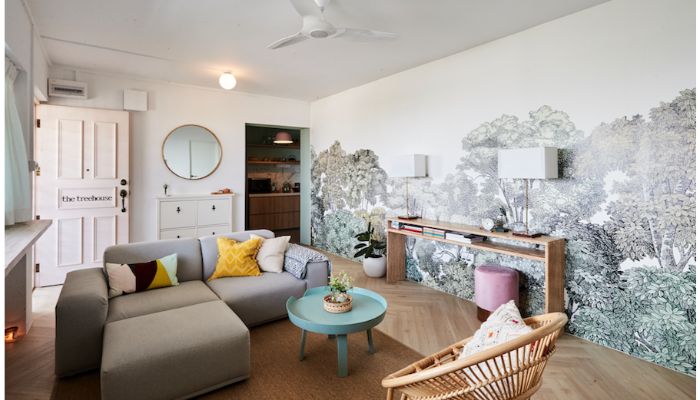 Nestled in Ang Mo Kio is this four-room HDB home which was inspired by a tree house concept. A statement wall paper depicting the lush tree tops take centrestage in the living room area.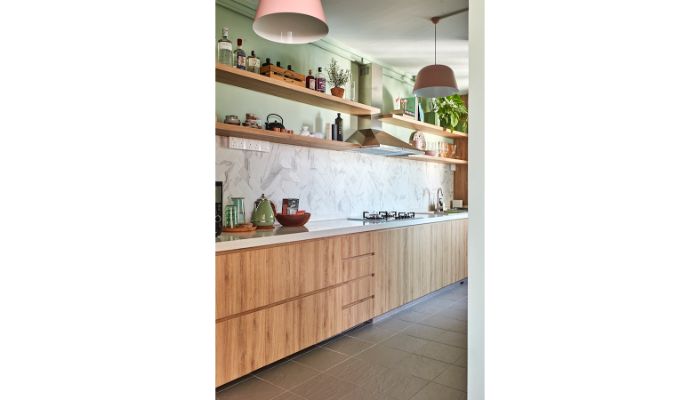 Your indoor plants do not have to be relegated solely near the balcony or in the living room. Place a few small planters in the kitchen like the owners for a more cohesive look throughout the house.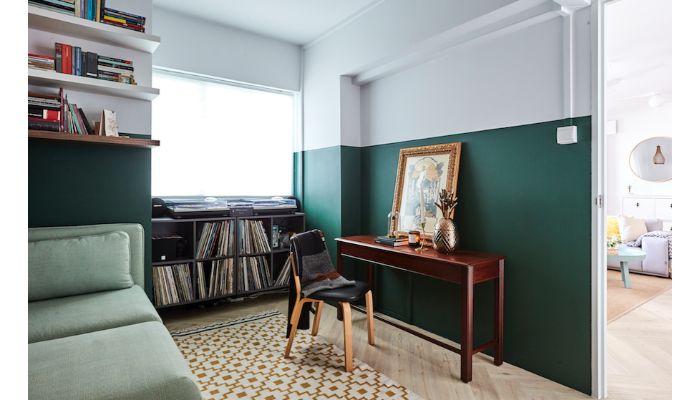 Play up different hues of green if you are also going for this tree house-inspired look. The colour green is said to help balance the heart and emotions, and by adding it to the interiors it can help to soothe your mind.
This article was first published in Qanvast.