14 free (or really cheap) things you can do at the new Funan mall
I was totally prepared to hate on the new Funan Mall because it sounds like it was made for and by pretentious fake-nerds.
But after visiting the freshly-opened downtown dystopian wonderland, I've come to understand why Funan Mall has actually been drawing crowds of bored Singaporeans away from Jewel Changi Airport. (PSA: If there ever was a time to go to Shake Shack, the time is now.)
And no, it's not really the tenant mix, so much as the abundance of free amenities and entertainment.
I would give mad props to CapitaLand for designing a mall where you can successfully entertain yourself for half a day without spending more than $10…. But I'm pretty sure that was not actually their objective.
FUNAN MALL - 14 FREE (OR REALLY CHEAP) THINGS YOU CAN DO HERE
| Activity at Funan Mall | Cost |
| --- | --- |
| Charge / pump your e-scooter / e-bike | Free |
| Take a shower | Free (with CapitaStar app) |
| Charge your phone | Free |
| Play with pointless tech things | Free |
| Play with Xiaomi vacuum cleaner | Free |
| Test stationery at THINK | Free (unless you buy something) |
| Take photos of meaningless signs | Free |
| Visit the urban farm on the roof | Free |
| Jump into a ball pit | Free |
| Change nappies in fancy family room | Free |
| Troll the Creatanium booth at Kopitech | Free (unless you buy a drink) |
| Play claw machines at Kiap Kiap | From $0.40 per game |
| Relax on a massage chair | $2 / $5 / $10 |
| Go to Threeppy by Daiso (when it opens) | Free (unless you buy something, $5.80 each) |
1. CHARGE YOUR ELECTRIC BIKE OR SCOOTER
[embed]https://www.instagram.com/p/Bzm_GW0FvzJ/?utm_source=ig_web_copy_link[/embed]
I had totally dismissed the "bike-friendliness" of Funan Mall as a lame attempt to appeal to millennials, so I was pleasantly surprised that CapitaLand really did devote a significant amount of surface area to amenities for cyclists and PMD riders.
Look, there's even a bunch of free power points for charging electric bikes or scooters:
There's an actual "Bicycle Hub" with bicycle maintenance and pump stations, more bike parking, and most importantly…
2. … THERE ARE FREE SHOWERS.
OK, when I say "free" I mean "pay with personal data", because you have to download the CapitaStar app and register as a member to gain access. But if you're really desperate for a shower I suppose you wouldn't mind CapitaLand obtaining your phone number for marketing purposes.
Unfortunately the door of the women's showers was under maintenance, so I got my brother to take photos of the men's showers.
No pubes in sight, thank God.
There's even a hair dryer.
3. CHARGE YOUR PHONE & SIT DOWN
Having a fully-charged phone is arguably more important than hygiene itself. If your power bank is out of juice, you don't have to go home just yet. Just find yourself one of these wireless charging stations on the upper levels on Funan Mall.
Yes, that black thing on the table is a wireless charging pad. CapitaLand has also thoughtfully provided some bar stools so you can have a picnic or whatever while waiting for your phone's resurrection.
4. PLAY WITH POINTLESS TECH NONSENSE
[embed]https://www.instagram.com/p/Bzh5T3blSwn/?utm_source=ig_web_copy_link[/embed]
Funan Mall is totally designed for wannabe-nerds in mind. The mall is peppered with shitty "tech" features that value-add to absolutely no one whatsoever, such as this information board which can show you personalised shopping recommendations after looking at you through a camera. I hope they don't suggest that you go for plastic surgery because that would be sobz.
Another piece of pointless crap tech is this "robot" at Courts, which was only partly functional when I went to say hello.
Other bo liao tech things that would make William Gibson LOL are the "AR Walkway" at Love, Bonito (don't get your hopes up, it's not a virtual fitting room but just a very elaborate and flowery SnapChat filter) …
… and the "VR Lounge" at Golden Village (not free, sorry, it costs $8 on weekdays and $12 on weekends for 15 minutes of VR playtime with the new, not-Tobey-Maguire-Spiderman).
I also saw Golden Village staff setting up Oculus Rift headsets, presumably so you can watch the new Aladdin live-action film or whatever in VR, but they weren't ready for action yet.
Incidentally the digital ticketing stations at GV Funan loudly scream "Samsung Pay, Android Pay and Apple Pay are not supported at this moment", which I found absolutely hilarious. #iot #smartnation #elonmusk
5. PLAY WITH XIAOMI PRODUCTS
Judging by the queue of uncles waiting outside the Mi store at 11am on a weekday, this is the best shop for tech deals in Funan Mall. It also has a comfy sofa where you can watch eardrum-blasting K-Pop videos courtesy of a Xiaomi projector.
This shop has a few entertaining demo models such as phones and vacuum cleaners. I entertained myself by dumping out the dustbin of the Xiaomi robot vacuum cleaner and letting the machine conduct its Sisyphean business of cleaning up its own mess, again and again and again.
There's also a low-tech Xiaomi "Lego" station where children can have fun for free, while you queue at the Mi service centre.
6. TEST OUT STATIONERY
[embed]https://www.instagram.com/p/BzidtkxlICl/?utm_source=ig_web_copy_link[/embed]
I was a bit surprised to find this Japanese stationery shop in the middle of Funan's tech frenzy. After certifying that it didn't sell NFC stickers or 3D printers or anything remotely tech-related, I fled into its analog embrace.
Rather than being your generic Popular bookstore or Evergreen stationery shop, this is a lifestyle shop aimed at stationery otakus who collect sushi-shaped erasers. Therefore, prices are on the high side, but it is absolutely free to express your creativity with the tester pens.
7. TAKE PHOTOS OF/ WITH INANE SIGNS
[embed]https://www.instagram.com/p/Bzj3aGuAxlJ/?utm_source=ig_web_copy_link[/embed]
CapitaLand has spared no expense in creating contextless signage of all kinds, and sign-hunting in Funan Mall is a moderately satisfying form of free entertainment. I took photos of some because I kept coming across more and more banal ones.
These seemingly-random, feel-good words add up to a clever vertical surprise.
I don't have space here for my collection of "millennial words without context", but I needed to include this one because it's the best (and by best, I mean most awkward):
This is courtesy of Two Lips, a product range which promises to prettify your labia. I really hope that they come up with a series for men, because I want to take a photo with a neon sign saying "Don't Hate My Scrotum 'Cause It's Beautiful".
8. GO UP TO THE ROOFTOP URBAN FARM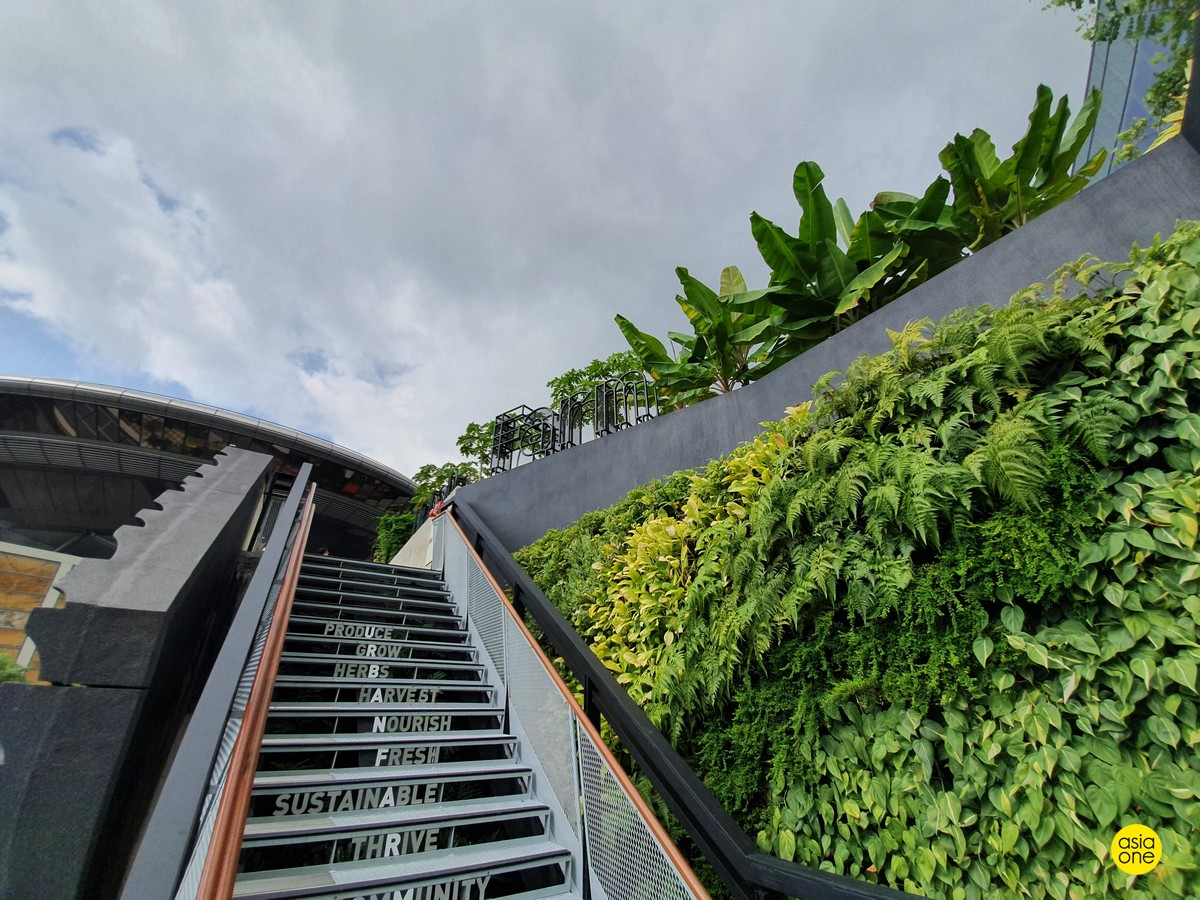 … If you can find it, that is. It took me 5 tries to get up there. None of the service or security staff seemed to know how exactly to get there either.
So it was extremely gratifying to finally get access to the roof. This must be how people who play escape rooms feel when they break free!
Although Rice Media loved the urban farm, I was not so impressed. Because I personally have a problem with farming microgreens. I mean… Food security is a UN-level world issue, and here we are growing salad garnish!? Come on.
Up on the roof, there are also swings (free) and a futsal pitch (pay to book from The Ark), because #worklifebalance.
9. JUMP INTO ADULT-FRIENDLY BALL PITS
[embed]https://www.instagram.com/p/BzvNI88n95O/?utm_source=ig_web_copy_link[/embed]
If looking at children play at IKEA's Smaland makes you go green with envy, Funan Mall is one safe space where adults can dive into a pit of plastic balls.
Here is the most prominent one: A fake cup of bubble tea pearls outside Gong Cha. Don't worry, it's not sticky. Or rather, it's not meant to be sticky, but I can't guarantee what texture you might encounter at 5pm on a hot Saturday.
There is another, much smaller ball pit in the Fujifilm Instax Concept Store, but I'm not sure it's quite as satisfying as jumping into a big cup of pearls.
10. CHANGE NAPPIES AT THE DELUXE FAMILY ROOM
Whether with kid or without, no one is stopping you from checking out the swanky family room on level 4 of Funan Mall. It's all decked out with bicycle spare parts and empty cubbyholes on the walls.
There are two nursing rooms and a spacious chillout, I mean, baby nappy-changing area with hot water dispenser. Don't forget to bring a packet of 3-in-1 Nescafe and your Stojo cup.
11. LEARN ABOUT CRYPTOCURRENCY AT "KOPITECH"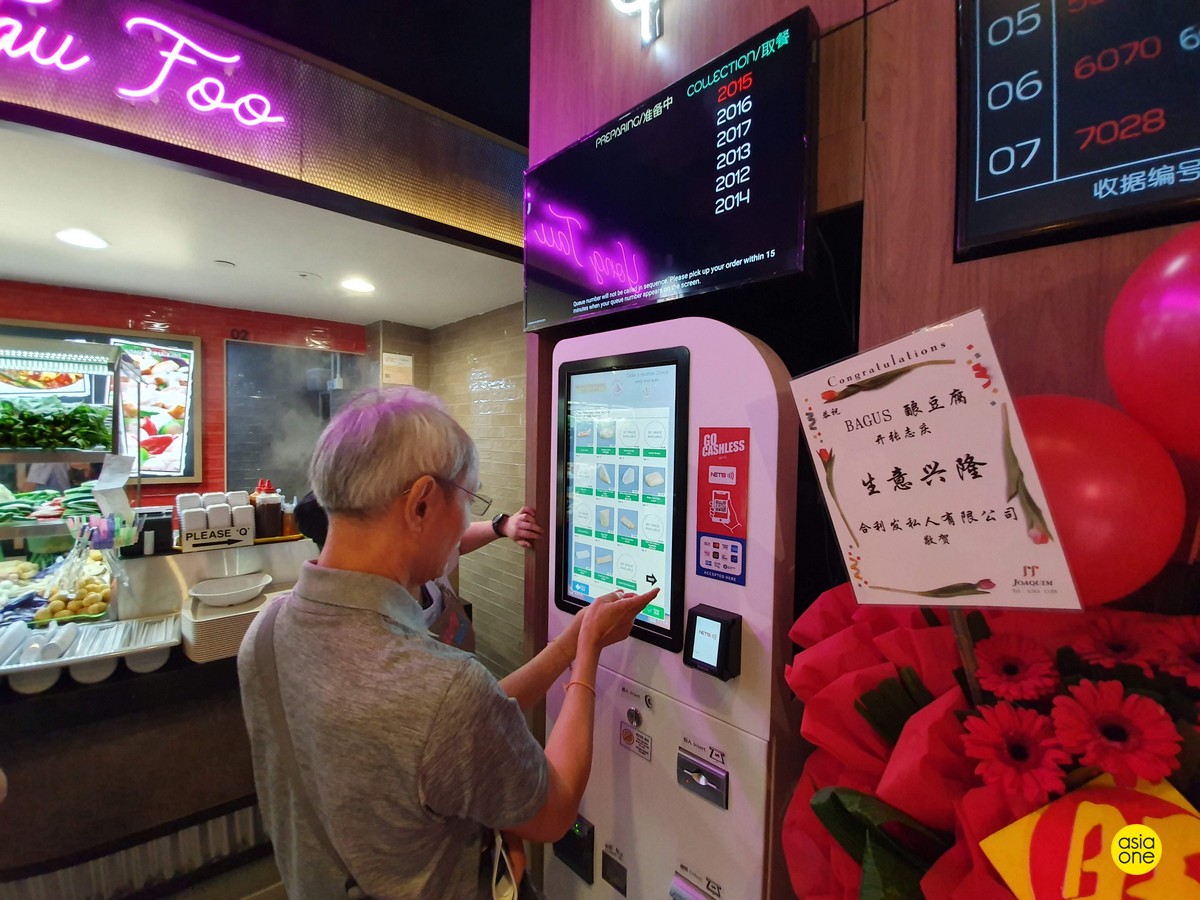 Yes that's right, KopiTiam is now KopiTech. Just check out these payment machines, which not only accept Grab Pay and Paylah!, they even allow you to pay for your YTF with Bitcoin and assorted other cryptocurrencies.
Don't know what a cryptocurrency is, you say?
Don't worry, uncle. The friendly guy at the Creatanium booth - inside the food court - is ready to tell you all about how you can get in on the fun and turn your vision into a reality.
While at KopiTech, do check out the Tray Return Station. It would be epic, except that it's manned by uncles and aunties instead of cyborgs.
12. AI KIAP KIAP MAI?
[embed]https://www.instagram.com/p/Bzr2C5NF6hr/?utm_source=ig_web_copy_link[/embed]
As with every other CapitaMall, the "budget" shops are all found in the basement levels. For bored people waiting for moms/wives/girlfriends to finish shopping at Love, Bonito, there's a UFO/claw catcher shop with a decent opening special.
Some games are just $0.40 a play, until 31 July. I doubt it's the Pokemon one, but maybe you can try your luck at the We Bare Bears machine?
13. SIT IN A MASSAGE CHAIR FOR UP TO 30 MINUTES
If you are exhausted from the bajillion activities at Funan Mall, there's a quiet corner called "iFresh" in the basement where you can enjoy a restful snooze on a massage chair.
How long you can sit here depends on your budget. It's $2 for 6 minutes, $5 for 15 minutes and $10 for 30 minutes. I bet that once the office workers catch wind of this place, it'll be full from 12pm to 2pm on weekdays.
14. [COMING SOON] VISIT DAISO PREMIUM A.K.A THREEPPY
[embed]https://www.instagram.com/p/BzvGozfHo3L/?utm_source=ig_web_copy_link[/embed]
This isn't something you can do at Funan Mall just yet, but I wanted to include it since we have so many Daiso fans. This is the first ThreePpy in Singapore and it opens on 14 July 2019.
ThreePpy is basically a more expensive version of Daiso, selling more Japanese products you don't need but cannot resist. While the regular Daiso sells things at 100 yen, ThreePpy items are 300 yen each. In Singapore, the standard price at ThreePpy will be $5.80. Oh well, it was bound to happen - there was no way Daiso could have stayed $2 forever.
What do you think of the new Funan Mall? Tell us your thoughts in the comments.
[embed]https://www.youtube.com/watch?v=gJ4vp_cHijc[/embed]
ALSO READ: 5 unique places to check out at the new Funan mall
This article was first published in MoneySmart.