Mr Tan Chong Nam, 82, and Madam Toh Moey Lan, 76, first met in 1965 at the Lim Chu Kang beach where Mr Tan was guarding the coast as a member of the Vigilante Corps defending against Indonesian terrorist attacks.
"It was love at first sight," said Mr Tan in Mandarin. He was 25 when his friends introduced him to Madam Toh, then 19.
While Madam Toh had no shortage of suitors, she said she chose Mr Tan as he was taller than the others, standing at 1.73m.
The couple, who married after dating for two years, were each other's first loves and have stayed true through all the hardships of life.
They were among the couples married for at least 50 years who were honoured for their strong and committed marriages at the Golden Jubilee Wedding Celebrations in December. The annual event, which started in 2018, is organised by the Registry of Marriages and the Registry of Muslim Marriages.
All the couples received a gift package, including a medallion, a commemorative certificate signed by President Halimah Yacob, a congratulatory note from Minister for Social and Family Development Masagos Zulkifli and a memento featuring their wedding photo.
As they had only primary-level education, Mr Tan and Madam Toh made their living selling fruit and snacks at a primary school canteen.
When the school closed down 10 years later, they opened a chicken rice stall at a coffee shop in Jurong. Though business was good, the hours were long and the stress of running the business led to frequent quarrels.
By then, they had a son and three daughters. Mr Tan's mother looked after the children while their parents were working.
After a few years, they gave up the chicken rice business. Mr Tan turned to dealing in cars, while Madam Toh opened a hair salon in their home and sold second-hand goods on the side.
Being self-employed gave them more time to raise their children, which was a priority for the couple.
Fights between the four children were an everyday occurrence, and the parents would cane them when they fought. "Each one would run into a room, leaving the youngest and slowest behind to be caned," said Mr Tan with a laugh.
"We wanted them to learn from their mistakes," he said, while acknowledging that times have changed when it comes to how children are disciplined.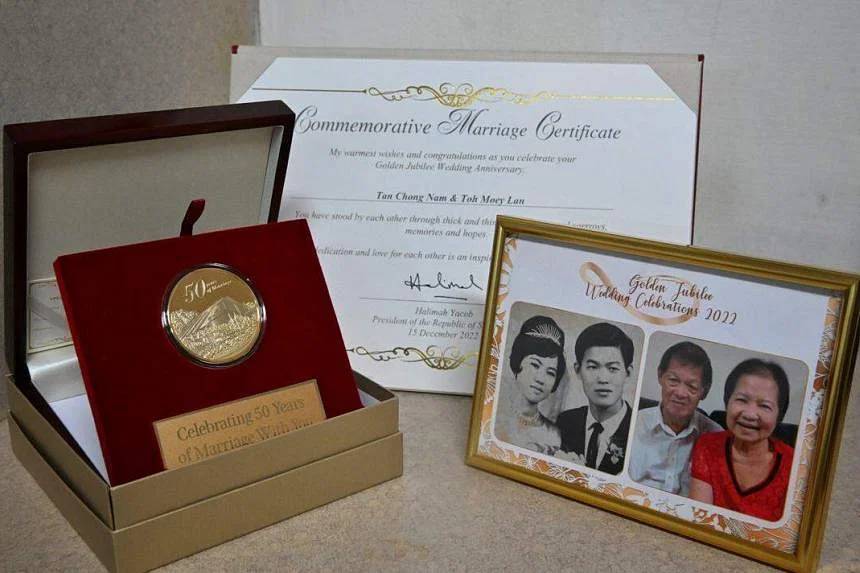 Mr Tan and Madam Toh also made sure they spent time with their children, taking them on outings and ensuring that they studied hard.
"We didn't get (much) education ourselves, but we made sure our kids studied a lot and became very smart," said Madam Toh.
The four children, now in their 40s and 50s and married with children of their own, have either degrees or diplomas. Three are working – as a businessman, a chief human capital officer and a civil servant – and one is a housewife.
Madam Toh and Mr Tan had different interests – she loved to travel, while Mr Tan preferred to remain in Singapore and play basketball.
But having time apart is not a bad thing, they said.
In fact, it was one tip Mr Tan gave to younger couples when The Straits Times spoke to the couple in their Toa Payoh home on Jan 16 about their 55-year marriage. "Give each other freedom and trust," he said.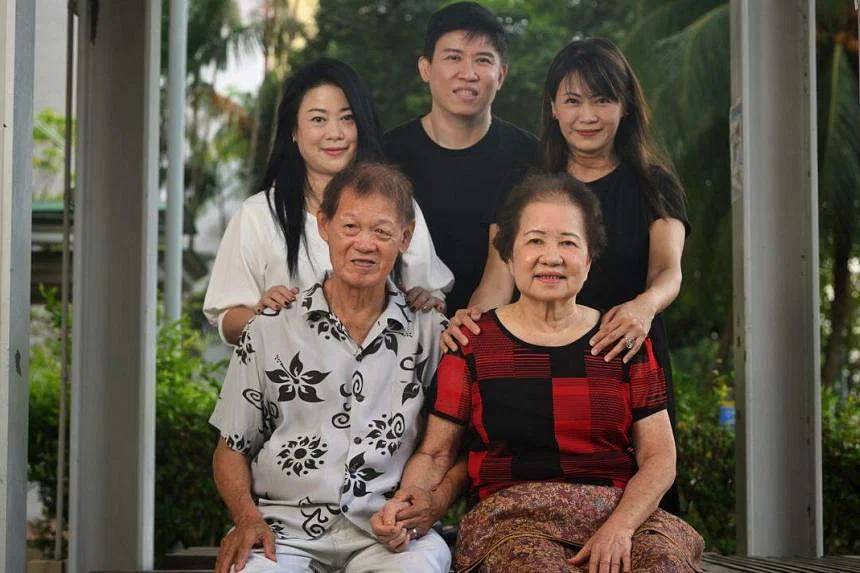 In August 2020, Madam Toh had a serious stroke. "I was heartbroken," said Mr Tan.
Their second daughter, Ms Suvian Tan, 49, recounted how her mother was unable to move, apart from blinking her eyes, or swallow any food while in the intensive care unit.
"We were actually quite prepared that she might go," said Ms Tan, a civil servant.
She said that when she asked her father, while he was visiting her mother in hospital, if he wished to go home, he told her he did not know how to go home to an empty home, without his wife.
Ms Tan said her father was exhausted from visiting her mother every day and suffered a relapse of a hernia problem. He then asked to be admitted to the same hospital as his wife.
The siblings split into pairs to visit their parents because of Covid-19 restrictions, and also to see to their parents' medical insurance claims and other tasks like hiring a helper.
When Madam Toh was discharged after four months, she had to use a wheelchair and was unable to use the toilet on her own. She also had frequent check-ups and weekly physiotherapy.
With the help of Mr Tan and their children, she can now walk short distances with a walking stick.
"I have God to thank for this," said Madam Toh, who teared up when recounting the ordeal.
Ms Tan said that after her mother's stroke, Mr Tan put all the couple's past squabbles behind him to focus on taking care of his wife. "It was like they started afresh," said Ms Tan.
The couple take daily walks in hopes of returning to the active lifestyles they had led after retiring, when Mr Tan played basketball every day and Madam Toh swam every other day.
Ms Tan said they taught her to stay close to her siblings. "My parents always emphasise kinship, especially for the four of us," she added.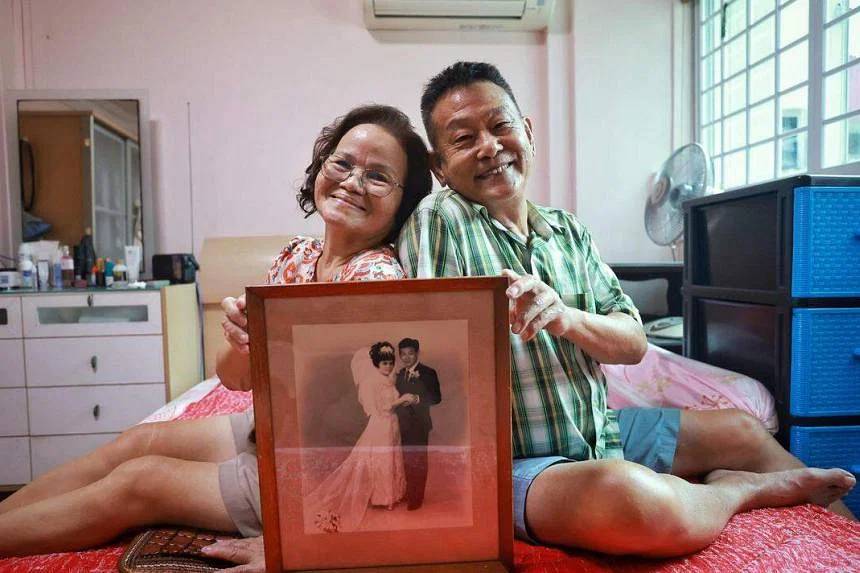 Another couple who were honoured, Mr Teo Ngak Hong, 77, and Madam Chen Nyek Tshin, 72, were pen pals first, having signed up for an activity advertised in a newspaper to meet other singles.
The pair, then 26 and 21, got married in 1971 after just half a year of dating and ran a meat stall in a market for 10 years.
They then operated their own mini-market in Tampines, selling fresh produce for 30 years. But the work was hard. They would wake up at midnight and work till mid-afternoon, even on weekends.
Madam Chen would return home earlier every day to care for their four children, whom Mr Teo's mother would look after while the couple were at work.
In the 1980s, when the economy went into recession and hurt their business, they faced hard times, with four young mouths to feed.
"We had to eat less, scrimp and save – what choice did we have?" said Mr Teo in Mandarin.
He said he occasionally lost his temper and raised his voice at his wife when stress got the better of him, but he would apologise to her afterwards and try to make amends.
"After so many years together, I knew what he was thinking and how he felt," said Madam Chen.
"If I have any problems, she will always help and support me," added Mr Teo. "I feel very blessed and grateful I have such a supportive wife."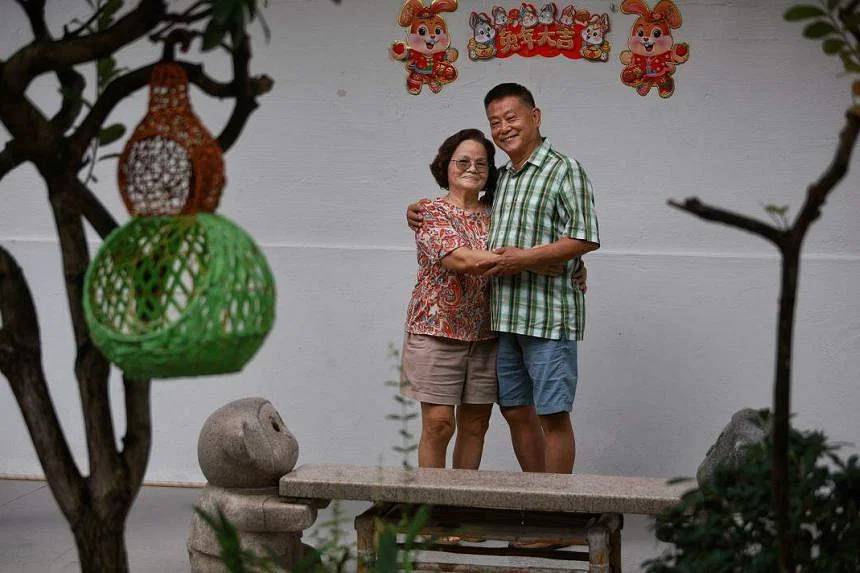 Their advice to younger couples is to build mutual respect and understanding.
"You must xiang jing ru bin (treat each other as honoured guests)," said Madam Chen, citing a Mandarin expression that means having mutual respect between husband and wife.
"We lead a very ordinary life and don't need much – as long as our children are happy, we're happy," said Mr Teo.
This article was first published in The Straits Times. Permission required for reproduction.