Here's why you shouldn't buy chocolates at the airport duty-free
PUBLISHED ON
March 06, 2020 5:21 AM
By
Trini Ng
What do you do when you're two hours early at the airport before your flight? Squeeze in a trip to the duty-free shop of course. However, are duty-free items really cheaper than elsewhere?
Research conducted by financial comparison platform Finder.com analysed 18 duty-free products across six categories: spirits, wine, skincare, makeup, perfume and chocolates, to see which item gives customers the most savings.
Product prices were taken from two duty-free shops in Changi Airport, namely DFS and iShopChangi. The prices were then averaged from both shops and later compared to retail prices, which was also averaged.
Here's what the results tell us.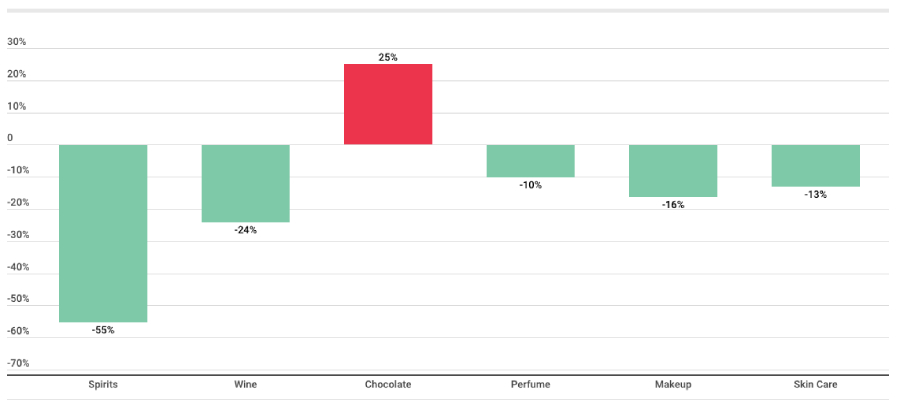 AVOID BUYING CHOCOLATES AT DUTY-FREE
According to the research, duty-free chocolates cost customers 25 per cent more than in retail shops on average.
The most expensive chocolate among the items analysed is a bag of KitKat minis, priced at $9.80 in a duty-free shop, compared to other retail stores in Singapore which might sell it for around $3 less, which is a huge difference.
However, if you have a sweet tooth and need a sugar rush, a bar of Ritter Sport Whole Hazelnut will not cost you much more at duty free, with only a $0.02 difference. It sells for $3.78 at retail shops and $3.80 in the duty-free, according to the research.
This may be sad news for chocolate-lovers, but those who love their booze can rejoice because it's what will give you the most savings at duty-free.
ALSO READ: KrisShop guide - how cheap is duty-free shopping with Singapore Airlines?
WHAT GIVES YOU THE MOST SAVINGS
Perhaps unsurprisingly, liquor purchases will offer customers the most savings at duty-free, with an average savings of 55 per cent. For example, a bottle of Bacardi costs $23 in duty-free but close to triple the price in retail shops, at $64.50 on average.
Coming in second is wine, which gives an average savings of 24 per cent, followed by makeup at 16 per cent, skincare at 13 per cent and lastly, perfume at 10 per cent.
While the percentages may not look like much, it certainly makes a difference when a bottle of Hugo Boss perfume costs $130 at a retail store but $115 at duty-free.
So before you buy an item on impulse at duty-free shops, always remember to do a double take before whipping out your credit card.
On the other hand, at least now you know that some items are definitely worth the bargain in duty-free shops!
trining@asiaone.com