Under different circumstances and in a different life, splashing brightly coloured paint at a clean, white wall would probably add more to my stress levels than decrease it.
But the moment I proceeded to fling a fistful of neon yellow paint onto an untouched canvas, an unexpected euphoria erupted within me, and a childlike excitement began to take hold.
Yes, I recognise the irony of comparing what I did for stress-relief to harassment tactics commonly used by loan sharks and saying it's helpful in allowing me to sleep better at night.
But if you'd want to experience splashing paint like an Ah Long (loan shark) for a day, Splat Paint House along Joo Chiat Road is one place you can legally do it.
Located within co-working space Mox, Singapore's first splatter paint studio lets you suit up and unleash your inner Jackson Pollock to create your very own masterpiece.
Walk in and you're greeted with a sight that would make any mother cringe at the thought of cleanup: a myriad of colours on the walls and floor with pockets of white peeking through.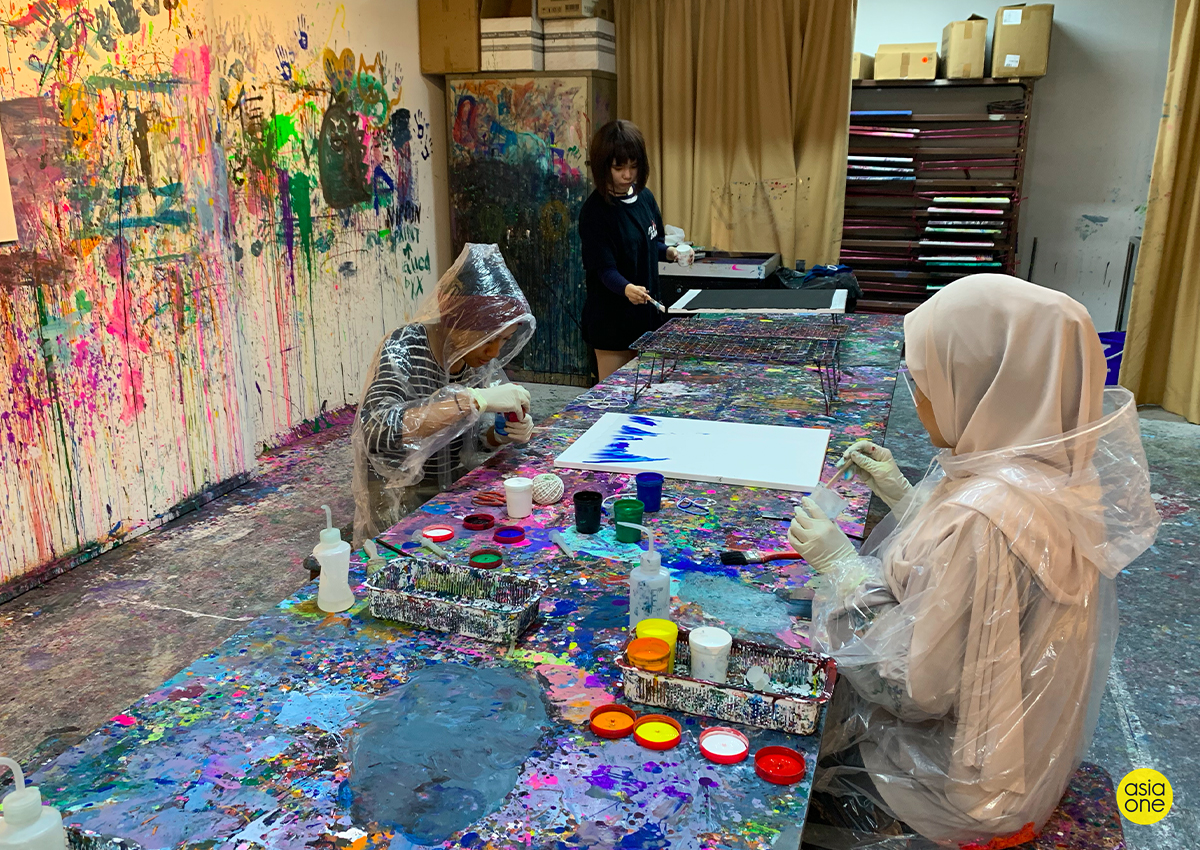 PHOTO: AsiaOne/ Joey Lee
Splat recently moved from the second floor of Mox to the first, and according to founder and manager Andrea Lim, the old studio did not even have a speck of white after two months.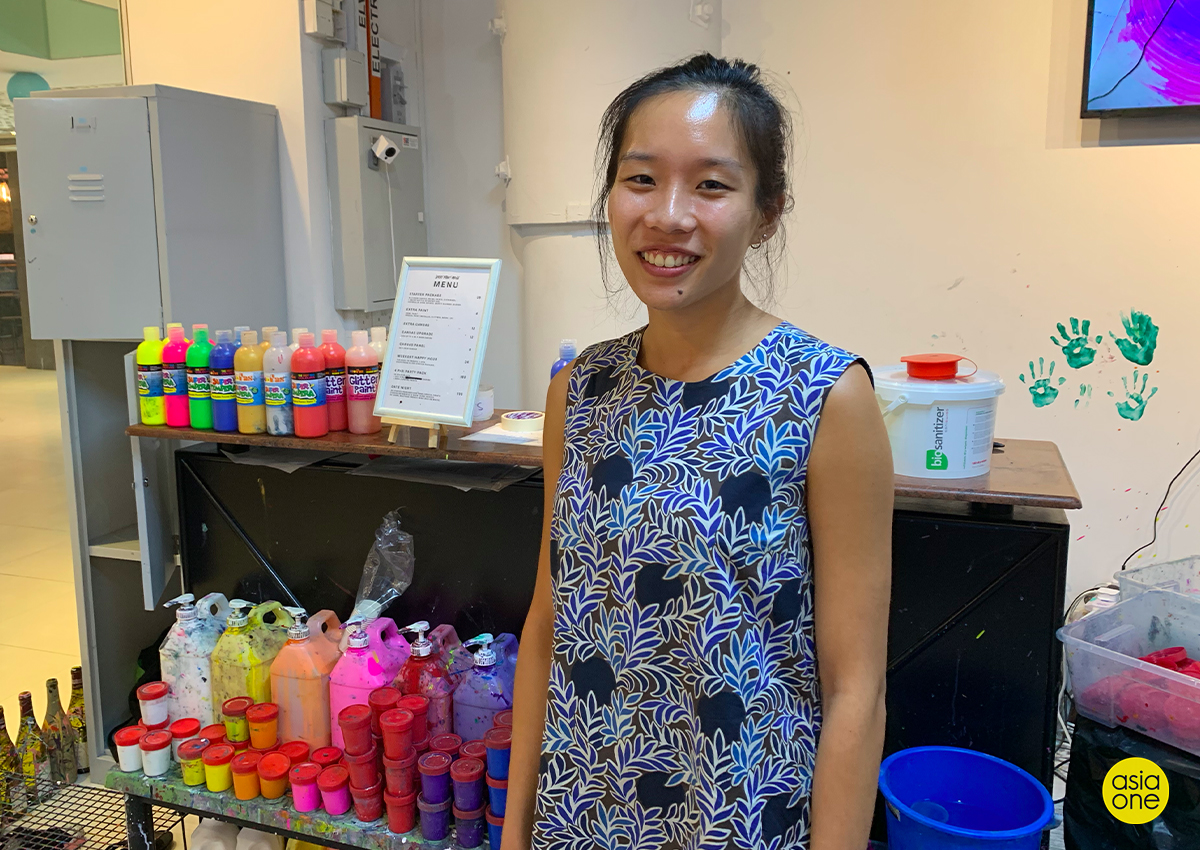 Andrea Lim, founder and manager of Splat Paint House.  PHOTO: AsiaOne/ Joey Lee
The 27-year-old brains and beauty behind the adventurous endeavour also shared how it took six coats of white paint to restore the unit back to its original state.
But it's all in a day's work, and it seems like her unusual business idea is taking off — Splat was originally meant to be a pop-up until August 16. Due to its popularity though, the studio will exist at least until October 28 and Lim is still looking for a permanent location to house her brainchild.
Lim shared that on weekdays, there's anywhere from 10 to 40 people in the studio while on weekends, that number can range from 40 to 100, so it's best to book a time slot with them online.
THE EXPERIENCE
Since the splatter studio was in an enclosed space and is constantly being used for painting, I was concerned at first that I'd be breathing in noxious fumes (or at least needing to go out for fresh air every once in a while).
However, my worries were for naught. All paints used are non-toxic, easily washable and safe even for little ones, making Splat a family-friendly activity for all ages (Parental supervision required for children under six).
If you're heading down, here's what to expect. First, I watched a video introducing me to some techniques I could use to spice up my canvas.
Next, I suited up. Lim explained that previously, coveralls were used but the material was porous and still allowed paint to stain the skin. As an alternative, they now give out raincoats in addition to gloves and shoe covers but you should definitely wear clothes you won't mind dirtying.
Prices start at $39 for a basic package which gives you a canvas, four colours and some equipment. If you want extra paint, another canvas or special paints (neon, glitters, metallics), you'll have to cough up a little more. 
A basic package starts at $39 with all that's shown above as well as a raincoat, shoe covers and gloves. Top up $3 for neon paint (inside paper cup).  PHOTO: AsiaOne/ Joey Lee
The last step was to choose my colours and go wild. I hung my canvas up on the wall, and proceeded to do whatever I liked, using tools like brushes, popsicle sticks, syringes and of course… my bare hands.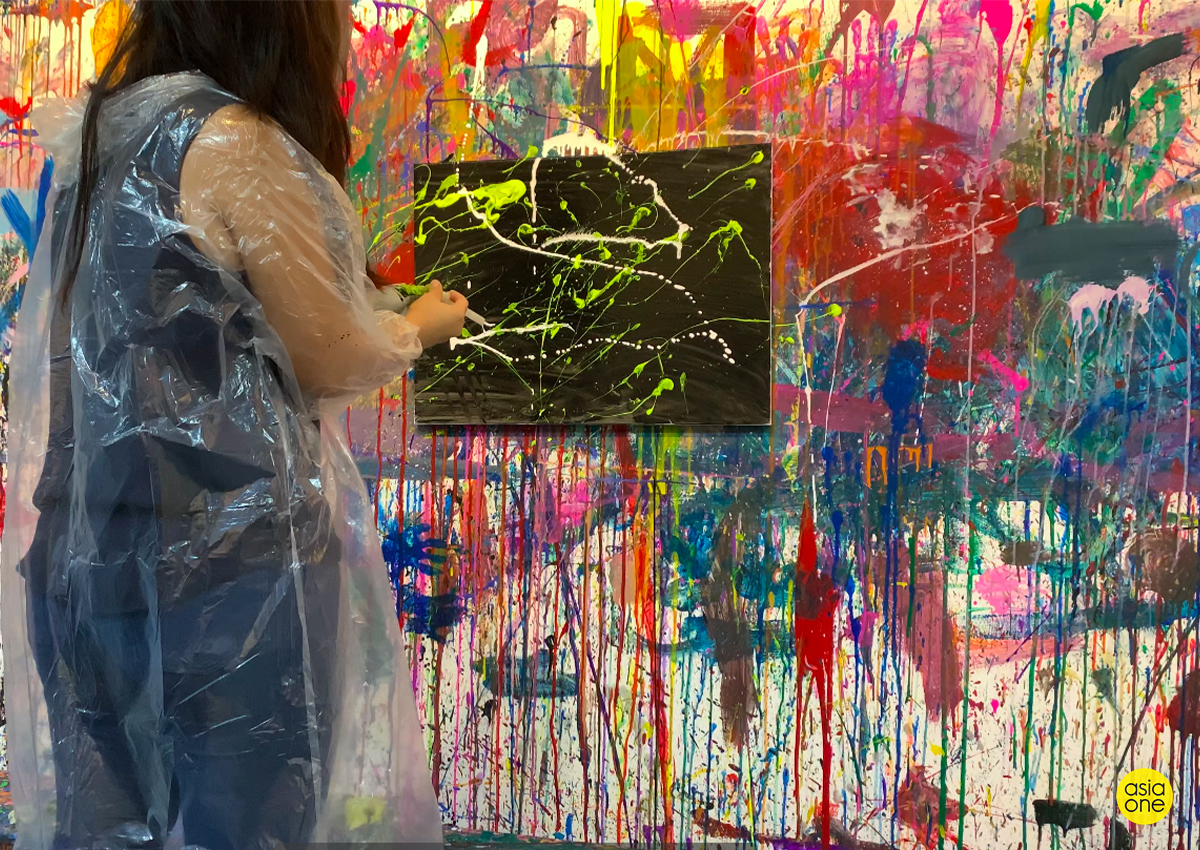 Unleashing my inner Jackson Pollock.  PHOTO: AsiaOne/ Joey Lee
I must confess: at the very beginning, I stood before the pristine canvas and was lost for a moment at the possibilities of what I could do before I decided to just say "heck it".
As an adult, it's not often that acting before thinking is something that's encouraged, and it was a liberating feeling that allowed me to forget this was a work assignment for a while.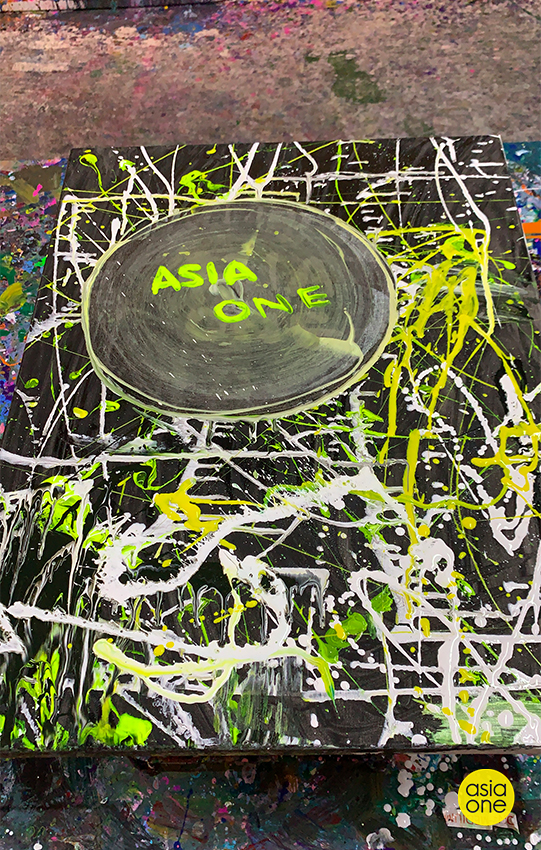 Voila! My very own masterpiece.  PHOTO: AsiaOne/ Joey Lee 
Indeed, Splat Paint House has been advertised as the latest "rage room" for burnt-out working adults to vent all their pent up frustrations.
While Lim understands the appeal behind that concept, she intends for the business to be more than that, allowing people to have fun in creating artwork they can be proud of and even bring home, after allowing it to dry for 48 hours.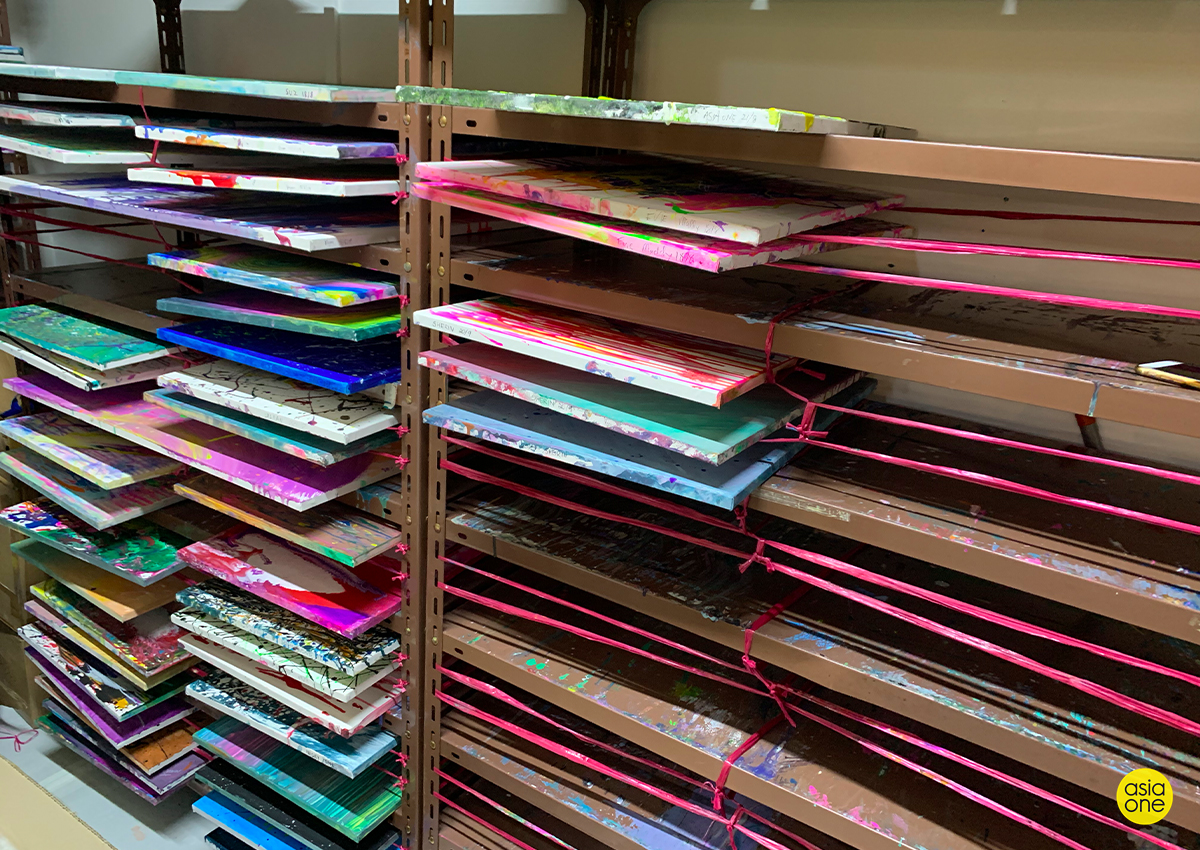 All the paintings that have been left to dry.  PHOTO: AsiaOne/ Joey Lee
OTHER UNCONVENTIONAL WAYS TO LET IT ALL OUT
Perhaps it's a symptom of living in our fast-paced society but more and more millennials like Lim are coming up with creative ideas for people to release stress.
Singapore's OG (original) rage room, The Fragment Room, has been around since 2017, encouraging stressed-out individuals to smash their inner frustrations to fragments.
Their form of therapy involves people breaking objects like plates, glasses, vases and electronic appliances to release their inhibitions and resentment.
Another unconventional business is Singapore's first indoor axe-throwing range, Axe Factor, where you're free to release your inner barbarian and hurl axes (the blades have been dulled) at targets for fun.
READ: I threw an axe at a colleague - and it's $15 if you want to try
If you're looking for a fun or unconventional activity to do with loved ones on a weekend, you might want to give these places a try.
joeylee@asiaone.com