The i7 M70 is the fastest full-electric model by BMW, but at a high cost
PUBLISHED ON
September 15, 2023 8:14 AM
By
Julian Kho
Of course, as I write this for you to read, you must be thinking, "Really? Another BMW i7?" Yes, I'm afraid so. After some three stories, four YouTube videos and countless social media posts on the Bavarian marque's flagship electric model, we have yet another one.
Only thing is, this is something a little bit more special. It's the fastest all-electric BMW model ever created. And it's precisely this that makes the BMW i7 M70 the kind of car that's targeted at a very niche audience, the sort of audience who are in the know and who appreciates the finer things in life without having the need to boast about them.
Numbers extraordinaire
See, BMW has created the i7 M70 xDrive, which is essentially an all-electric super high-performance luxury sedan that's meant to succeed the V12-powered M760Li. Obviously, it doesn't have 12 cylinders underneath its bonnet, but the all-wheel driven i7 M70 is nevertheless a performance marvel of sorts. 
There's a 101.7kWh battery pack that sends its energy to two motors, one at each axle. The front produces 254bhp and 365Nm of torque, while the rear makes 482 horses and 650Nm. Combined, the two can achieve a maximum of 650bhp and 1,015Nm of torque (1,100Nm when in M Launch Control/M Sport Boost mode).
As a result, the sprint timing from zero to 100km/h is a scant 3.7 seconds, which is extraordinary once you factor in the 2.7-tonne weight of the car. Yes, it's fast, but more than just about speed is how much thought was put into producing a car with such performance figures.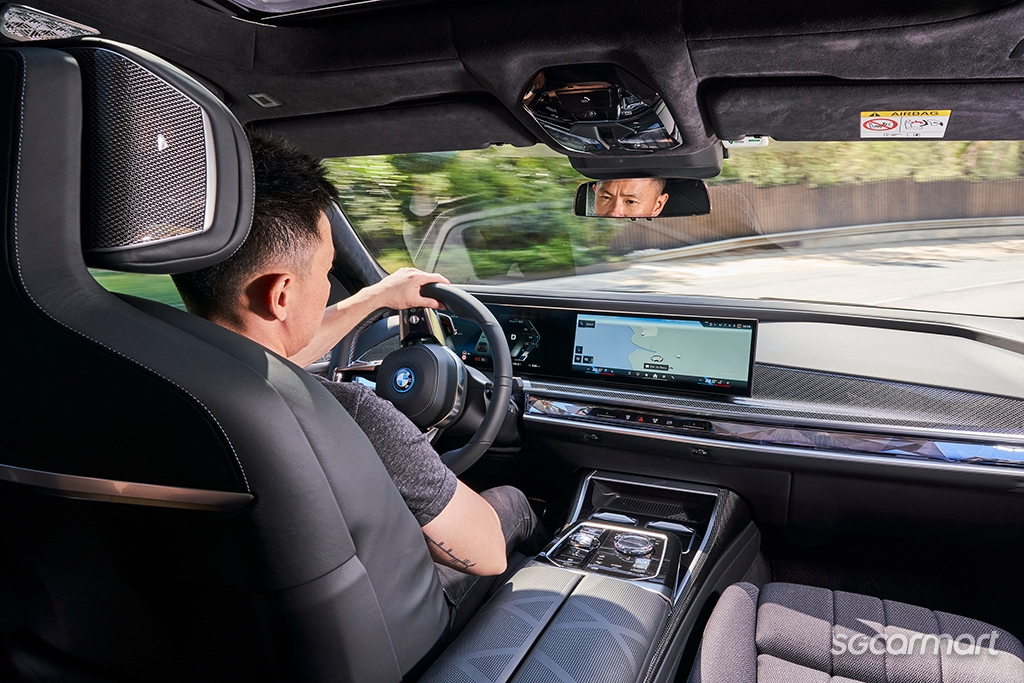 Again, the car produces over a thousand torque, and it's torque on tap and on demand that never seems to end or dry up — as least not until you hit the electronically limited top speed of 250km/h. Put your foot down on an empty straight in pretty Portugal and your heart skips a beat, everything around you becomes a blur and before you know it, the needle on the tacho is pointing way into illegal three-digit speeds.
Driven thus, as I did during my time with the car, I managed to get a consumption of about 3.8km/kWh, which is still not too bad considering the official numbers given by BMW are between 4.2km/kWh and 4.8km/kWh.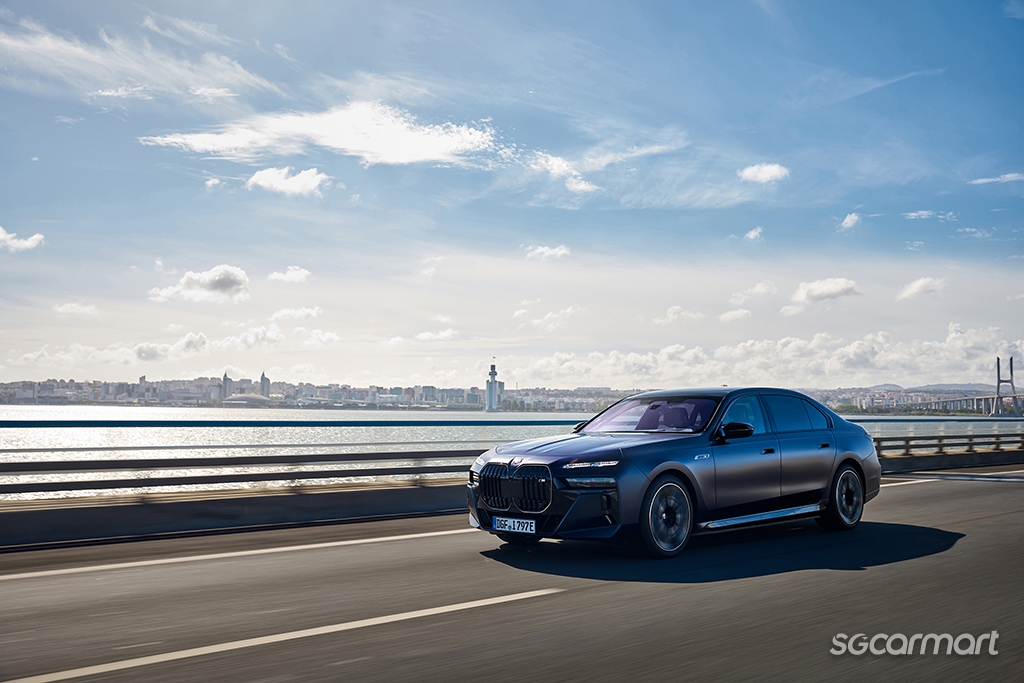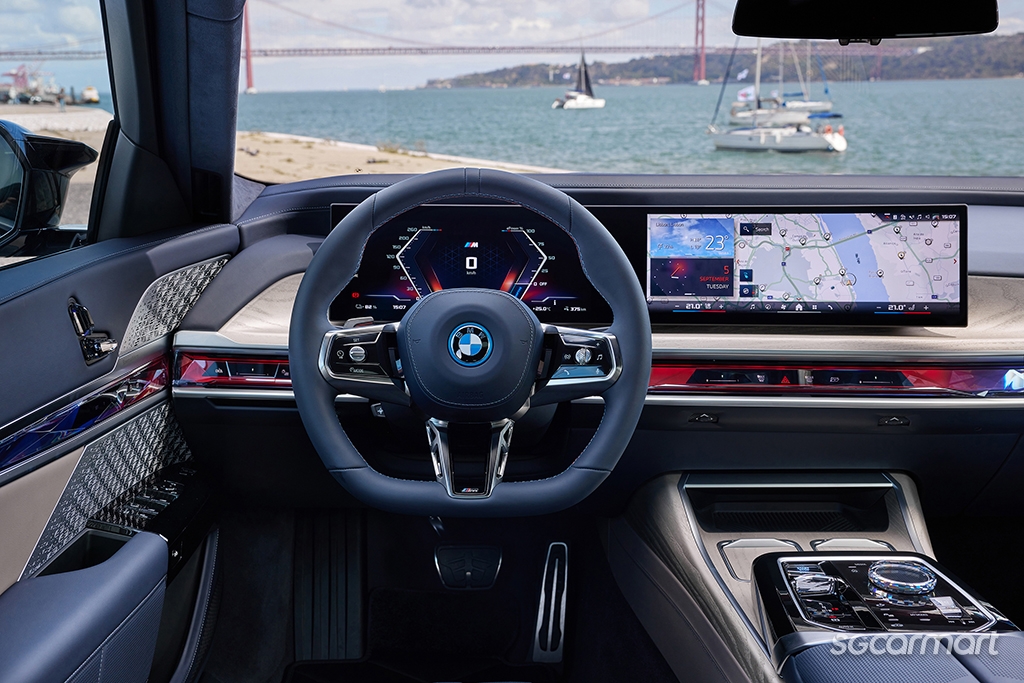 Exceptional manners
But the consumption isn't exactly a priority when you're behind the wheel of a car like the i7 M70, and I suspect buyers of this car will probably think alike. And that's really because the car's on-road manners and dynamism are nothing short of exceptional. It handles tarmac imperfections well, tackles corners with aplomb, and holds its lateral movements very well, even at high speeds. 
This dynamic wonder has to do with the fact that this i7's chassis has been developed by the guys at M division — it sits on M-specific adaptive air suspension with electronically controlled dampers and the car comes with active roll stabilisation, which helps the sedan of close to 5.4m long feel nimble on the go.
Of course, you can neither hide the car's size nor defy the laws of physics here. Head into a corner fast, brake late, attack the turn and you'll experience a bit of roll and unwieldiness.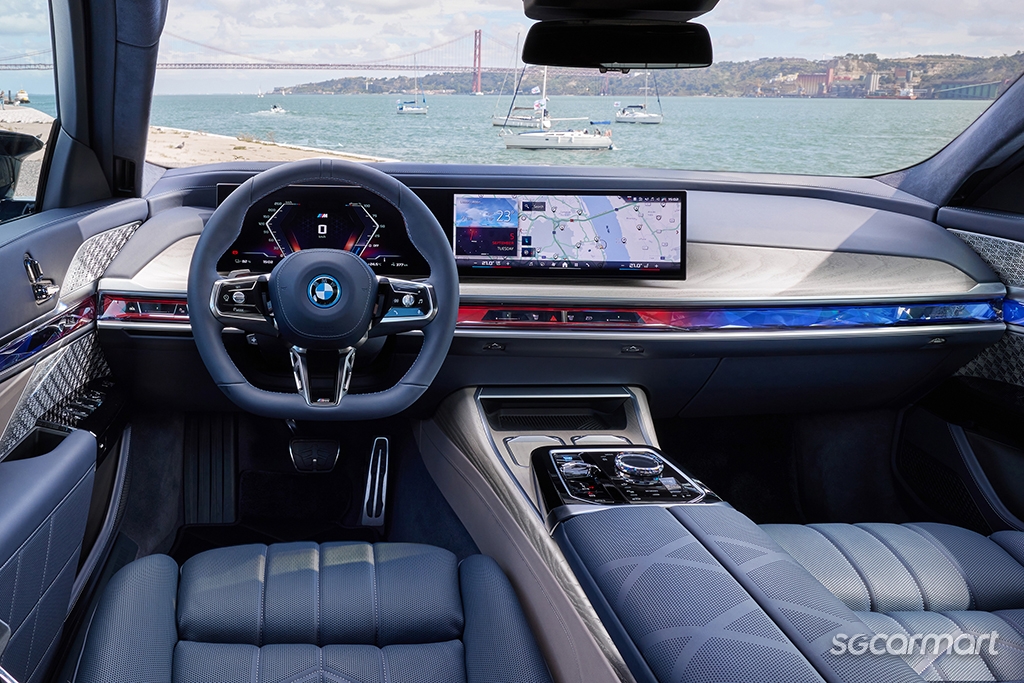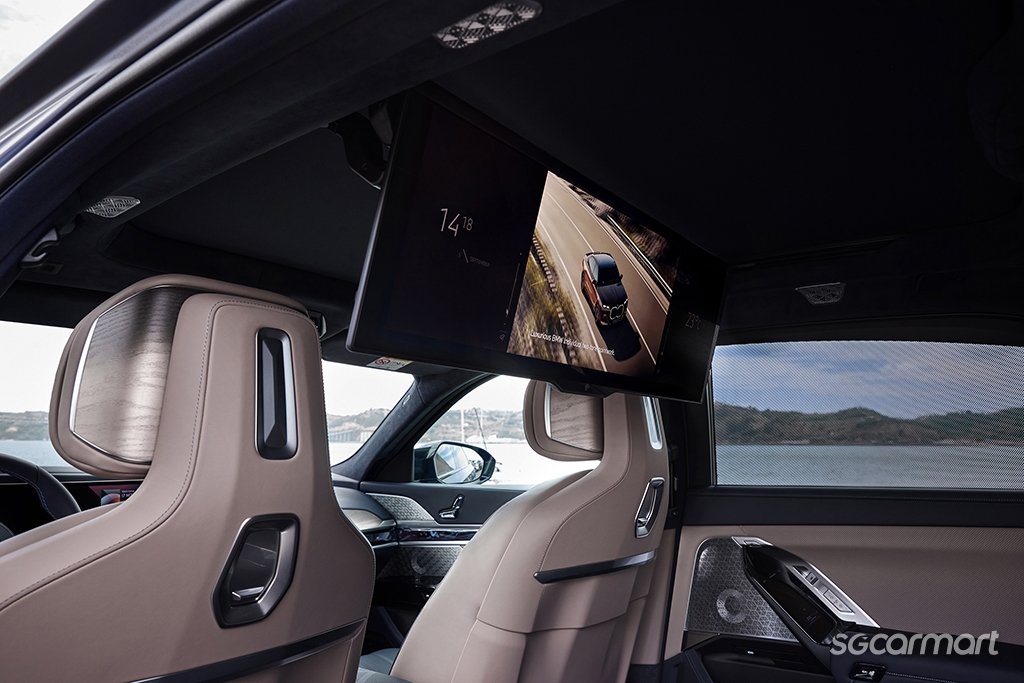 Remarkable cabin
Still, even if driving like a maniac is your thing, you're bound to enjoy the first-class cabin. And that's because the first thing you're going to notice when you step into the BMW i7 M70 is the huge screen at the back seat — a feature recently introduced for Singapore i7/7 Series customers (as an option). 
You can also expect to get BMW's latest iDrive system, which is now running on OS 8.5. There are also several driving modes in here that can either help you maximise your range or performance. In this case, there's a Max Range mode that cuts down driving performance and limits your top speed to just 90km/h. According to the carmaker, this can help gain an extra 25 per cent of range.
But you and I will have to understand that this car right here is all about performance. To really immerse in the car's full output of 1,100Nm of instantaneous torque, flick the left paddle shifter to activate the M Sport Boost. Otherwise, you'll have to make do with the standard 1,015Nm — which, by the way, is still massive.
Is there a noticeable difference? Quite honestly, at an already high figure, I can't say for sure that I can accurately feel it. What I can see and hear, though, are performance-specific graphics in red and blue lighting up the instrument panel as well as 'performance' IconicSounds Electric sounds when the M Sport Boost is selected.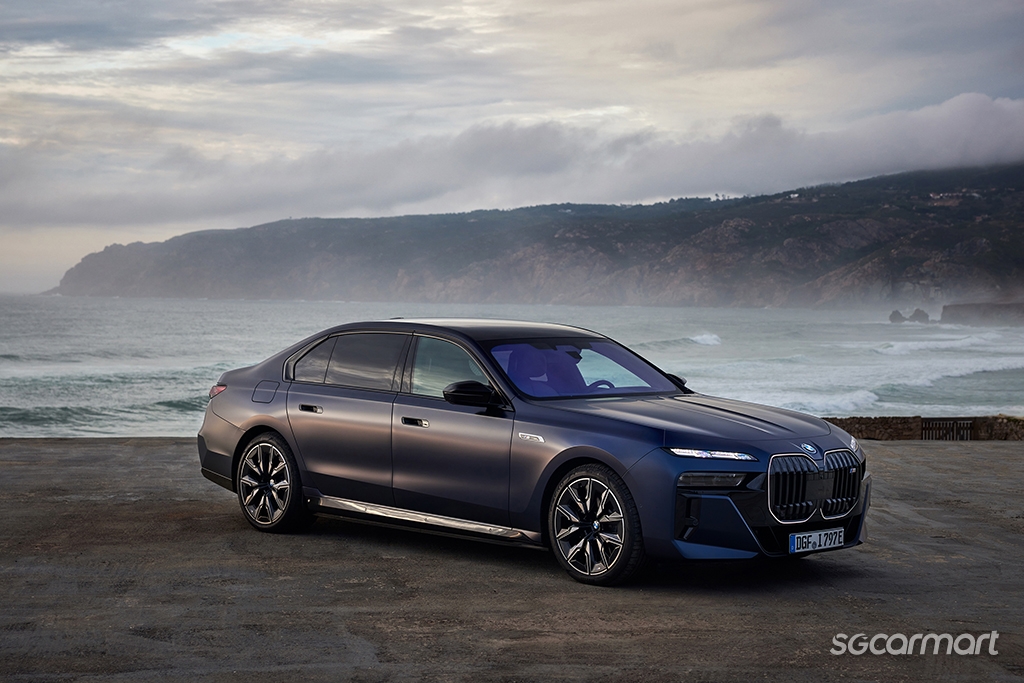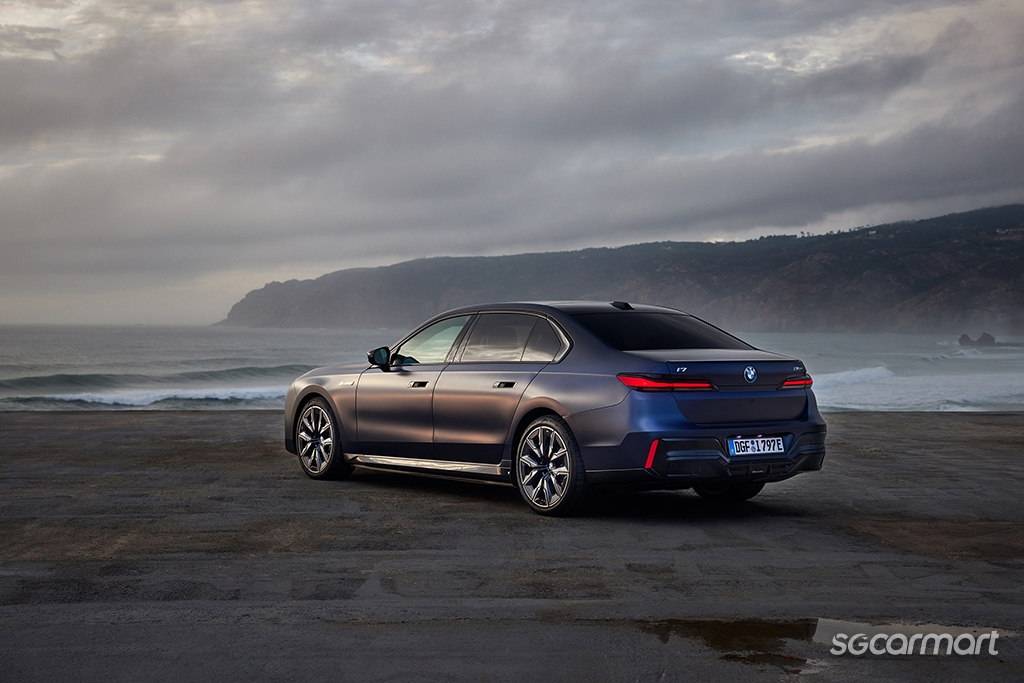 Massive presence
In terms of the i7's design, there are some visual updates that set this top-of-the-line variant from the regular one. With the i7 M70, there are additional M badges scattered around the body, a spoiler, M-specific side skirts as well as a diffuser — all in place to spruce up the car's aggression to match its performance. The kidney grille is also illuminated on our test car, a lovely feature that will be available for the Singapore market, too. 
Other than these, the car looks pretty much similar to the regular one, and I suspect more so the average casual observer. This isn't a bad thing, because that's the whole idea of such a car, methinks. There's just something about driving a subtle, sleeper and an almost subdued-looking car that has the capability of smoking cars at the lights.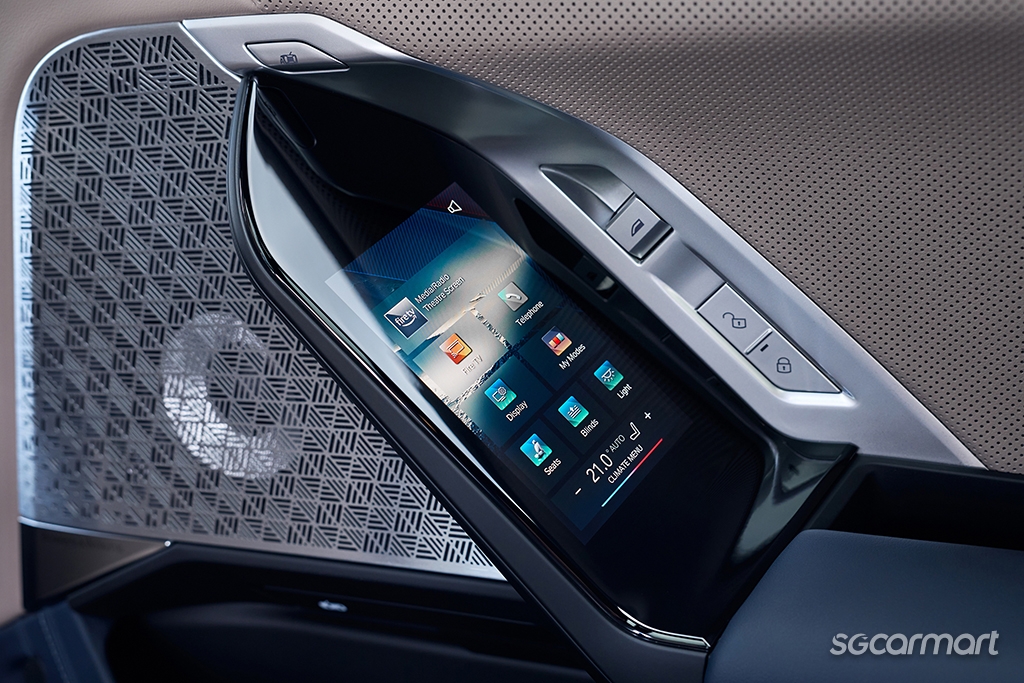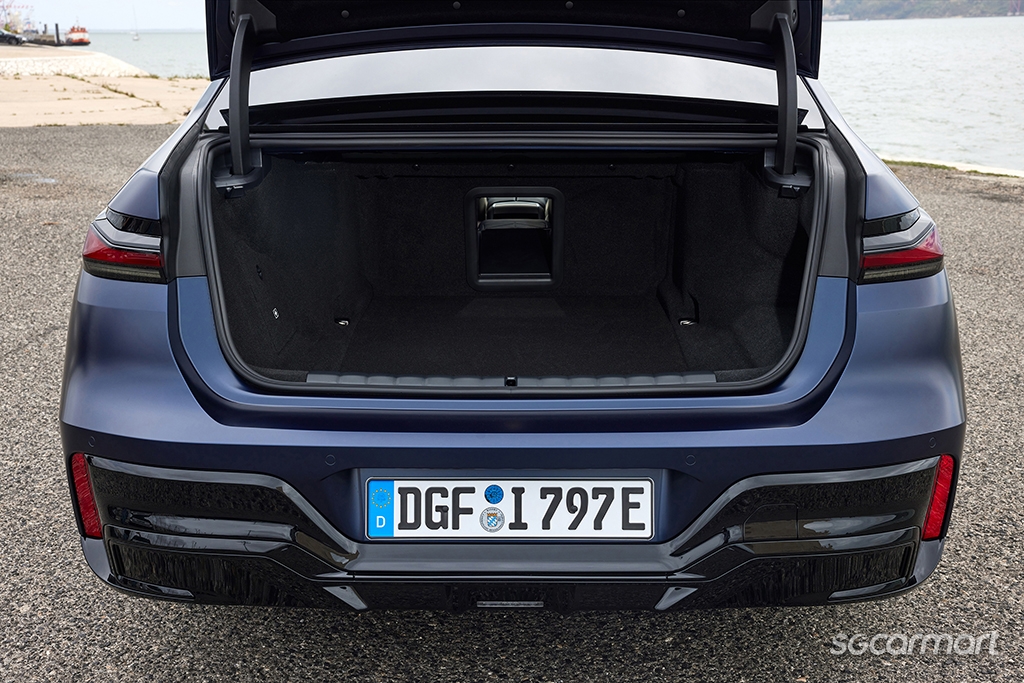 Astounding machine
And I reckon that's what really makes the BMW i7 M70 such an astounding and desirable car. The people who buy a car like this don't make the decision with their heads. They do it with their hearts and that's also because they can afford to.
Yes, there's always the argument that powerful electric vehicles are pointless unless they come equipped with huge batteries, but it's not quite the case with the i7 M70. It has over 450km worth of range on a full charge, of which the car supports DC fast-charging at up to 195kW. This allows the i7's battery to dash from 10 to 80 per cent in about 30 minutes.
The BMW i7 M70 is expected to arrive on our shores early next year. Is it inadequate? Not at all. Will the range suffice for 90 per cent of the buyers? Very likely. Is the car going to satisfy potential niche buyers? Oh, yes. Most definitely.
What we like
The power!
It's still the epitome of luxury
Automatic doors
Handles like a smaller car
Highly desirable
What we dislike
It's going to set you back over $800k when it arrives early next year
ALSO READ: The best small luxury SUVs in Singapore