Noticed your favourite local star missing in action for a while? Or perhaps you've scrolled past an Instagram plug of their latest side-hustle.
These days, celebrities in Singapore seem to wear many hats and it's not unheard of for them to start sideline businesses unrelated to the media industry.
Be it pursuing a different passion, wanting to develop a new skill or even banking on it as a retirement plan, we've noticed more and more start-ups by young celebs, particularly so in the already-crowded F&B scene.
So whether we thought they'd forever remain on our screens (due to their good looks), or seem to be masters at what they already do, here are some famous names that have upped the ante to become F&B towkays. 
SHANE POW'S MOJO
The C.L.I.F actor's protein bowl restaurant seems to be doing the trick for those hustling in the CBD area, seeing as how he recently opened his second Mojo branch at Republic Plaza.
On a recent episode of our on-going #JoeyJios series, we took the chance to pop by Shane's eatery to see if the healthy food he champions tastes as good as it looks.
Later, we also dropped by House of Mu, his buddy Ian Fang's restaurant-cum-furniture business located nearby. Watch our video here. 
Overall, Mojo really pleased me with the balance of hearty yet healthy offerings packaged in a completely guilt-free meal.
If you're a health-nut or trying to lose a bit of weight, you'll appreciate the wallet-friendly prices and the volume dished out in every bowl, guaranteed to fill you yet keep your daily caloric intake low.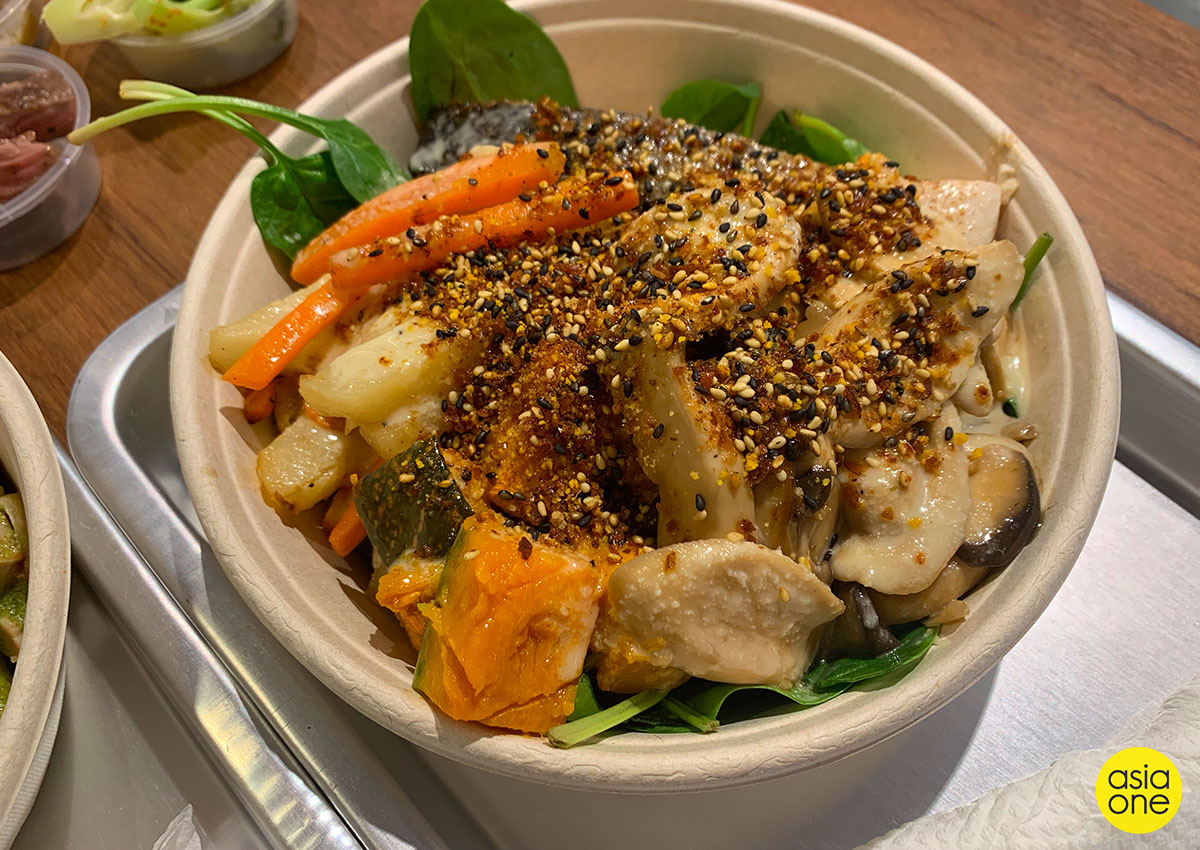 Even if you're a picky eater, the wide array of colours, textures and variety of food is sure to whet your appetite.
Address: 9 Raffles Place B1, 07, 048619 (Mojo @ Republic Plaza) and 204 Telok Ayer St, Singapore 068640 
Website: https://www.mojosingapore.com/
IAN FANG'S HOUSE OF MU
Nestled along a row of colourful shophouses, House of Mu's chic vibe is a reflection of its celebrity co-owner, whose entrepreneurial spirit leaves us in awe.
The multi-talented actor can not only sing and dance, he also founded streetwear First Attempt, in addition to being a restaurateur.
The European-Asian fusion menu is a refreshing change from the usual restaurant-fare, and my pick would definitely be the best-selling Mentaiko Risotto with its visually shocking pink hue.
A little open secret — you can purchase Burmese teak furniture from the table that you eat from or the chair you choose to sit on —  you'll just have to give the owners a heads up.
Amidst a backdrop filled with alcohol bottles, the place is a nice spot to chill after work and knock back a few cold drinks with friends or colleagues.
Address: 11 Mohamed Sultan Rd, Singapore 239010
Website: https://www.houseofmu.sg/
SONIA CHEW'S IZY FOOK
Radio host Sonia Chew is a #GirlBoss now, having recently opened her own Singaporean-Japanese izakaya concept called Izy Fook.
Yes, you read that right. It's one of the few restaurants serving Singaporean food izakaya-style, and the name is a play on Chinese words meaning "let's prosper together".
Step in and you can expect a kitchen inspired by old school local Cantonese restaurants, offering re-interpretations of familiar Chinese dishes that have been given a Japanese twist and vice versa.
You might even catch Sonia there herself and she's even available to host events at Izy Fook, provided she has the time.
Address: 27 Club Street, Singapore 069413
Website: http://izy.com.sg/
JULIE TAN'S BOTANY
Ambitious risk-taker Julie Tan stepped into the role of F&B entrepreneur earlier this year with her first F&B venture: Botany by Dazzling Cafe.
A culmination of a vision she shared with a friend since they were 13 years old, the cafe's concept came from the whimsical cravings she had when out with her friends.
If you're a fan of hers, here's one dish she insisted to be placed on the menu: The signature grilled chicken with Balinese salsa.
We haven't had the chance to try it, but this was one item that helped Julie recover from her gallstones, according to the actress herself. 
Address: 86 Robertson Quay #01-03, Singapore 238245
Website: https://www.botany.com.sg/
Next time you're dining at one of these places, don't be too star-struck if you happen to see your favourite celeb popping in.
READ ALSO: Taking on Taufik Batisah's ghost pepper spicy chicken
joeylee@asiaone.com