If you've never been able to justify forking out as much as $42 for a luxury movie experience in Singapore, you're not alone.
I've never been able to convince myself that reclining seats, freshly-cooked meals and wait staff at your beck and call is worth paying so much for — especially when you can get all of this at a fraction of the price just across the Causeway.
Other than eating, shopping or getting a massage, watching a movie is a great way to pamper yourself and it's easy to splurge a little more when the SGD is doing well against the ringgit.
So the next time you're on holiday and have some time to kill, consider upgrading your regular movie experience at the following cinemas.
EMPEROR CINEMAS AT R&F MALL
Opened in August last year to much hype for being Malaysia's first luxe cineplex, Emperor Cinemas at the relatively new R&F Mall has cinephiles going gaga at the facilities.
Instagrammable aesthetics (for that extra atas feel), gourmet Hong Kong-style snacks and the country's only cinema with a Sony 4K laser projector system aside, what's got us even more excited are the affordable prices.
Tickets cost between RM10 ($3.30) for a 2D ticket to RM24 for a 3D ticket and you'll be seated in plush leather seats tailor-made for movie connoisseurs with flexible armrests for extra comfort.
Where: R&F Mall Johor Bahru, Jalan Tanjung Puteri, 80300 Johor Bahru Malaysia
AURUM THEATRE AT MID VALLEY SOUTHKEY
If you're going to give yourself a treat, Aurum Theatre at The Mall, Mid Valley Southkey is where you can go all out for the ultimate luxury cinematic experience.
At RM120 and RM150 for the Getha Lux Suites, this may not be cheaper than Singapore but at least you'll get more bang for your buck.
Here's why it's so expensive: Instead of a regular seat or even a reclining one, you're paying to watch a show on a chair-bed with 100 per cent natural latex foam cushioning, USB chargers, fluffy pillows and a velvety blanket.
Those who are hygiene-conscious can relax, as the blankets and covers are changed after every session.
The hall comes with Dolby Atmos, a surround sound system that ensures cinema-goers have a more immersive experience.
Additionally, each ticket comes with an Aurum Pass which gives you access to a wide range of curated meal platters and a selection of wine and cocktails that can be eaten at an in-house gastrobar or delivered directly to your seat.
You might want to bring a friend along for this experience though — some of the seats are without armrests so it might be a little awkward being in such close proximity to a stranger.
Where: The Mall, Mid Valley Southkey, No. 1, Persiaran Southkey 1, Kota Southkey, 80150 Johor Bahru, Johor
TGV CINEMAS' BEANIEPLEX AT TEBRAU CITY AND BUKIT INDAH
Ever grumbled in a cinema because of cramped, uncomfortable movie seats? Or silently cursed at someone squeezing into your row because they were late?
You won't find that problem at the futuristic and comfortable-looking Beanieplex halls at TGV Tebrau and Bukit Indah.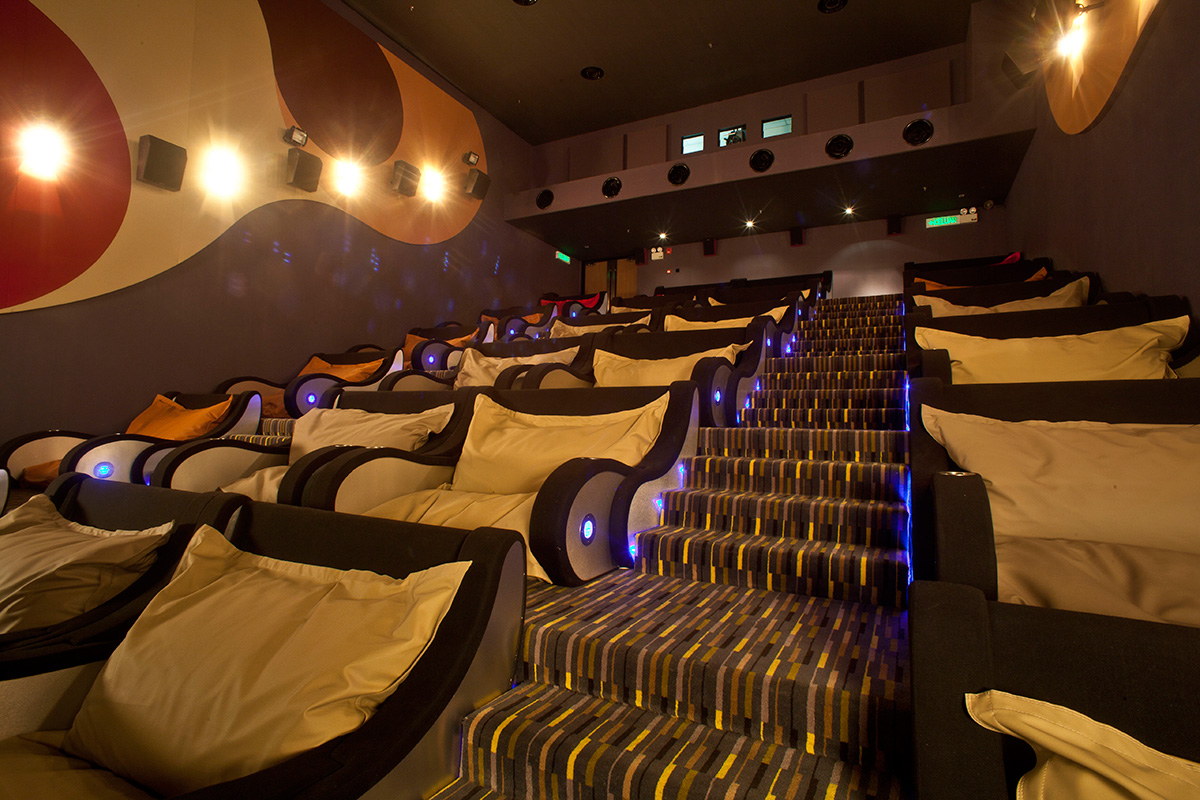 With funky adjustable bean bags where you can kick back, relax and enjoy your movie in ultimate comfort, TGV calls Beanieplex "the world's most comfortable cinema" where you can make your own rules about how you want to be seated while watching the show.
Arms splayed out? Leg propped up? Manspreading? There's no problem with sitting unglamorously at all.
You and your seating partner will be able to sit however you like as you sink into the super cosy bean bags.
According to the TGV booking site, a ticket for two seats in Beanieplex will set you back by RM53.
GOLDEN SCREEN CINEMA AT PARADIGM MALL
While this one isn't a luxury experience per se (there's no bespoke service or opulent seating), Golden Screen Cinema (GSC) at Paradigm mall is one of the few places you can catch a 4DX movie for cheap.
In addition to watching the movie in 3D, moviegoers are in for a more immersive viewing experience in a hall that can mimic 20 motion and environmental effects that correspond to scenes in the film.
Likened to 4D theme park rides, you'll get to brave the storyline amidst the "snow", "rain" and "wind", and if the plot calls for it, you'll also get to experience "mist", bubbles and even smells.
Tick this out-of-the-ordinary movie experience off your to-do list the next time you're in JB for an additional $6 surcharge on top of normal movie ticket prices.
Where: Jalan Bertingkat Skudai, Taman Bukit Mewah, 81200 Johor Bahru, Johor, Malaysia
MBO CINEMAS AT AEON MALL BANDAR DATO ONN
Another alternative for families looking for a fun movie night out is the Kecil and the MX4D halls in MBO cinemas that's located within AEON Mall Bandar Dato Onn.
The Kecil hall is perfect for parents with restless young children who can't sit still or stay quiet during the movie — kids are allowed to run wild and make as much noise as they want.
Not only are seats family-styled with beds that can fit a family of four comfortably, there's even a playground within the hall where kids can play if they get bored during the show.
If your kids are a little older, consider the MX4D experience instead. Just like the 4DX halls in GSC, seats have built-in motion and effects that sync with the on-screen action.
Throw in theatrics like wind, fog and strobe lights and it's as if you've immersed yourself in the show.
According to sources online, prices for the Kecil hall range from RM9 to RM20 and prices for the MX4D halls range from Rm25 to RM32.
joeylee@asiaone.com