If Baey can cook, so can you!
Just like most Singaporeans who are spending this circuit breaker exercising and cooking, Member of Parliament for Tampines Baey Yam Keng proves that he's very much like us too. 
When he's not dishing out workout tips on his Instagram (IG) page, Baey flexes his culinary muscles by plating up some of his mother's recipes that are easy to follow.
In his recent IG post, Baey shows the step-by-step process of how to cook chicken rice, so you can recreate the taste of his mother's cooking at home too.
The quantity of the ingredients wasn't stated, so we agak-agak (estimated) from what was seen in the video.
Ingredients:
1 big onion
1 ginger
a bulb of garlic
Pandan leaves
1 whole chicken
Brown and white rice
3 bulbs of shallots
Light soya sauce
Sesame sauce
1 cucumber
1 tomato
Steps:
Cut onion, peel ginger and slice it lengthwise into thick planks
Add onion, ginger, garlic, pandan leaves in a pot of water and bring to boil
Submerge the whole chicken, add salt to taste, boil for 10 minutes. 
Turn off fire and leave chicken in broth for an hour
Chop shallots and fry in a wok, add brown rice and white rice and fry
Transfer rice into rice cooker and add chicken broth to cook
Chop up chicken, slice cucumber and tomato and plate
Mix light soya sauce and sesame sauce together and pour over chicken
Only one follower asked the quintessential question: "what about the chilli?"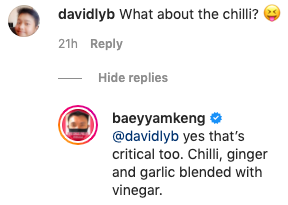 PHOTO: Instagram/Baey Yam Keng Screengrab
Other followers sang praises of his cooking skills and here's what humble Baey had to say.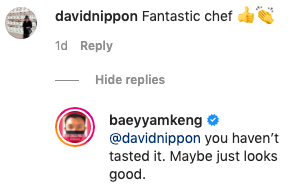 PHOTO: Instagram/Baey Yam Keng Screengrab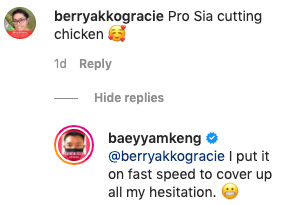 PHOTO: Instagram/Baey Yam Keng Screengrab
Stay tuned for his next video where he promised to share how he uses the chicken broth to make soup.
Baey also shared in another post his mother's cabbage rice recipe for those who are missing a taste of home-cooked food. 
Try Baey's recipes and let us know if it's Yammy!
ALSO READ: Rice cooker mac and cheese & other recipes to try at home during this circuit breaker period
melissagoh@asiaone.com