Circuit breaker measures have been implemented this week and while people are wondering what they can or cannot do during this period, why not stay home and cook yourself some delicious treats?
For people who hate tedious cooking and cleaning up after, we hear you. Here are some simple recipes you can make at home, with minimal effort.
Mains
 

Rice cooker mac and cheese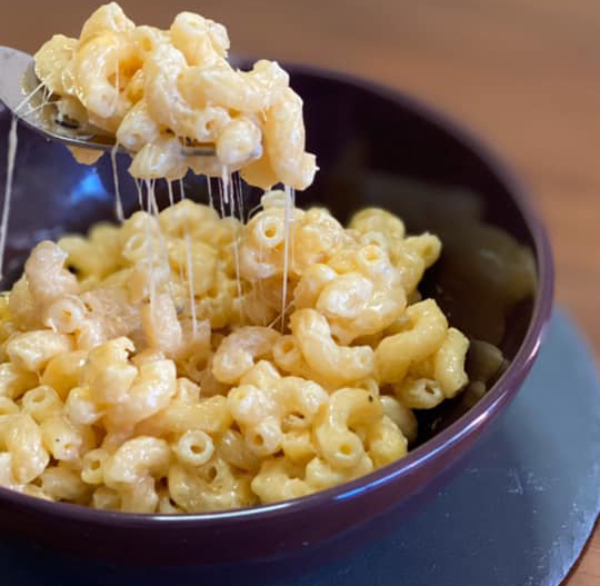 Thanks to a Facebook user, Leslie Koh, we now know how to make mac and cheese using a rice cooker.
Ingredients:
Pepper
2 tablespoons of butter
1 cup of chicken stock
1 cup of whipping or heavy cream
1 cup of mixed cheese
2 cups of macaroni
Steps:
Pour the macaroni into the cooker pot
Add the chicken stock
Add the whipping or heavy cream
Mix well
Cook for 20 minutes and stir
Add the cheese
Add black pepper to taste
Mix well
Keep in "warm" mode for three minutes to let the cheese melt well and then serve
Singapore style okonomiyaki
If you're done experimenting with the rice cooker mac and cheese, Leslie Koh offers another option – maggi okonomiyaki.
Ingredients:
A can of mushrooms
A can of luncheon meat
A packet of maggi mee
A slice of cheese
2 eggs
Oil
Steps:
Slice up four pieces of mushroom and dice one-eighth of the luncheon meat
Cook the noodles until almost done and drain
Add a bit of oil to the noodles and toss to prevent the strands from sticking together
Add oil in the pan, fry the noodles and flatten them
Beat two eggs and pour over the noodles
Flip over
Add the mushrooms, luncheon meat and cheese
Fold into half
Add mayonnaise (optional) and serve
 

Rice cooker KFC
This piece of finger lickin' good news might have blown up on your Twitter feed at some point in time, but we're here to share it again.
Ingredients:
1 cup of rice (depending on the number of servings you want)
2 cups of water/enough chicken broth to submerge KFC chicken
2 pieces of KFC original flavour fried chicken
A dash of soy sauce
Steps:
Add all ingredients into the cooker pot
Shut the lid and cook for 30 minutes
Tear apart the fried chicken flesh before mixing everything together
Add salt and pepper to taste, serve while warm
Desserts
Banana peanut butter ice cream
Wait what? Has the ultimate pair been born and with only two ingredients?! Here's something to help you cool down in this heat.
Ingredients:
4 large ripe bananas
2 tablespoons of peanut butter
Steps:
Peel bananas and slice them into half inch discs
Arrange the slices on a large plate or baking sheet and freeze for one to two hours
Remove from freezer and place the slices into a food processor or blender
Puree the slices until the mixture is creamy and smooth (to ensure a creamy consistency, you can also add one to two tablespoons of milk to the mixture)
Add the peanut butter and blend well
Serve immediately
 

Milo steamed cake
We have Milo bubble tea, Milo ice cream, Milo brownies and now, Milo steamed cake. Is there anything you can't make with Milo?
Ingredients:
2 cups Milo powder
1-2 large tablespoons of condensed milk
4 eggs
Chocolate sauce or sprinkles (optional)
Steps:
Combine all ingredients into a blender and blend till smooth OR combine into a mixing bowl and mix till smooth
Pour batter into a large glass bowl and steam for one hour
Pour chocolate sauce or sprinkles (optional) onto cake and serve
Nutella brownies
For nutella and brownie lovers out there, here's a simple and satisfying recipe to feed your cravings!
Ingredients:
1¼ cups of nutella
2 eggs
½ cup flour
Steps:
Combine all ingredients into a mixing bowl
Mix well till smooth and without any lumps
Pour batter into a baking tray lined with baking paper/sprayed with cooking spray
Bake at 180 deg C for 15 minutes and serve
Drinks
Ice lemon tea
Everything essential you need is in its name – ice, lemon and tea.
Ingredients:
2 litres of water
2 red/black tea bags
150 grams of sugar
60ml of lemon juice (bottled or fresh with 1 to 2 lemons)
Steps:
Bring water to a boil and remove the pot from the heat
Steep the tea bags in for at least an hour (up to two hours)
Drain the tea bags and remove
Stir in the sugar and lemon juice (you can add more sugar or lemon juice as preferred)
Cool to room temperature before refrigerating until chilled or just add ice
 

Brown sugar bubble tea

Saving the best for last, the one thing that Singaporeans can't live without – bubble tea. With a recipe refined by one of our colleagues, it's actually not that hard.

Ingredients:
1 cup of brown sugar
1 cup of tapioca starch
½ cup black tea leaves
1 can of evaporated milk
500ml of water (for brown sugar syrup)
900ml of water (for tea)
Steps:
Prepare two pots of water, one with 900ml (to boil the tea leaves) and another with 500ml (to make the brown sugar syrup)
Mix three tablespoons of brown sugar into one cup of tapioca starch evenly
Add boiling water into the mixture bit by bit while kneading it until it reaches a doughy consistency (don't add too much water as it will lose its round shape but to rectify, add more tapioca starch)
Add the remaining brown sugar into the boiling water to make the brown sugar syrup
Shape the dough into small spheres to make the tapioca pearls and line them up on a tray
Cook the tapioca pearls in the brown sugar syrup for 20 minutes until it is chewy
Meanwhile, strain the tea leaves and set aside to cool down
Once the pearls are cooked, remove the pot from the stove and let it cool down for another 20 minutes
Scoop the pearls into a cup with brown sugar syrup (you can customise the sugar level by adding or reducing the amount of brown sugar syrup)
Fill the cup with tea and add the desired amount of evaporated milk
Tips:
To make your bubble tea cold without adding ice cubes, refrigerate the evaporated milk before adding to the tea
For sweeter pearls, soak them in the brown sugar syrup overnight in the fridge and microwave for 10 seconds before serving
There you have it! Eight recipes you can make at home while trying to survive this one-month long circuit breaker. And if you don't know what to do with expiring food items that you may or may not have hoarded, check out these recipes!
While stuck at home, modify or make your own recipes and you might unlock some secret cooking skills you never knew you had!
trining@asiaone.com