The camera pans, and a statuesque woman looks up with expressive eyes.
"My name is Sharul Channa, and no, I'm not a Malay boy. I'm an Indian woman with a Malay boy's name," she introduces herself in her signature opener, holding the silence in an amiable manner before flashing a warm smile.
With that, Sharul breaks the ice in the studio. Her flamboyance has a distancing effect - yet she baits the audience with what she has to say next.
Tall and elegant, with sculpted features, Sharul appears too poised to be a stand-up comic on first impression.
Yet it is the same funny girl who gamely - and boldly took on an invitation to perform her first comedy act in a bar eight years ago.
Her first (spontaneous) line was about her proximity to the front-row audience: "Wow, this is the first time a white man has been so close to my vagina."
The amused crowd chortled - a triumphant moment when the then-theatre actor realised comedy was her calling.
"Being able to script, produce and act out my own show makes me happy," she tells Her World.
And the only full-time female comedian in Singapore has good reasons to be. Sharul worked hard to sharpen her material, find her voice and use the stage to hone her own comedic brand.
Today, the 33-year-old slays in at least 70 shows annually, making a minimum of $2500 for each.
She has flown the Singapore flag at the biggest comedy festivals in the region, like the Melbourne International Comedy Festival and India's Weirdass Pajama Festival.
She also recently completed a 10-city India tour, covering Mumbai, Goa, Ahmedabad, Delhi and Chennai.
In between, Sharul gigs at comedy bars, hosts and conducts comedy-writing workshops.
But where you really see the influence of Sharul as an entertainer - and progressive minded artist - is within the confines of her first performance at an intimate bar.
In the most unfiltered of art forms, she works her material with little interference or trace of concern about standards or demographics.
She switches between gestural tics and musingly dry observations about love, social disparities, womanhood, her family's initial disapproval of her craft, and anything that matters to her heart.
She brings on raucous laughter one moment, sets off a contemplative mood next, but never fails to provide an oasis of positivity at the end of it.
Tautly written, her material isn't all risque. It's heart-warming and riveting, although Sharul prefers to describe herself cheekily as a "dangerous export from the safest country"
NOT JUST JOKES AND LAUGHTER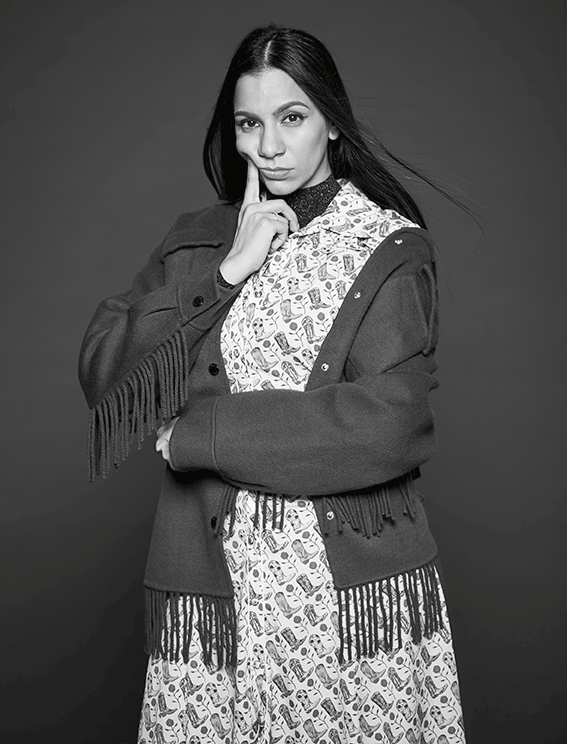 Born in Indore and raised in Singapore, Sharul says a good show is made of three things: Good comedic timing, research and careful planning. "When you joke about something, you have to sound intelligent. If not, no one's gonna come for your next show," she says, matter-of-factly.
It's good to choose a topic that resonates with you, she tells her students in her comedy-writing workshops organised by Theatreworks. "Be in touch with your feelings onstage," she adds. "This isn't just for comedy performances, you can inject humour into any public speaking."
A week before each show, Sharul engages in a mind-mapping session. "I sit down, open my drawing block pad and start mind-mapping a topic I want to talk about," she explains. "I then branch out to how the issue affects me, my verbal reactions to it and what people have said about it."
TOUCHY TOPICS
Off stage, at her three-bedroom apartment in the east of Singapore, Sharul is introspective, interesting - and all serious about work. Born to a traditional Indian family, Sharul doesn't hold back on her disagreement with customary expectations.
Question is: If we're living in a culturally-sensitive and politically-correct age, how does one get around it in the public domain?
Unlike many comics who are real selves in name, Sharul's material isn't that far removed from her real life.
But there's just as much value in material that delves into personal territory, as long as it's funny, she says. "Once you do that, it becomes your story to tell. It softens the tone," she quips, taking a sip of chai masala.
While the storyteller navigates consciously, Sharul credits Singapore's old guard of stand-up comic and drag queen, Kumar, who paved the way for local acts like herself.
"Kumar pushed the envelope and got into some trouble," she says. "Without him, I can't say many things on stage without fear that I'll be sued the next day."
Her respect for Kumar is represented in her well-kept $50 note he had autographed for her the first time they met. "It'll always be a reminder of my passion for comedy," she says.
Gender discrimination is one of Sharul's favourite topics. It resonates at the heart of her persona, being a relatable ordinary woman:
"Even before I was born, my grandmother expected me to be a boy. Because she brought my mum to the temple and got a string to tie around a bed that my parents were supposed to sleep on. It was supposed to make my father angle his body to produce only male sperm."
BEING THICK-SKINNED
But not everyone gets the joke, reveals Sharul who was trained in acting at Lasalle, College of the Arts. She has had her fair share of tragic responses - deadpan faces and awkward silence from the audience.
To that, she says: "I have a thick skin. You must never doubt yourself because the crowd can sense your insecurity. That's when the entire set comes crumbling."
The conversation is then interrupted by the sight of her frisky pet dog. Sharul shrugs and comments: "He [the dog] likes Chinese girls more than me."
Married to fellow comedian Rishi Budhrani, Sharul says their jokes are different and each appeals to different audiences. "I comment on topics about women empowerment without getting hated, and he gets away with calling people names on stage," she adds.
As a comedic couple, they bounce ideas off each other and help each other with new material. On Valentine's Day, the couple will perform their second show together.
But it's not all work and no play. Sharul takes regular trips to visit her spiritual healer in India. "It gets intense onstage," she explains. "My topics can be heavy on the mind and sometimes, I'm sucked into the negativity. It helps me be in the right headspace, it's important to live life at your own pace once in a while."
This article was first published in Her World Online.