Steal their look: Here's how you can replicate what the potential First Ladies wore on Nomination Day
PUBLISHED ON
August 24, 2023 12:40 PM
By
Melissa Teo
On Nomination Day (Aug 22), all eyes were not just on the three presidential hopefuls – Tan Kin Lian, Tharman Shanmugaratnam and Ng Kok Song – but on their wives and fiancees as well.
And the three potential First Ladies definitely made an entrance with their outfits of the day. 
Keen on replicating their looks? We found some similar pieces – mostly from local designers and brands – for you to consider. 
Jane Yumiko Ittogi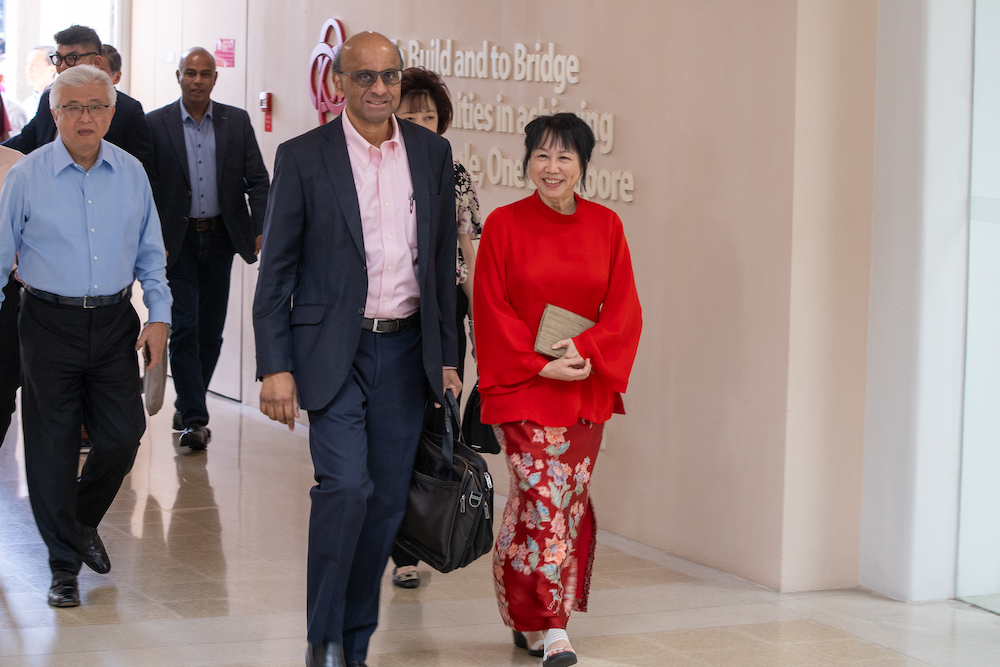 Tharman's wife, Jane Yumiko Ittogi, definitely stood out from the crowd with her bright red outfit. 
The most eye-catching part of it would definitely be her gorgeous cherry-red batik skirt. 
To balance that out, she wore a simple but striking scarlet bell-sleeved blouse with a high neckline. 
The look was finished off with a simple, textured beige clutch. 
For the skirt, the Sarong String batik skirt in Orchid Red ($55) from local brand Little Nyonya Batik looks rather similar to the skirt Jane wore during Nomination Day. 
While the Dance Away Cape Top in Red ($180) from local brand The Missing Piece doesn't have bell sleeves like Jane's top, we feel that the flowy structure is quite similar to it. We are also digging the classic mandarin collar. 
We had trouble finding a beige clutch similar to Jane's but instead, you can consider getting one from The Art Faculty, which has plenty of quirky options to choose from like The Birds' Paradise slim clutch ($42). 
Ho Ching even made the news in 2016 after being seen carrying their dinosaur motif clutch during a visit to The White House. 
Sybil Lau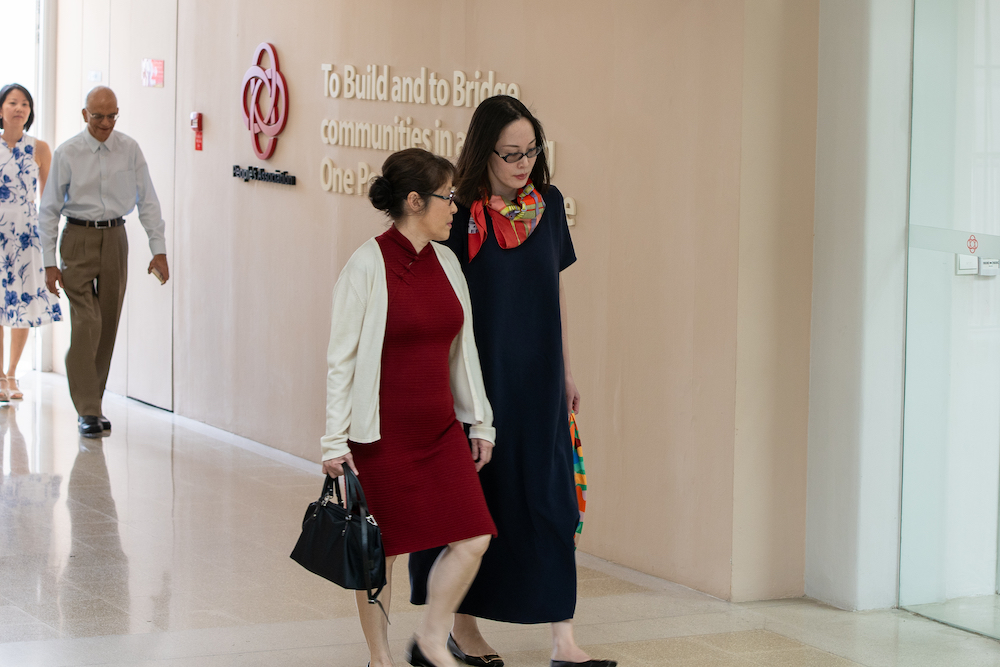 The fiancee of Ng Kok Song, Sybil Lau, took a more minimalistic approach when it came to her outfit. 
She donned a simple navy maxi dress and added a pop of colour around the neckline with a colourful patterned scarf. 
Another eye-catching element of her ensemble was her quirky, patterned fabric bag. 
This is actually a limited-edition piece that you can only get if you purchase four mooncakes from Si Chuan Dou Hua's Mid-autumn collection. 
The bag features charity organisation Extra.Ordinary People's signature motif, and with every purchase of mooncakes, you'll also be contributing to their inclusivity programmes.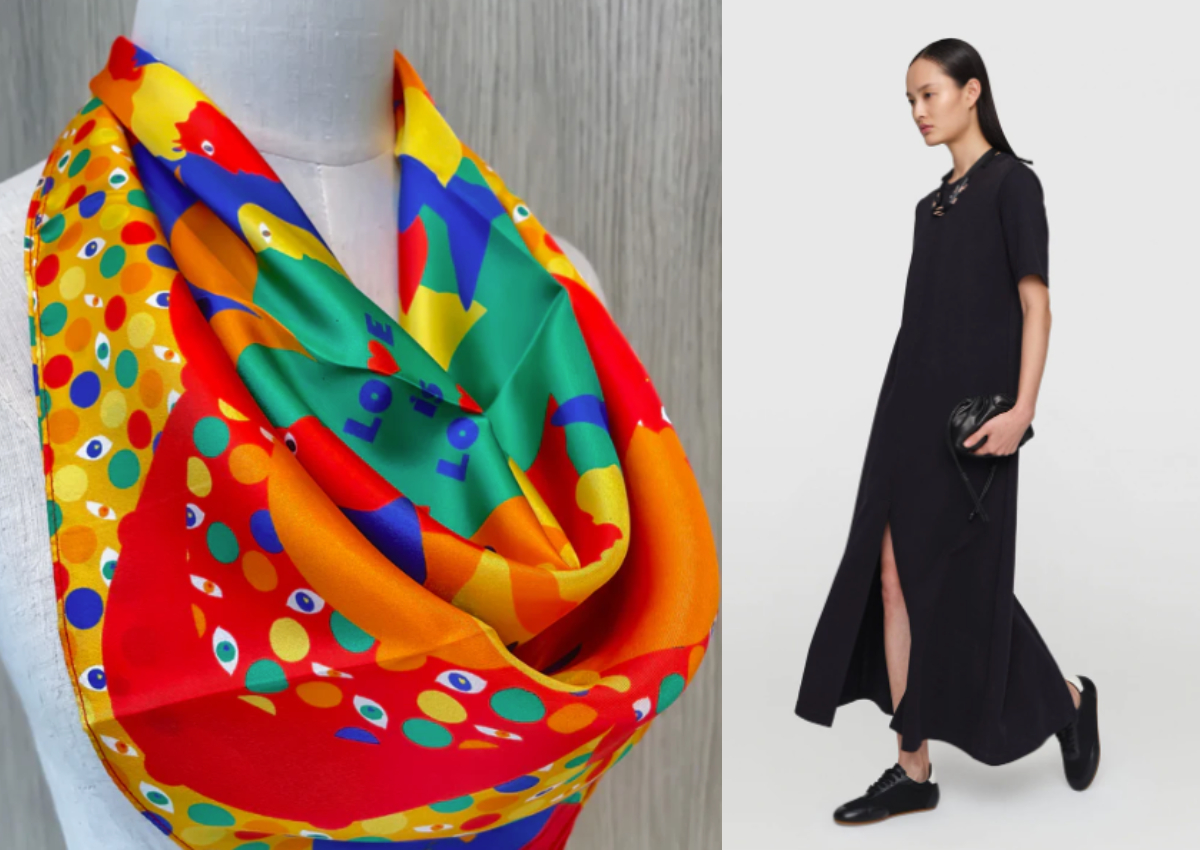 While it isn't navy, we feel that the Ashleigh Cotton Jersey Dress ($179) in Black from In Good Company is a good match for Sybil's dress. 
As for her scarf, we found a stunning one from Binary Style in the pattern Love Rules the World ($75) that would help complete the look. 
Tay Siew Hong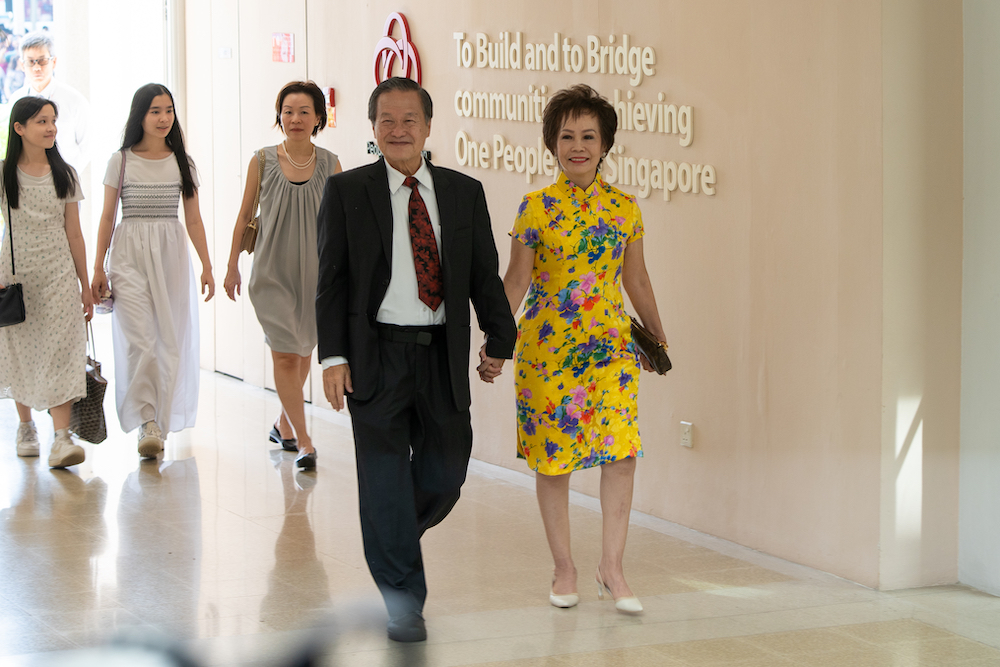 Tan Kin Lian's wife Tay Siew Hong went the traditional route and wore a vibrant yellow floral cheongsam.
As for her bag, she donned a simple yet classic Louis Vuitton monogram purse. 
While we can't tell exactly what bag it is, it looks like the Pochette Accessoire handbag, which is no longer available on the Singapore Louis Vuitton website. 
For Siew Hong's dress, we looked high and low for a similar piece but it seems like people don't really think of yellow when it comes to cheongsams as finding one proved to be a challenge. 
However, we did think that the Blushing Blossoms Batik Cheongsam Dress ($269) from Cheongsam Shopee came close with its delicate yet colourful floral pattern. 
ALSO READ: Ng Kok Song on running up against Tharman in Presidential Election
melissateo@asiaone.com