Popping the question can often leave one's partner speechless.
A man in Taiwan recently elicited that response from his girlfriend but unfortunately, the proposal didn't turn out exactly the way he envisioned it.
She was moved by his proposal until he told her this: "It took me very long to pick out a diamond ring. It's 15,000TWD (S$6,600), don't worry, you can take your time transferring half the amount to me."
This took her by surprise and she questioned the need to do so.
His reply?
"Marriage is between two of us, shouldn't we share the costs?"
Unable to accept his reasoning, the woman took to online forum Dcard last month to air her grievances.
She wrote that they've been dating for four years and they've always shared expenses, including small purchases like bottled water.
The woman said she was okay with how her boyfriend handled money, however, she was stunned by his suggestion that she pay for her half of the diamond ring — an item that she felt should be a gift. 
After her post made the rounds online, it appears that many in China's online community felt that she had every right to be upset with her boyfriend's actions, with some suggesting that she should just dump him.
"Men who can't afford to spend money on you really don't want you in the first place," a netizen snapped.
Another said: "From now on, you only brush the right half of the toilet and let him brush the left half."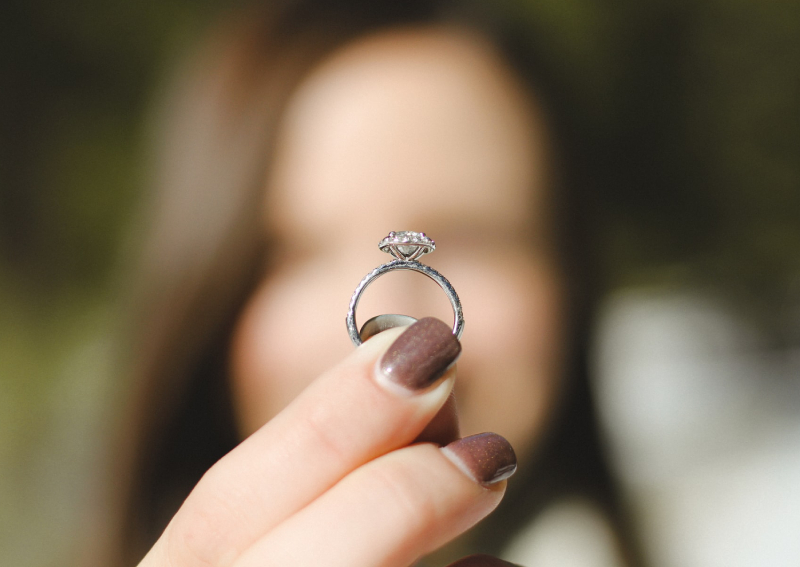 In an update on her post, the woman said that their relationship has deteriorated and added that she has not worn the engagement ring.
It "would be difficult" if she had to spend the rest of her life this way, she said.
For now, it looks like they'll hash out their views on spending money.
Over in neighbouring Hong Kong, brides-to-be are expecting their partners to propose with, not just a diamond ring, but one with the size of at least one carat.
This came from a survey focused on the spending behaviour of over 1,200 respondents.
Meanwhile in Singapore, the most common engagement rings purchased are those sporting a 0.5 - 1.0 carat diamonds.  
According to ValueChampion, these are priced between roughly $1,231 and $2,066.
If you're looking for tips on finding the perfect engagement ring, start by keeping your eyes peeled for your partner's preferences.
Apart from diamonds, there are also more non-conventional options like ruby or emerald.
The age-old rule is that an engagement ring should be three times one's monthly salary. But of course, spending within one's own financial means is key.
There's no need to fall in debt when starting this new chapter in life. 
ALSO READ: 5 modern essential 'si dian jin' sets for Singapore brides
amierul@asiaone.com
No part of this story or photos can be reproduced without permission from AsiaOne.