When it comes to the kitchen, the countertop is where all the action happens - that's why durability is essential. Its aesthetic value, too, is key, being the dominant visual focus in the space. We explore nifty materials to consider.
LAMINATES
A composite material made of layers of paper and plastic resins, laminates are topped with a layer printed with a decorative pattern or colour and then pressed to form a durable, non-porous surface that works as a kitchen countertop surface.
Price-wise, such countertops are in the low- to mid-range categories, compared to other surfaces. Laminates can be an earth-friendly option, with some brands using paper that is recycled or sourced from FSC-certified forests. They are also easy to install and can be adapted for use in L-shaped or extended kitchens, thanks to its tight, clean seams. Its heat resistance is limited, so it's not advisable to place hot pots directly on the surface to avoid burning it.
Take note that sharp objects like knives and scissors can nick the surface.
SOLID SURFACES
For many years, solid surfaces have ruled the roost - and for good reason. A manufactured material consisting of polymer resins mixed with minerals and colourants, solid surfaces are durable, non-toxic and hygienic. They offer excellent versatility too.
Produced in sheets, solid surfaces can be fabricated into countertops, backsplashes and even cabinet fronts. Because there is no veneer or coating, solid surfaces have the same colour and composition throughout.
Note that while the material is non-porous and generally resistant to stains, this depends largely on the quality and composition of resins and other materials. Aside from being susceptible to scratches, it is also not heat-resistant. That said, solid surfaces can be sanded to make it look like new. This also means that it is perfect for L-shaped kitchens, where the solid surface sheets can be glued together and then sanded to remove the seams.
The material can also be shaped, carved and sanded to create a surface that can accommodate other kitchen necessities. As this is a manufactured material, it can be produced in a wide range of colours and patterns to accommodate tastes. If your kitchen will see moderate to heavy-duty use, solid surfaces should be considered.
ENGINEERED QUARTZ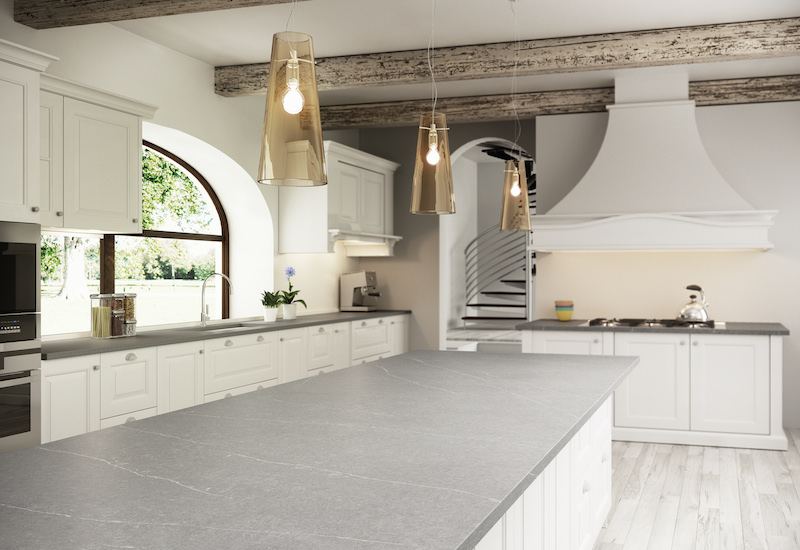 Engineered quartz is a material that's rising in popularity among homeowners. It is made of at least 90 per cent ground quartz that is mixed with resins and pigments to produce a host of looks that mimic concrete and natural stone, and covers a spectrum of colours.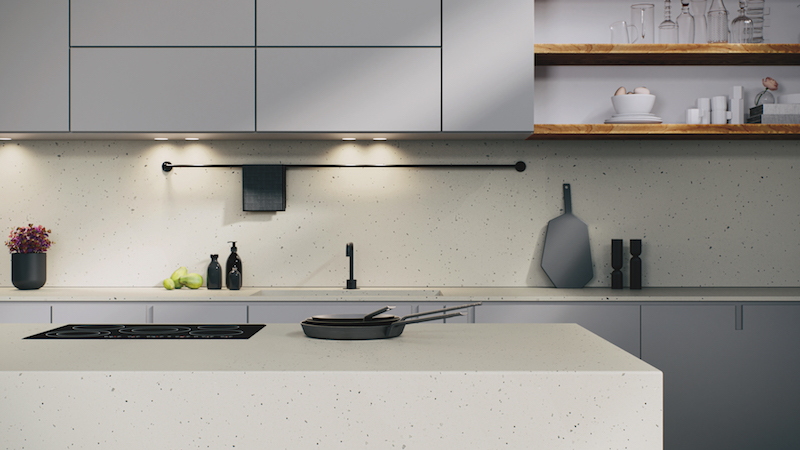 Considered a premium material, it provides a host of benefits. If you cook daily, engineered quartz is an ideal surface. It is durable and non-porous, so there's no need to apply sealant regularly to protect it from stains.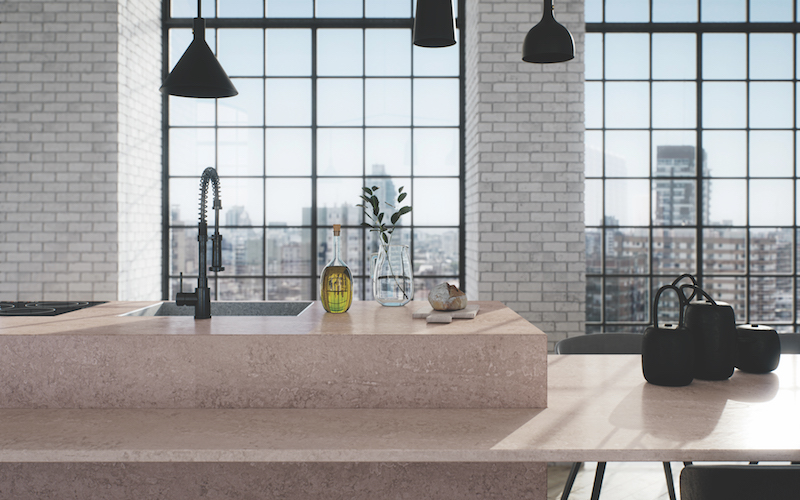 Engineered quartz is produced in slabs that vary in size according to the manufacturer. If you are particular about seams, engineered quartz is more suited to compact linear kitchens. When it comes to toughness, engineered quartz trumps natural stone and is perfect for heavy-duty use.
This article was first published in Home & Decor.