In the blink of an eye, Christmas is already over and shopping malls are starting to put out all their Chinese New Year (CNY) decorations. 
If you, too, are already making preparations for CNY, which falls on Feb 1, 2022, it's a good time to start marking all the auspicious dates on your calendar. 
Apart from Li Chun, which is regarded as the luckiest day to deposit your money, read on to find out the optimal times for you to discontinue work, start work, spring clean and visit your loved ones. 
When to deposit your money 
For the uninitiated, Li Chun in Chinese culture signifies the beginning of spring. This often falls around Chinese New Year. In 2022, Li Chun starts on Feb 4 and ends on Feb 19. 
Many believe that depositing money at the right time during the Li Chun period will bring good fortune for the coming year. 
According to Way Fengshui Group, these are the luckiest times for each zodiac sign to deposit money into their bank accounts.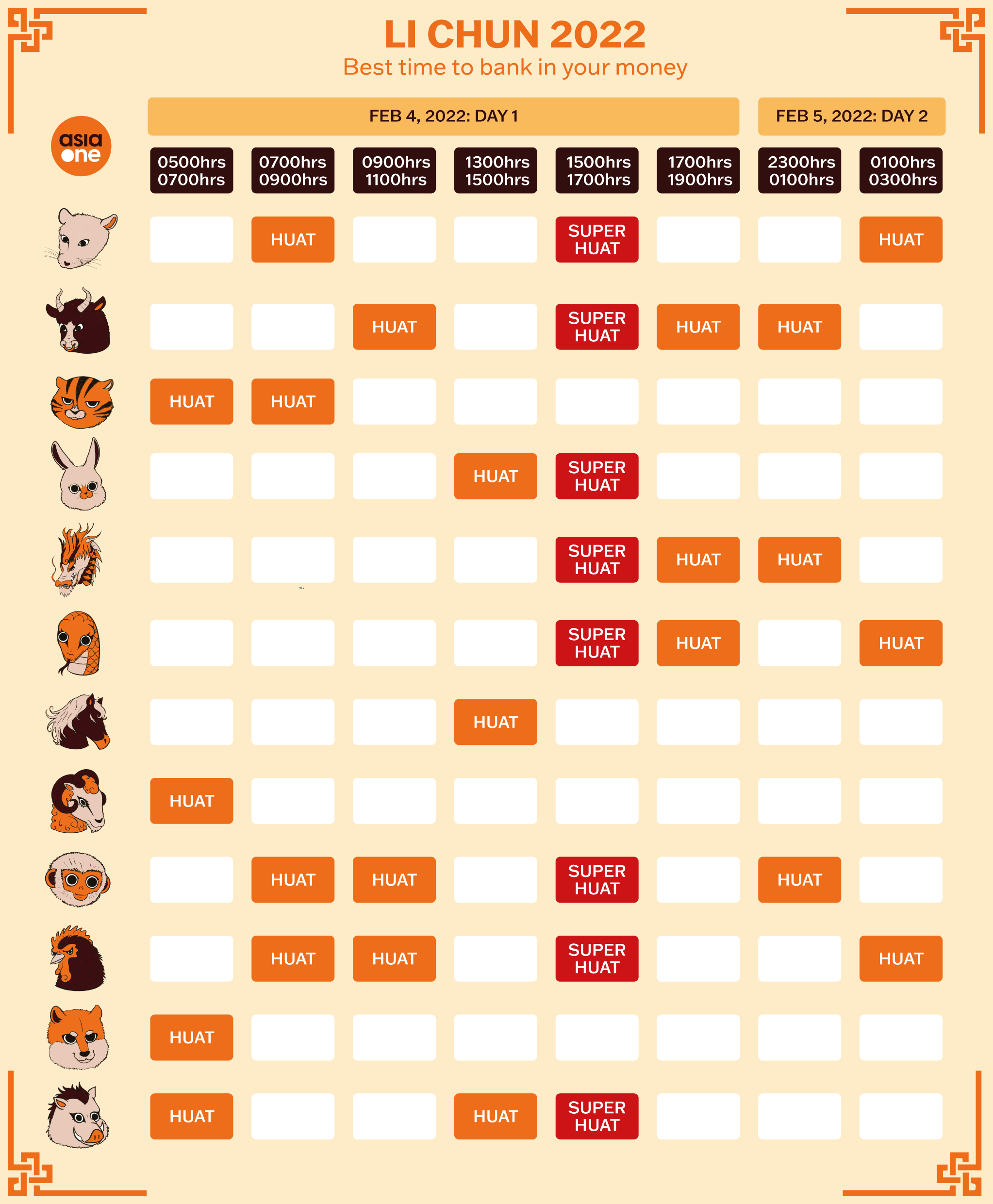 When to cease or start work 
If you want to start the new year off on the right foot, you'll have to take note of the lucky dates to cease and start work. 
Fengshui blog Feng Shui Beginner says that this depends on your zodiac sign too. If your sign conflicts with a particular date, you should avoid ceasing or starting work on that day. 
Dates to cease work 
| | | |
| --- | --- | --- |
| Date | Day | Conflicting zodiac sign |
| Jan 28  | Friday  | Pig |
| Jan 31 | Monday | Tiger |
Dates to start work
| | | |
| --- | --- | --- |
| Date | Day | Conflicting zodiac sign |
| Feb 4 | Friday | Horse |
| Feb 7 | Monday | Rooster |
| Feb 8  | Tuesday | Dog  |
| Feb 10  | Thursday | Rat  |
| Feb 14  | Monday | Dragon  |
| Feb 15  | Tuesday | Snake |
When to spring clean 
Spring cleaning is one of the most crucial things to do before CNY.
According to Feng Shui Beginner, the purpose of this is to remove the old, unwanted and stagnant energy so that you can welcome new, positive energy into your space.
And yes, there are auspicious times to spring clean too.
Similar to the auspicious dates for ceasing and starting work, try to choose a date that doesn't conflict with you and your family member's signs. 
| | | |
| --- | --- | --- |
| Date | Day | Conflicting zodiac sign |
| Jan 17 | Monday | Rat  |
| Jan 20  | Thursday | Rabbit  |
| Jan 25 | Tuesday  | Monkey  |
| Jan 28  | Friday | Pig  |
| Jan 29  | Saturday | Rat  |
Besides picking an auspicious day, where you start your spring cleaning also matters. 
If you had a good 2021, you should start cleaning from the main entrance of your home and work inwards. 
And if you had a bad 2021, start cleaning from the innermost part of the house and sweep all the way out to the main door to remove all the negative energy. 
When to do your CNY visitations 
The festive period is all about meeting up with family and friends to celebrate new beginnings 
According to Way Fengshui Group, there are also auspicious and inauspicious times to visit your loved ones on the first day of CNY, so do take note of these as you plan your visitation route. 
| | | |
| --- | --- | --- |
| Period | Time | Luck rating |
| Zi | 11pm to 1am | Good |
| Chou | 1am to 3am | Good |
| Yin | 3am to 5am | Average |
| Mao | 5am to 7am | Bad  |
| Chen  | 7am to 9am | Average |
| Si  | 9am to 11am  | Bad |
| Wu | 11am to 1pm | Average  |
| Wei | 1pm to 3pm | Average  |
| Shen | 3pm to 5pm | Good |
| You | 5pm to 7pm | Average |
| Xu | 7pm to 9pm | Average  |
| Hai | 9pm to 11pm | Good  |
melissateo@asiaone.com