Most proposals usually just involve one partner getting down on their knee with a ring. 
But in Johor, one 28-year-old man decided to go the extra mile and include a Porsche along with it. 
Photos and videos of the romantic occasion were uploaded onto a Kuala Lumpur Facebook community group. 
In a 39-second clip, the man, surnamed Zhang, could be seen proposing to his girlfriend, surnamed Wang, on one knee as the crowd surrounding them laughed and cheered. 
In the background, a transparent container filled with balloons held a shiny, black Porsche.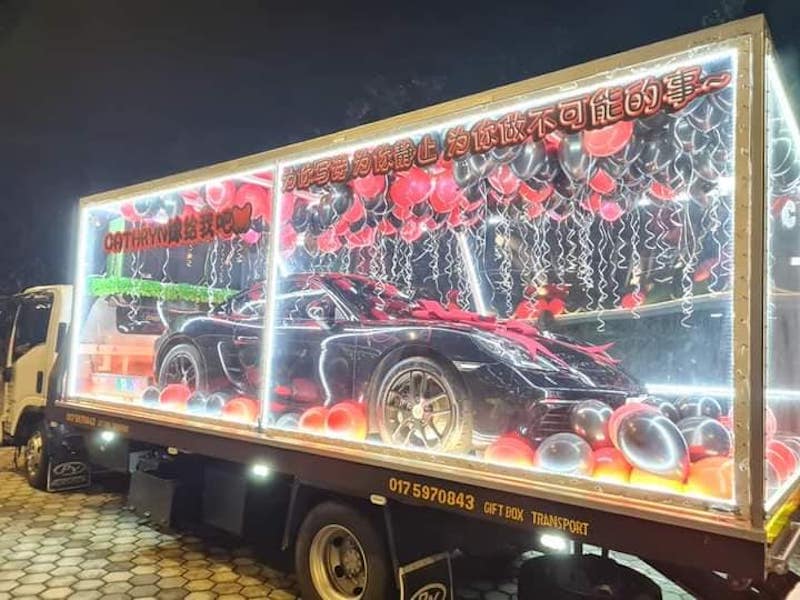 "A man successfully proposed to his girlfriend with a sports car. Does this spoil the market? Those men who can't afford a car don't need to get a wife at this rate," read the Chinese caption. 
She wanted a Mercedes but he 'upgraded' it to a Porsche 
The couple had been together for seven years and met while studying at the same university before moving on to become property agents, reported Sin Chew Daily. 
Recently, 26-year-old Wang received a RM20,000 (S$6,000) bonus from her company after hitting her sales target and she planned on using the money to buy a car. 
She actually wanted a Mercedes but Zhang decided to top up the amount and "upgrade" it to a Porsche instead. In total, he paid a RM120,000 downpayment for the vehicle. 
After seeing news about another woman being gifted a Porsche sports car in a large transparent box, Zhang was inspired to do the same.  
Prior to the proposal, Zhang's finacee was aware that they would be having a "pick-up ceremony" for the vehicle on Valentine's Day (Feb 14) and was told that some of her friends and family would be there too. 
But she had no idea that Zhang would also be asking her to spend the rest of their lives together. 
Speaking to the Malaysian media outlet, Zhang said he felt there was "no right or wrong" way of proposing to his partner and the most important thing was that he did it according to his own abilities. 
Are sports car surprises becoming more common in Malaysia?
It seems like Malaysians really like the idea of surprising their loved ones with sports cars because this isn't an isolated occurrence. 
Last December, in Kuala Lumpur one boyfriend surprised his girlfriend with a sparkly pink Porsche for her birthday. 
She said her request for a blinged-up ride was nothing but a joke.
"It all began from a conversation with my boyfriend a few months ago, where I was joking about having a bling bling supercar." 
And it turns out, the man took her words seriously.
On a separate occasion last December, another lucky individual got a Nissan GT-R for his birthday. 
And this person was a 10-year-old boy. 
To get a feel of his new car, the visibly excited boy had gotten into the vehicle, pressed a few buttons and stepped on the pedal. 
However, as the legal age in Malaysia to drive a car is 17, an adult would have to drive him till he is old enough. 
In an article by Sin Chew Daily on Nov 3, a local car dealer shared that such car delivery ceremonies first emerged in China and recently became popular in Malaysia.
As of now, such ceremonies have been held in areas like Kuala Lumpur, Penang and Johor. 
No part of this story or photos can be reproduced without permission from AsiaOne.