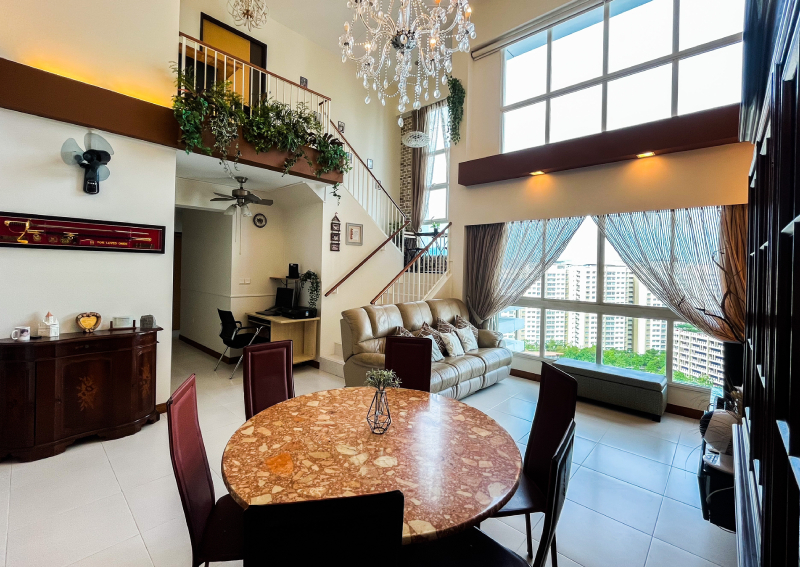 Picking up on the trend of million-dollar HDB flats from last year, a unit in Punggol was sold for big money on the resale market recently.
A rare five-room loft unit – one of the 23 at Punggol Sapphire – exchanged hands for a cool $1.22 million this month, HDB records showed.
The selling price had overtaken the previous record of $1.198 million for a loft in Punggol Sapphire sold last September. 
In an interview with AsiaOne on Friday (Jan 20), Amos Lim of ERA Realty Network, the broker of this deal, shared that the flat along Punggol Field was listed for sale with an asking price of $1.25 million in August last year.
But what's even more staggering, some 10 potential buyers made offers of between $1.1 to $1.24 million for the unit, the 26-year-old said, adding that the Option to Purchase (OTP) was signed in Dec 2022.
Lim declined to reveal the identity of the buyers and sellers when asked by AsiaOne, citing privacy reasons.
'Sick views'
Other than the rarity of such units, what makes the 1,603 sq ft loft worth more than a million?
Lim said: "If you're at the living room, you can literally see the Central Business District area. I think it attracted the buyer.
"The views are quite sick to be honest."
Another attraction of the two-storey apartment – usually associated with lofts but rare for other types of public housing – is the five-metre ceiling, according to Lim.
That meant that prospective buyers had all sorts of "imaginary ideas" the moment they entered through the front door, the property agent said.
"There were some who even said 'oh, I want to put a swing here for the kids'," he quipped.
Completed in 2013, the unit, located on the high-floor, has a remaining lease of around 89 years.
Another plus-point of the flat, according to Lee, is its location. It is a six-minute walk away from Punggol MRT station.
The block is also situated near two 24-hour supermarkets and four coffee shops in the vicinity.
Million-dollar flats 1% of resale transactions
Other estates had also seen million-dollar resale flats recently.
In December last year, two maisonettes – one in Toh Yi Drive and the other in Jurong East – went for $1.3 million and $1 million respectively.
Responding to a parliamentary question from Member of Parliament Gerald Giam about the prices of resale flats, Minister for National Development Desmond Lee told parliament in Nov 2022 that million-dollar flats were "headline grabbing prices" that have caused concern and "fuelled market psychology". 
Million-dollar flats make up about 1 per cent of all resale transactions in the last two years, he said. 
The government had also introduced measures to cool the resale market, according to Lee. 
This included tight limits for HDB loans, and longer waiting times of 15 months for private home owners buying HDB resale flats.
ALSO READ: What's the difference between HDB loft units and executive maisonettes?
No part of this story or photos can be reproduced without permission from AsiaOne.