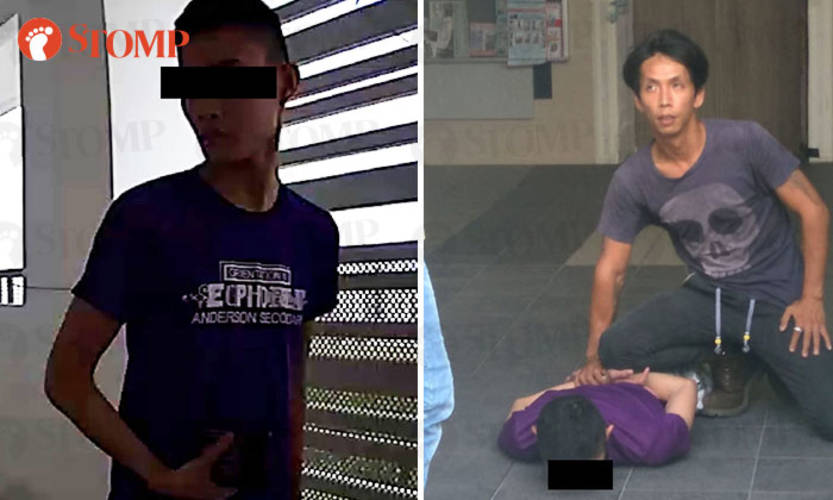 A man showed up at Stomp contributor Stella's flat in Block 223A Sumang Lane at Punggol on Monday afternoon (Jun 4) and asked her if she provided sexual services. 
Stella told Stomp that she was at home with her two children -- a nine-year-old daughter and a seven-year-old son -- and went to answer the door after the guy showed up outside her flat at about 2.15pm. 
The man allegedly spoke in English and asked her a series of questions:
"Do you have a husband? Do you live alone? Do you want to earn extra money?"
Shocked by the man's questions, Stella asked him to elaborate on his intentions.
The man then asked her, "Do you provide sexual services?"
Stella felt insulted by the man and immediately asked him to leave.
She told him that she would call the police if he showed up at her flat again before slamming the door in the man's face.
However, she realised that the man could be harrassing other women in the neighbourhood and thus decided to call the police. 
As she was on the line with a police officer, she opened her door to scan the corridor to see if the man was still around.
According to Stella, the man was still loitering at a corner and saw Stella as she stepped out of her flat.
Stella said that the two of them even had eye contact, and the man apparently took out a $50 note and nodded at her. 
She then called her boyfriend, Mr Looi, to inform him of the incident. 
Mr Looi rushed to her house upon receiving the call.
While Stella was on the phone with Mr Looi, the man boarded a lift and left.
However, that was not the end of the incident.
The man reportedly showed up outside Stella's flat again at about 2.18pm on Tuesday (Jun 5). 
He did not notice a closed-circuit television installed outside Stella's flat.
Stella said that both Mr Looi and her have access to the CCTV footage via a phone app. 
Mr Looi was then looking at the live footage on his app spotted the man and quickly took a screenshot of the footage before calling Stella, who was on her way home. 
Mr Looi sent Stella the screenshot.
He then rushed to Stella's block to wait for the man on the ground floor. 
The man alighted from a lift at lift lobby B at 2.24pm and Mr Looi confronted him over his harassment of Stella.
The man allegedly tried to escape but was subdued and pinned down by Mr Looi. 
Mr Looi called Stella again to inform her that he had apprehended the man.
At that time, Stella had actually reached her block but could not see Mr Looi or the man as she was at lift lobby A. 
She then went up to her unit and left her groceries by her door before going down to look for the two.
Stella found them at lift lobby B and called the police.
By then, Mr Looi was exhausted by the scuffle. 
Fortunately, a construction worker who was in the vicinity offered the two cable ties to restrain the man after they told him what had happened. 
Police officers arrived at the block at about 2.40pm and the man was brought away. 
Later that day, Stella and Mr Looi went down to the Ang Mo Kio Police Division to lodge a report. 
Said Stella:
"My boyfriend asked him (the man) how old he was after he pinned him down and he said that he was just 18 years old."
In response to a Stomp query, a police spokesman said:
"On Jun 5, 2018 at 2.25pm, the Police were alerted to a case of public nuisance along Sumang Lane.
"An 18-year-old teenager was arrested in relation to the case.
"Police investigations are ongoing."