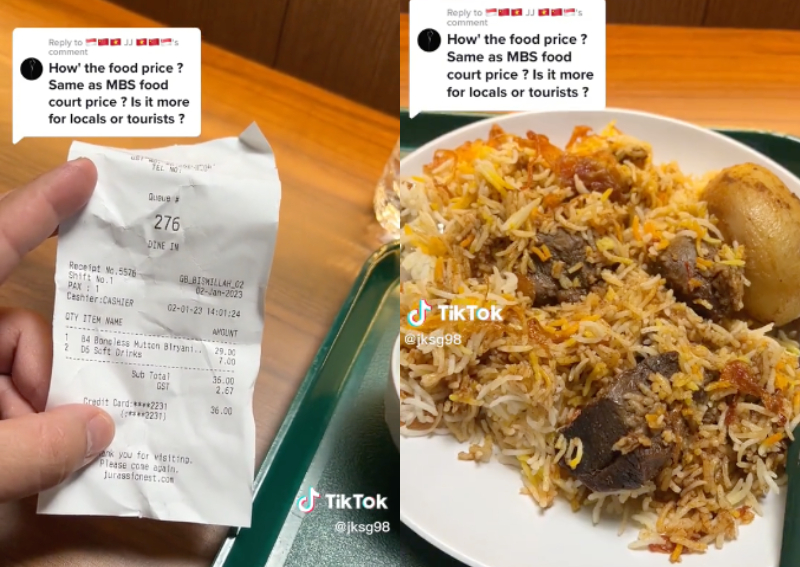 When eating out at tourist attractions, many would expect to pay a pretty penny for the food.
But $29 for biryani? To some people, that's a little too much. 
In a TikTok video uploaded on Monday (Jan 2), radio DJ Jerald Justin Ko from Power 98 shared that he recently paid that amount for some dum biryani. 
Ko said he visited Jurassic Nest, a new dinosaur-themed food hall at Gardens by the Bay, that day and ordered a plate of boneless mutton biryani with potato from Bismillah Biryani. 
The restaurant chain, known for serving healthier but flavourful biryani, earned a Michelin Bib Gourmand rating in 2016, and has been listed several times over the years.
https://www.tiktok.com/@jksg98/video/7183938113494895874?_r=1&_t=8Ygpyzpz3ib&is_from_webapp=v1&item_id=7183938113494895874
"Make a guess, biryani with three pieces of lamb... how much?" he was heard saying in the video before he showed the receipt. The plate of food cost him a whopping $29. 
"Got a shock," he wrote in the caption. 
The 35-year-old wasn't the only one who was stunned by the price. A number of netizens said it was "expensive" while one shared that the maximum he'd pay for biryani is $10.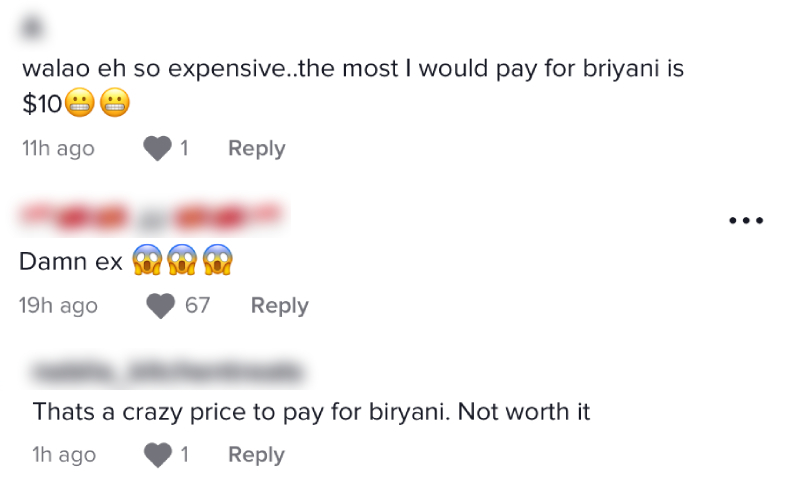 Another netizen also said he didn't mind paying that amount for food, but only if the quantity and quality justify the price.
In the comments, Ko added also said that he had expected to pay less for the biryani, but had seen the price wrongly. 
He thought the dish was going to set him back by $22, but he ended up paying $29 because he opted for boneless mutton. 
Overall, Ko said he wasn't too upset about it and added that he might try the food at Bismillah Biryani's main outlet at Dunlop Street "to compare". 
He also answered the most important question on everyone's minds — how did the food taste?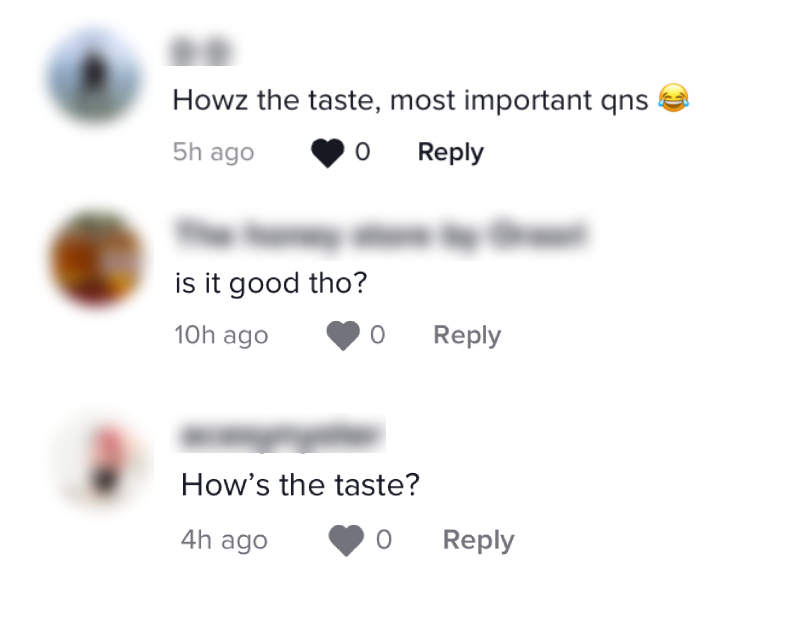 While the rice was decent, the "lamb was tough", he said.
 Several netizens also suggested that the price was high because of the stall's prime location at Gardens by the Bay.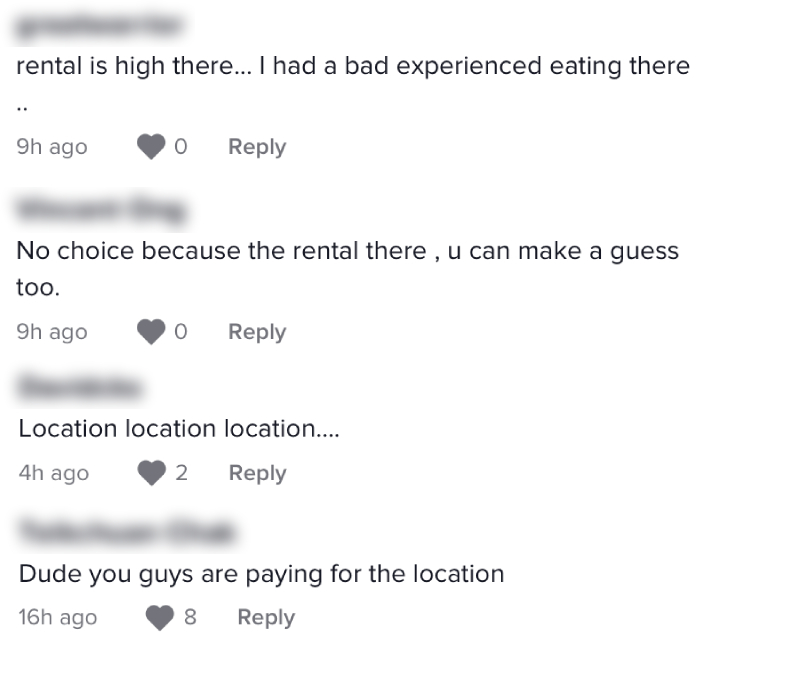 They're not wrong either. 
On Bismillah Biryani's website, the same dish at their Dunlop Street and Shenton Way outlets costs $22.50. At their NUS UTown Stephen Riady Centre outlet, it costs $20. 
But those having the biryani will have to pay $29 at the Jurassic Nest outlet.
AsiaOne has reached out to Ko and Bismillah Biryani for more details. 
$24 nasi padang
A few weeks ago, one woman shared that she had paid a high price for her nasi padang — $24, to be exact. 
She had purchased the meal from a stall at Bedok Food Centre and her order consisted of fish egg, sambal goreng, tofu and rice. 
While the stall vendor had told her beforehand that the fish egg would be expensive, the woman still was stunned by the amount she had to pay. 
Speaking to AsiaOne, the woman said she had expected the food to cost around $10 to $15. 
"I was definitely taken aback! I would not have paid for it," she shared, adding that she had no other option as she was in a rush that day and it was the only stall with no queue.
ALSO READ: Man says he was charged $8 for fish that 'tasted really bad'
No part of this story or photos can be reproduced without permission from AsiaOne.