Budget 2023: CPF contributions for seniors to continue rising, but payout for retirees also increased
PHOTO: The Straits Times file
SINGAPORE - The Central Provident Fund (CPF) monthly salary ceiling will be raised in stages to $8,000 by 2026 so that it keeps pace with rising salaries and helps middle-income Singaporeans save more for their retirement.
The CPF monthly salary ceiling caps the quantum of ordinary wages that would attract CPF contributions, and is currently set at $6,000.
The increase was announced by Deputy Prime Minister and Finance Minister Lawrence Wong in his Budget 2023 statement on Tuesday.
The change will take place progressively over four steps to allow employers and employees to adjust to the changes. From Sep 1, 2023, the monthly salary ceiling will increase to $6,300. From Jan 1, 2024, it will rise further to $6,800. By Jan 1, 2025, the ceiling will hit $7,400 and by Jan 1, 2026, it will reach $8,000.
Employees aged 55 and below contribute 20 per cent of their wages to their CPF while their employers contribute 17 per cent of these employees' wages.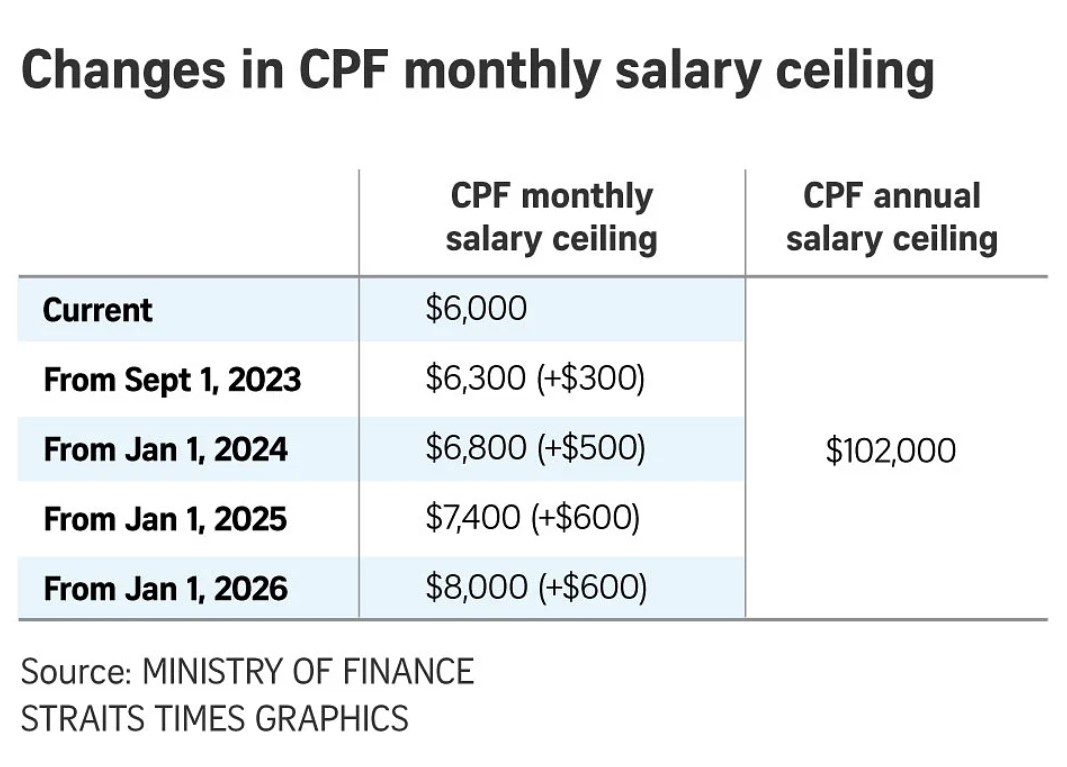 This formula remains unchanged, but the contributions must be made on monthly wages of up to $8,000 from Jan 1, 2026, instead of on $6,000, as is done now.
The change to the monthly salary ceiling was last made in 2016 to keep pace with wage growth. Then, the ceiling was adjusted from $5,000 to $6,000, covering wages up to the 80th percentile of resident incomes.
There is also a CPF annual salary ceiling which sets the maximum amount of CPF contributions payable for all wages received in the year, inclusive of both ordinary wages and additional wages. It is currently set at 17 times of the monthly salary ceiling to account for bonuses equivalent to five months' salary, and is set to $102,000.
The Finance Ministry (MOF) said in a fact sheet that there will be no change to the CPF annual ceiling at this point, but it will be reviewed periodically to ensure it continues to cover the broad majority of CPF members.
"To ensure that employees earning the same annual salary receive the same CPF contributions regardless of their salary structure, the CPF monthly salary ceiling will eventually be set at one-twelfth of the CPF annual salary ceiling at steady state," added MOF.
DPM Wong also announced that the Government will continue with the next hike in CPF contribution rates for older workers in 2024. The adjustments were in line with the recommendations of the tripartite workgroup on older workers, and the first two steps of increases took place on Jan 1, 2022 and Jan 1, 2023.
From Jan 1, 2024, contribution rates for workers aged 55 to 60 will jump 1.5 percentage points to 31 per cent. Rates for those aged 60 to 65 will also climb 1.5 percentage points to 22 per cent, and rates for those aged 65 to 70 will increase 1 percentage point to 16.5 per cent. The increases will be fully allocated to the special account to help senior workers save more for retirement.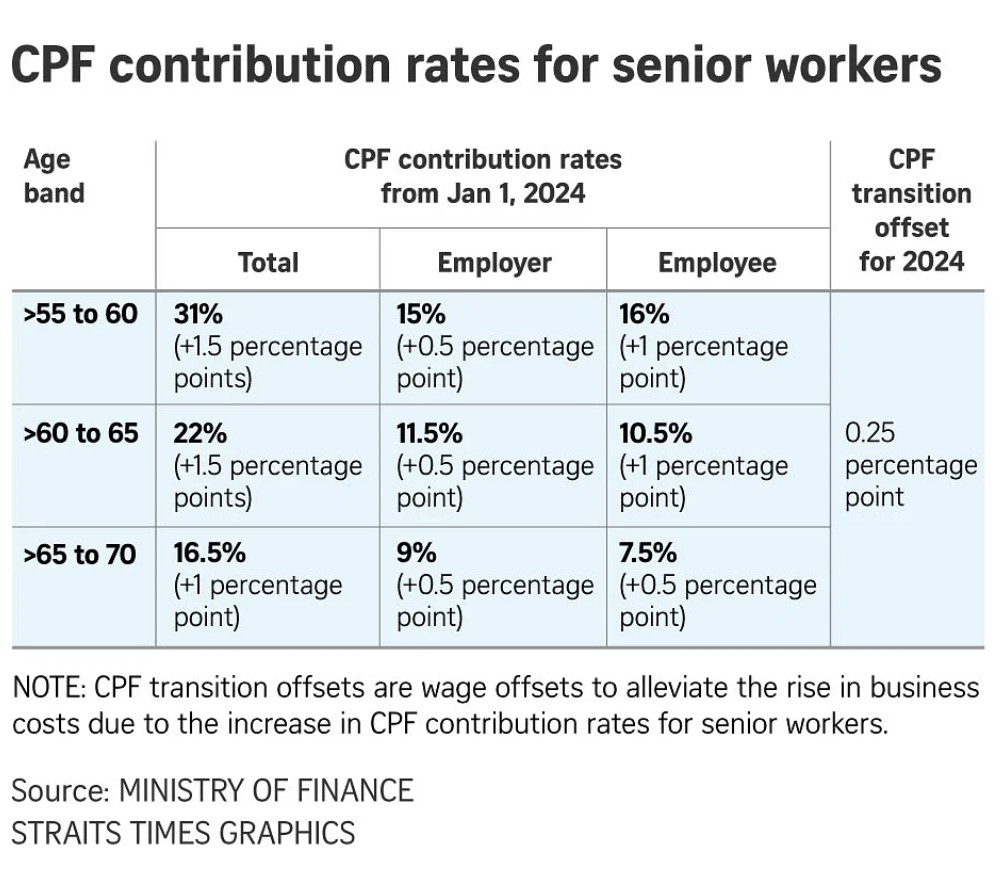 To mitigate the rise in business costs due to this increase, the Government will provide employers with a one-year CPF transition offset equivalent to half of the 2024 increase in employer CPF contribution rates for every Singaporean and permanent resident worker aged above 55 to 70. Employers need not apply for the offset as it will be provided automatically, said MOF.
DPM Wong also said that the minimum CPF monthly payout for seniors on the retirement sum scheme will be increased to $350 a month from the current $250 a month. The change will kick in June 1, 2023 for all seniors on the scheme.
"This will mean higher monthly payouts for seniors who are currently receiving less than $350 a month. Payouts will continue until CPF savings are depleted. These seniors on the retirement sum scheme can opt to join CPF Life at any time before turning 80 to receive lifelong payouts," said MOF, referring to a national longevity insurance annuity scheme.
This article was first published in The Straits Times. Permission required for reproduction.