Coronavirus: SIA responds after passengers want South Korea flights to be cancelled, refunded
Singapore Airlines (SIA) has responded to a Stomp query about its travel waiver policy amidst complaints from passengers about being unable to get refunds for their flights to South Korea.
The Republic of Korea has reported 1,146 confirmed cases of Covid-19 infection, with a death toll of 11, according to Yonhap news agency on Wednesday (Feb 26).
About 80 per cent of confirmed cases come from two clusters of infections: Shincheonji Church of Jesus in Daegu and Daenam Hospital in Cheongdo.
The Ministry Of Health (MOH) announced on Tuesday (Feb 25) that all new visitors with recent travel history to Daegu and Cheongdo within the last 14 days will not be allowed entry into Singapore, or transit through Singapore.
Returning Singapore residents and long-term pass holders with recent travel history to the two areas will be issued with a Stay-Home Notice, which requires them to remain home for 14 days after coming back to Singapore.
National carrier SIA has announced that it would be waiving all change fees for passengers travelling to and from South Korea if their tickets were issued on or before Feb 25.
[embed]https://www.facebook.com/singaporeair/posts/10158136451098679?__tn__=K-R[/embed]
The new travel date must commence on or before Aug 31, 2020.
"For cancellations, refunds would be in accordance with fare conditions of the ticket(s) purchased," it said in an updated travel waiver policy.
However, passengers are upset that they are unable to cancel their flights to South Korea entirely and have also taken to SIA's Facebook page to implore the airline to give them a full refund for tickets.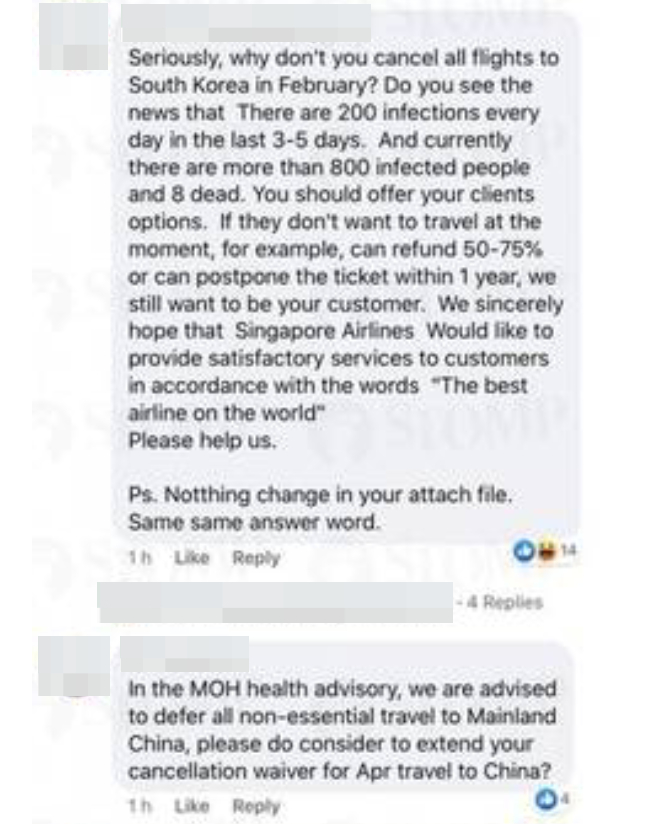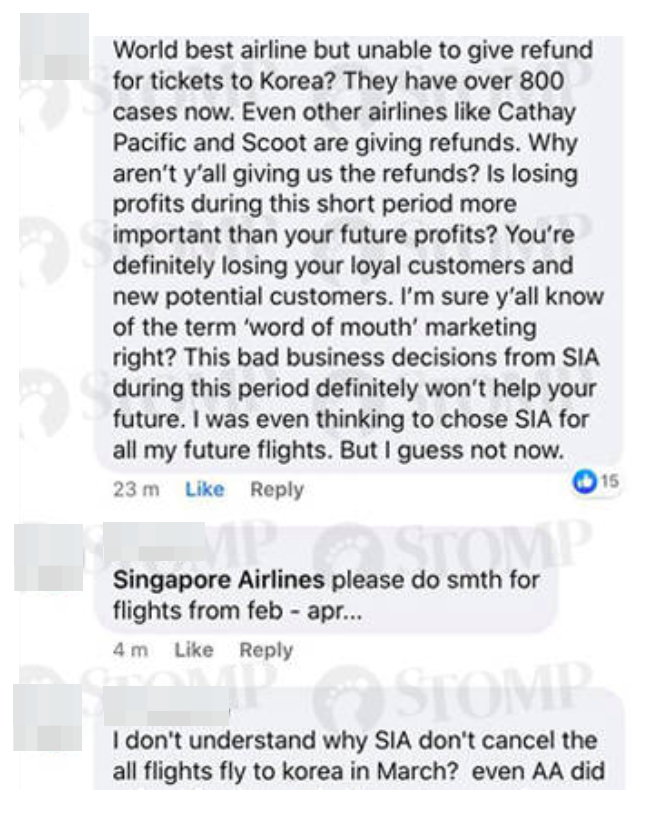 Stomp contributor Anon, who shared screenshots showing comments on SIA's Facebook page, said she was scheduled to fly to Seoul on flight SQ612 on Feb 26 but decided to forgo it.
She told Stomp: "SIA only gave me two options: 1) they will waive this ticket and open this ticket for future use OR 2) they will pay us back the ticket's tax fee if we cancel it ourself.
"I chose option 1.
"We are not given the choice of a full refund, and yet they want us to cancel the tickets ourselves and they will only pay us back the ticket's tax fee. What nonsense is this?"
"It's really ridiculous because everyone knows how bad the situation in South Korea is and yet SIA is not even handling it well."
Anon also noted that she had difficulty getting through to SIA's hotline and only succeeded after repeated calls.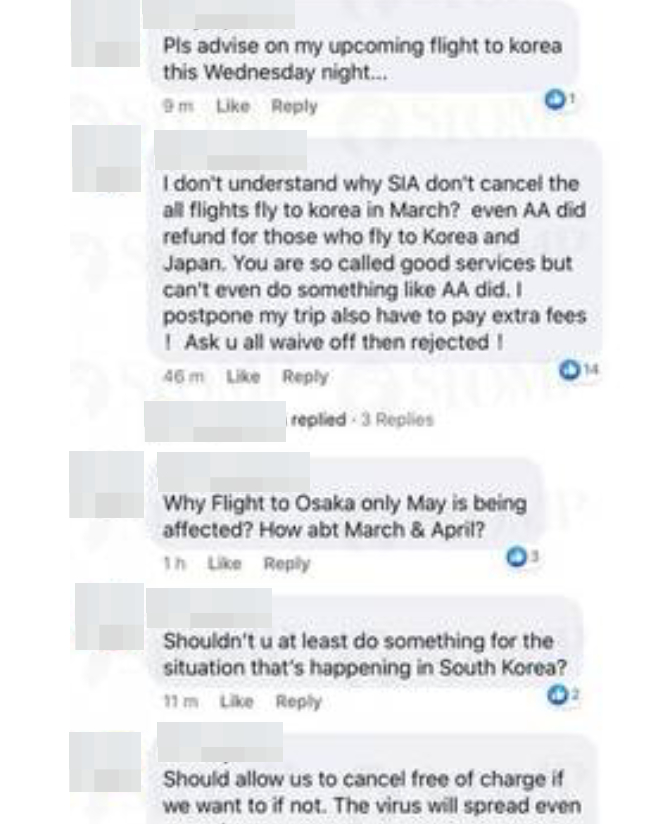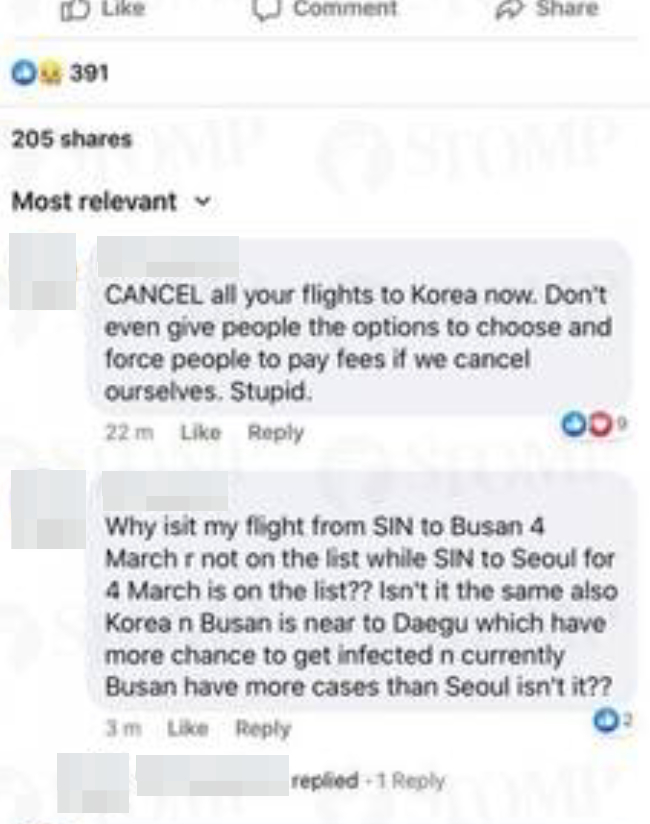 In response to Stomp queries, an SIA spokesman said the airline has updated its travel waiver policy following MOH's notice on travellers from South Korea.
The spokesman added: "Refunds are accorded based on itinerary and refund policies. We recommend that passengers refer to our website to obtain more information about SIA's refund policies.
[embed]https://www.facebook.com/singaporeair/posts/10158234382783679[/embed]
"In addition to digital platforms, passengers may continue to reach out to us via our customer contact hotlines or write in to us.
"Due to high volume of customer requests, we seek the understanding of our passengers that wait time may be longer than usual."
Passengers with tickets purchased through a travel agent are advised to approach the travel agent directly.
This comes after SIA and its regional arm SilkAir announced three rounds of flight cuts due to weak demand amid the coronavirus outbreak, reported The Straits Times.
The flag carrier has also frozen hiring and is considering other measures such as asking staff to go on voluntary no-pay leave.
For the latest updates on the coronavirus, visit here.