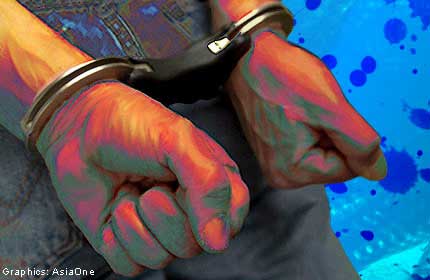 BEIJING - One of the assailants who carried out an attack in western China that injured four people has apologised and said other members of his group had convinced him to participate in a "holy war", state media said late on Saturday.
The knife attack occurred last Sunday in a crowded chess hall in the city of Hotan in troubled Xinjiang, the traditional home of ethnic Muslim Uighurs. Two of the attackers died from serious injuries, while the remaining one, Muer Zhati, was arrested, China Central Television (CCTV) said on Saturday. "I just listened to them and did something like this, hacked people," Muer Zhati was shown as saying on CCTV. "I'm sorry, I apologise for my behaviour. I just want to say I'm sorry." Muer Zhati, who was shown on television wearing an orange prison vest and handcuffs, said members of his group had advocated a holy war, telling him that he could obtain a straight path to heaven. "They told me about this matter of the holy war, that as long as I died while participating, I could go directly to heaven and not be subject to a trial after I die," Muer Zhati said.
On June 15, Muer Zhati said he spent five seconds observing people in a room playing cards before he started hacking a woman.
CCTV said, however, that Muer Zhati's confession "came too late and all that is waiting for him now is the strict punishment of the law".
CCTV often airs confessions by thieves, prostitutes and other petty criminals, but in recent months, several high-profile suspects have confessed to crimes on air, often wearing handcuffs and jumpsuits. Critics say public confessions deprive the accused of the right to a fair trial.
China has been on edge since a suicide bombing last month killed 39 people at a morning vegetable market in Xinjiang's capital of Urumqi. Knife attacks in the past have often resulted in attackers being arrested or killed.
Chinese police shot dead 13 attackers in Xinjiang on Saturday after they rammed a car into a police station and detonated explosives, state news agency Xinhua said.
Police in Xinjiang have arrested or tried dozens of suspects in recent weeks for spreading extremist propaganda, harbouring banned weapons and other crimes.
Rights activists and exile groups have charged that the government's own repressive policies in Xinjiang have sowed the seeds of unrest, a claim Beijing denies. China has blamed many of the attacks on Islamist separatists it says seek to establish an independent state called East Turkestan.