An argument between a chicken rice stall employee and a customer ensued after the latter's teenage daughter was allegedly overcharged for chicken rice at Kovan Market & Food Centre last Monday (Dec 9).
Stomp contributor Tan cried fowl over the incident that occurred at the Tong Fong Fatt Hainanese Boneless Chicken Rice stall at around 1.30pm.
She said her 13-year-old daughter had ordered chicken thigh rice from the stall, which was "supposed to be only $3.50".
"However, the stall uncle offered her only either $4.50 or $5.50 for a plate of chicken rice," said Tan.
"As there were no prices stated at the stall, my daughter thought it cost $4.50 for a small plate of chicken rice and paid up.
"After she came back, I was curious and asked her how much the chicken rice cost. I was shocked when she said it was $4.50 as it was so expensive and I thought she might have been overcharged.
"I went back to the stall to ask about the prices, and another uncle there said the chicken rice was $2.50 and $3.50.
"After knowing the 'actual price', we waited for the first uncle to return so that I could ask him about the overcharged chicken rice.
"As soon as he was back, I asked him how much a plate of chicken rice cost. He said it was $3.50, which was totally not the price that he charged my daughter.
"I became really furious and asked him, 'Why was my daughter overcharged for this plate of chicken rice? Isn't it supposed to be $3.50?'
"He not only said that my daughter had ordered willingly, but also claimed that he had asked her whether she wanted a $4.50 or $5.50 portion.
"He also answered in a totally rude manner which really triggered me to report him.
"All we wanted was a reasonable meal, but instead we were overcharged and also had an argument which caused me to have no appetite."
Tan also shared with Stomp a video that shows her arguing with the uncle in Hokkien.
She can be heard saying twice: "You did not put how much."
Tan also repeatedly accused the uncle of "cheating children" and said "$1 also want to cheat", but the uncle replied that the stall was honest and aboveboard.
The Stomp contributor, who told the uncle that she could afford paying $5.50, added: "You might as well tell her $9 or $10 for a plate of chicken rice!"
According to Tan, she was not given a refund and was told to "go ahead" in reporting the stall.
She subsequently went to look up the stall on Google reviews and realised that other customers have had similar experiences at the same outlet.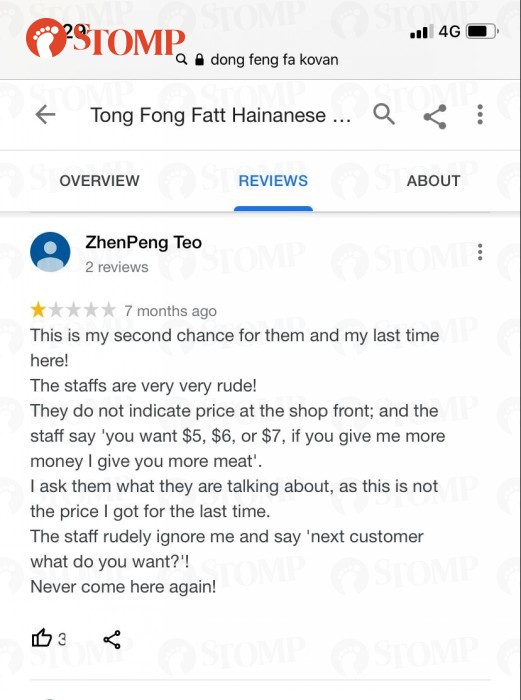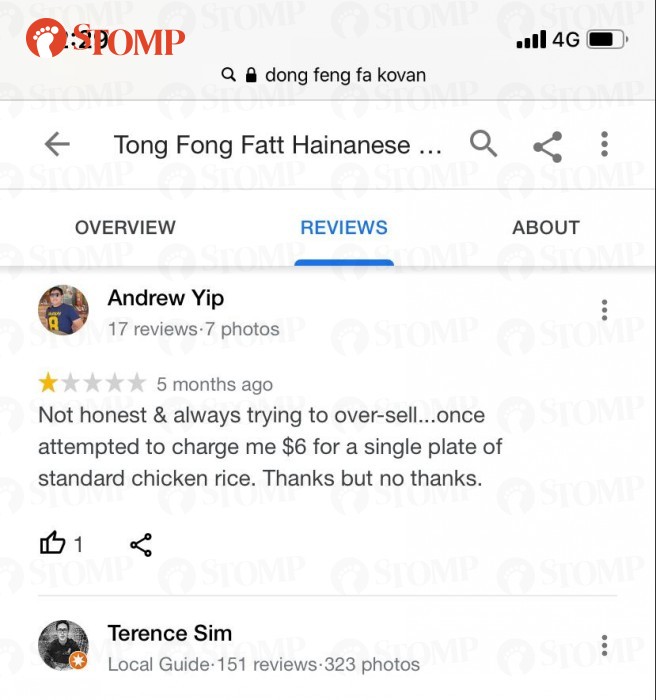 "Rude staff" also appears to be a common sentiment in the reviews.
Tan told Stomp: "I'm not the only one who has been overcharged.
"I really hope action will be taken against the stall as I don't think patrons and diners deserve this."