If you've ever wanted a private parking lot to yourself, this driver has a solution — but we wouldn't recommend it unless you wish to earn the ire of fellow motorists.
In a post to the SGRV Admin Facebook group today (Jan 21), one disgruntled Facebook user shared images of a driver using a 'danger, keep out' sign to chope a parking lot within an HDB estate in Pasir Ris.
"Driver used 'danger' sign from nearby construction works to chope his own private parking lot," the contributor wrote. "Very self-entitled, I saw him putting the sign when he left. In the morning when I left, I saw his car back in the lot."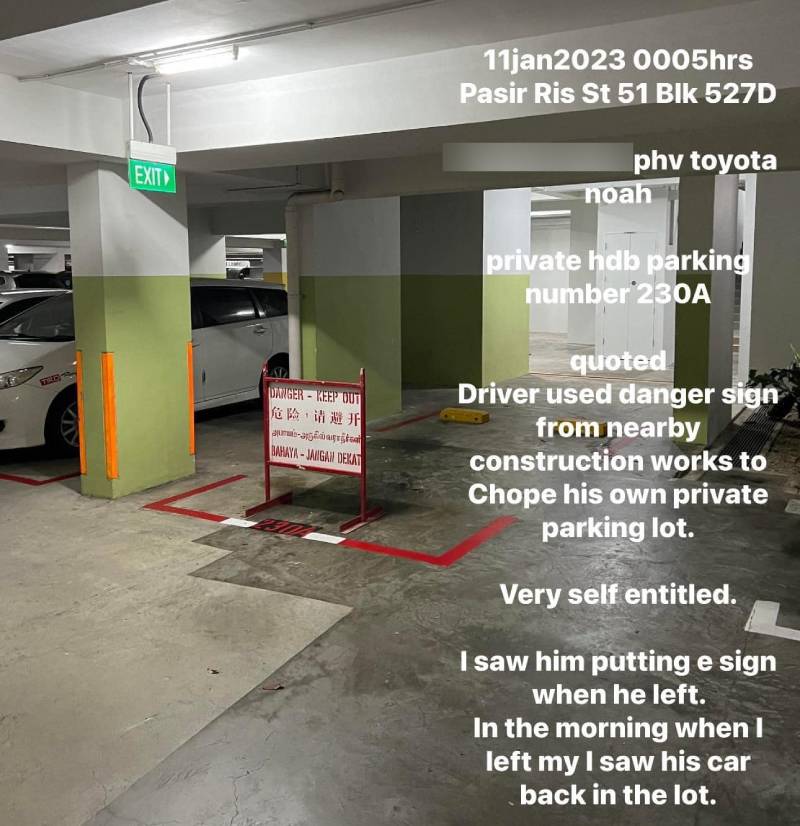 The contributor shared that the lot, which is located at Pasir Ris Street 51, block 527D, was empty at about 12.05am on Jan 11. However, there was a sign blocking the lot.
In another image, the lot is taken up by a black MPV, believed to be the driver's vehicle, while the sign is placed off to the right of the picture.
"Next time just remove the sign," one user commented on the Facebook post.
Many other users offered the same advice, with some also going a step further to suggest that the contributor hide the sign elsewhere so that the driver can't use it again. 
One other netizen also felt that a bit of malicious compliance was in order.
"Move the construction debris there since it's marked as 'danger'," wrote the user, tongue-in-cheek.
Some also took the opportunity to share their personal anecdotes involving such behaviour.
One recalled witnessing a similar incident where a driver choped the lot with a traffic cone, to which the user simply took the cone and hid it somewhere else.
Another shared a different perspective: "Last time, when I was young, I did this. I stole my dad's vehicle late at night to go out for jalan jalan (walks). [I did it so that when] I return home I can park [in] the same lot."

Others, however, found humour in the situation.
"The car owner is dangerous, keep out!" wrote one commenter.
Noted another: "He is trying to tell everyone that his car is dangerous!"
Well-situated parking lots are evidently highly prized by many drivers in Singapore and some go to great lengths in order to secure them.
Needless to say, any empty lot would do during peak hours at popular shopping malls.
In May last year, a woman at Marina Bay Sands found herself closer than she'd like to the rear end of a moving vehicle when she tried to chope a parking lot — only for a driver to ignore her and reverse into the lot anyway.
Earlier that year, two women in a carpark in Geylang tried to chope a parking lot by standing in it, ruffling the feathers of another driver in the process. The driver then got out of his vehicle to confront the two women, all while a long queue formed in the carpark.
ALSO READ: Fight over parking lot causes 20-minute jam at popular supper place near Beauty World Centre
khooyihang@asiaone.com
No part of this article can be reproduced without permission from AsiaOne.