DBS digibank services, including Paylah! disrupted again; second time in 2 months
PHOTO: Screengrab/Facebook/Posb, Dbs
SINGAPORE – Thousands of DBS Bank customers in Singapore on Friday (May 5) said they were unable to use DBS digibank online and mobile services for about an hour from around 12.30pm.
DBS' digital banking services, as well as physical ATMs, were said to be down.
In a statement issued at 2.40pm on Friday, DBS said its digital systems returned to normal at 1.30pm, within 45 minutes from when the disruption was reported.
"Some of our retail customers faced difficulties accessing our banking and payment services, including DBS/POSB digibank online and mobile, DBS Vickers mTrading, DBS PayLah! and ATMs, earlier today," it said.
In an updated statement at 3.55pm on Friday, DBS said that all its ATMs were up and running.
"Please be assured that our systems are uncompromised, and your monies and deposits remain safe. We are sorry for the inconvenience caused. Thank you for your patience," said DBS.
DBS has yet to respond to The Straits Times regarding what caused the disruption.
Complaints on the Downdetector website, which tracks service disruptions, saw a surge in complaints about DBS at 12.45pm. There were more than 2,000 reports from DBS bank customers on the website.
At 1pm, nearly 3,000 reports were made.
In response to customer complaints on the bank's Facebook page and on Twitter, DBS said at about 12.45pm that it was experiencing higher volume traffic for digibank login.
Twitter users were also told to e-mail the bank's customer relations, should the problem persist.
This is the second disruption for DBS reported by its customers within two months.
On March 29, DBS customers were unable to use digital banking services for more than 12 hours, from 7am to about 7.30pm.
The Monetary Authority of Singapore (MAS) regarded this incident as unacceptable, and said it took seriously the reliability of banks' critical IT systems.
[[nid:623910]]
It added that DBS had fallen short of expectations to maintain the availability of systems at a high level.
MAS then instructed DBS to conduct a thorough investigation to establish the root cause of the disruption and submit the findings to the regulator. 
Following the March 29 incident, DBS chief executive Piyush Gupta said the bank was disappointed that many of its customers had been unable to access digital banking services.
He added: "We hold ourselves to higher standards, and it is our utmost priority to review the events of today. We acknowledge the gravity of the situation, appreciate our customers' understanding, and deeply regret the inconvenience caused." 
In November 2021, a malfunctioning access control server disrupted online banking services for DBS and POSB users over three days, resulting in the bank's worst digital disruption in a decade.
In response to that incident, the MAS imposed an additional capital requirement of $930 million on DBS, four times higher than the $230 million DBS had to set aside for a similar disruption of its digital banking services in 2010.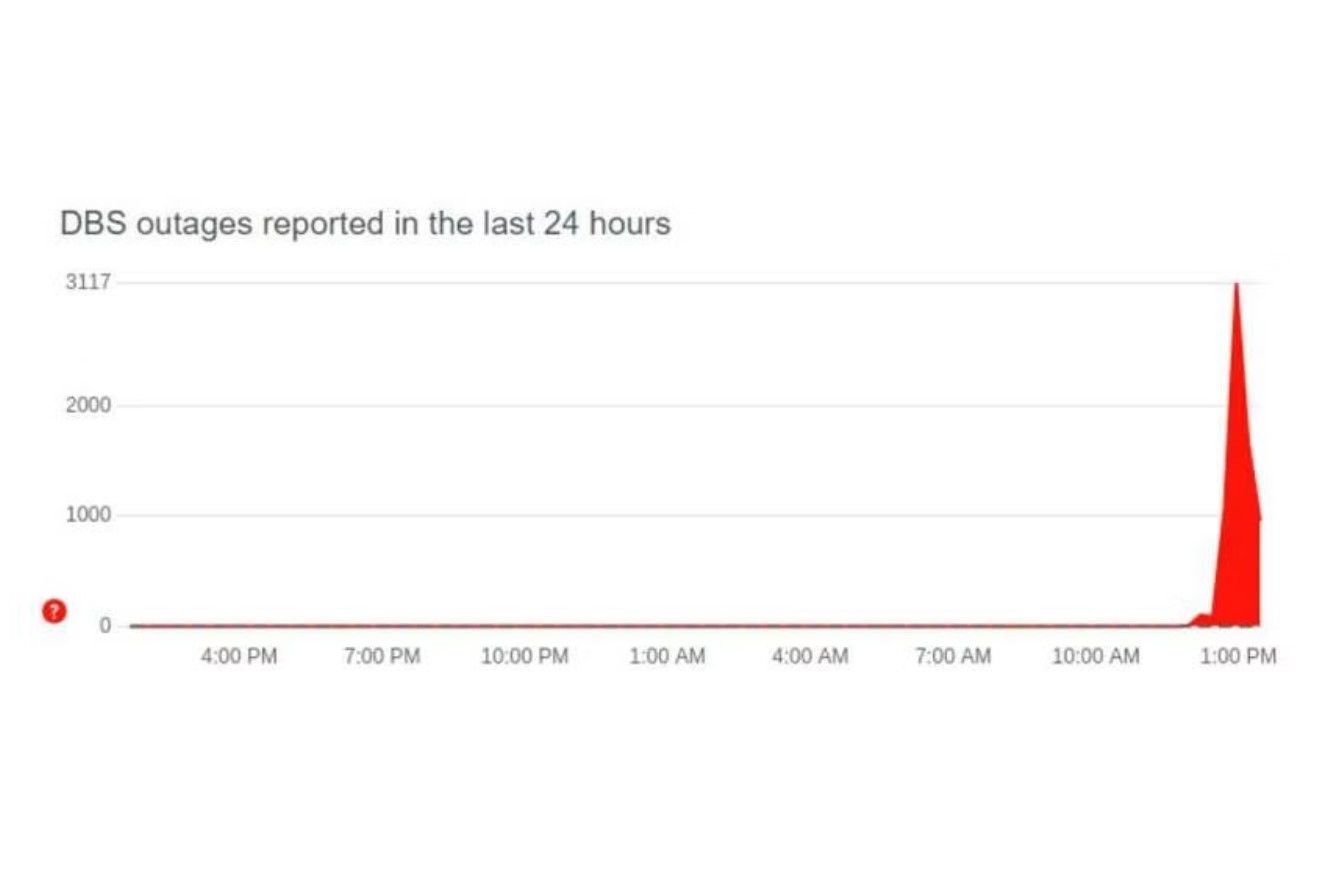 This article was first published in The Straits Times. Permission required for reproduction.