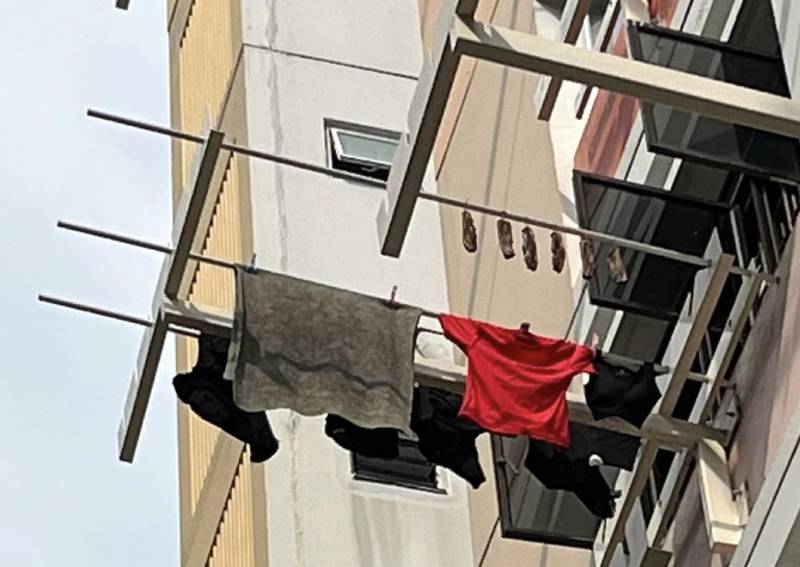 Before taking your laundry out, look up. But no, not for signs of rain.
Slabs of raw pork hung alongside freshly laundered clothing — that's the sight that greeted one resident of a Bukit Batok HDB block recently.
In photos posted to Facebook group Complaint Singapore by user Bob Tan on Sunday (Jan 15), the six slabs of pork were seen hanging on a bamboo pole outside the kitchen window of a fifth-floor unit.
According to Tan, the incident occurred at Bukit Batok St 52.
What's worse, Tan shared that drippings from the marinated pork ended up on his newly-washed clothes left out to dry.
From one of the photos submitted, it appears that Tan resides in the unit below 
Wrote Tan: "My neighbour hangs pork belly outside the flat's kitchen window and dirty all my just washed clothes with soy sauce."
While Tan seemed calm and collected in his tone, comments to his post were more agitated, with many urging him to report the incident to the National Environment Agency and the Town Council.
"No basic respect to other neighbours and not sensitive to other religion and beliefs," wrote one commenter.

Echoing the lack of hygiene and consideration for others, another user wondered: "What if the sauce or the whole pork piece fell and kena a Muslim unit?"

While absurd, this isn't the first time such an incident has occurred.
In October 2020, another HDB resident took to the same Facebook group to complain about cuts of pork belly hanging from the window ledge above theirs.
Similarly to the recent case, the thick slabs of meat were hung alongside clothes drying on bamboo poles.
Earlier that same year in March, the Nee Soon Town Council also stepped in to warn a family in an Yishun block to stop hanging meat at their laundry rack.
ALSO READ: Dripping oil and blood - Sembawang resident called out for sunning raw pork on common corridor handrail
candicecai@asiaone.com
No part of this article can be reproduced without permission from AsiaOne.