What was supposed to be a memorable family trip turned into a tragedy for one family, after their father suffered a cardiac arrest mere days before they were due to return to Singapore. 
The man surnamed Hu, on holiday with his wife, daughter and younger son, left Singapore on Feb 16 for France and Switzerland. 
Hu's elder son did not join the two-week trip as he had work commitments.
Hu's younger son told Shin Min Daily News on Wednesday (March 15) that his father collapsed while they were shopping in Zurich on Feb 26. They were supposed to return to Singapore on March 1.
"He was still breathing, and we could still feel his pulse after he fell. His eyes were closed and he was gripping my hand. Many people came to our aid," recounted the 24-year-old. 
When paramedics arrived, they found that Hu no longer had a pulse, and performed cardiopulmonary resuscitation (CPR) on him for 45 minutes.
"His heart stopped beating at least four times. On the way to the hospital, they continued [performing] CPR for another 45 minutes," said the younger son. 
He also recalled how his father was placed in the Intensive Care Unit, with several tubes attached to him.
"We stayed by his side to talk to him and encourage him." 
Upon hearing the news, Hu's elder son quickly flew to Switzerland. By then, the doctors had already declared his father brain dead.
The Hus had no choice but to pull the plug. Hu died on March 4.
Siblings saved for years to afford trip 
Shin Min spoke to Hu's daughter, who said that the trip was paid for by her and her younger brother, who had saved up for two-and-a-half years. 
"Every month when we received our salary, we'd slowly plan the trip by booking the hotel and the activities. We also bought business class tickets for our parents so they'd have a more comfortable flight." 
The siblings ended up spending a total of $57,000 for the holiday. 
The 31-year-old also said that her father was so touched that he teared up during the trip. 
"I was surprised. It was the first time I saw him cry. He said it was because he'd never thought he'd be able to visit Europe in his life. 
He was really happy then. At least when he left, it was during one of the happiest moments of his life," she said. 
Hu's wife also said that their father kept a diary throughout the trip, where he expressed how grateful he was for the opportunity to visit Europe.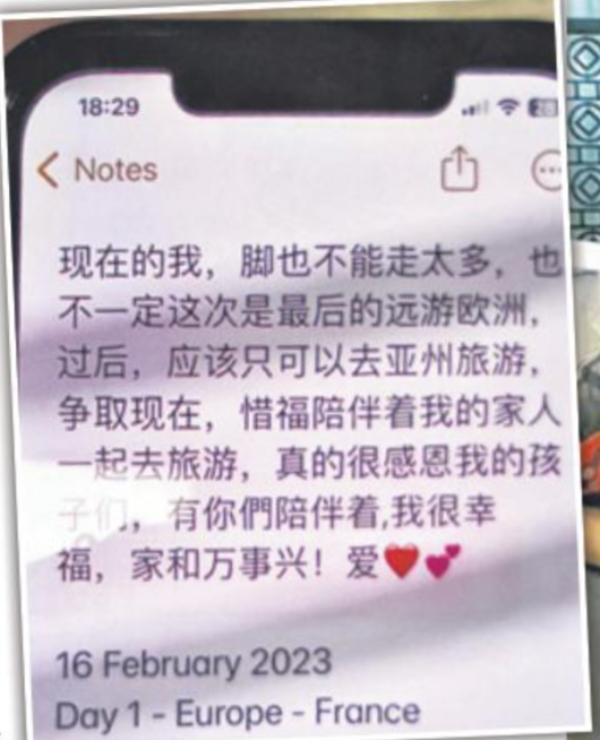 "Treasuring the times where I can go on holiday with my family. [I'm] really thankful for my children. With their company, I feel very fortunate," he wrote in an entry. 
ALSO READ: Singaporean, 59, dies of heart attack while holidaying in Bangkok
claudiatan@asiaone.com