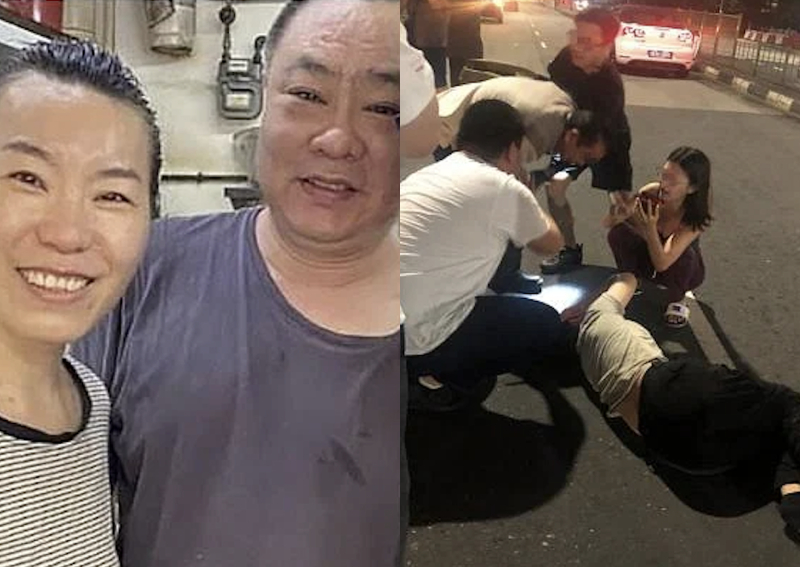 This man is left picking up the pieces after his wife, a mala hotpot stall owner, was hit by a car while on her way home. 
The accident happened on Tuesday (Jan 31) at around 9.40pm, Shin Min Daily News reported.
In an interview with the Chinese daily, Lu Zhikui, 50, shared that he and his wife, 45-year-old Gao Hongjuan, run a mala hotpot stall at Fu Jiang Seafood coffee shop along Bukit Batok Street 23.
While their daily routine in the past four years included riding home in bicycles after closing the stall, Lu shared that on the day of the accident, his wife went without him first.
Describing how he was notified of the accident through a customer, the man said: "I immediately hurried over to check the situation".
Driver 'did not see' traffic light
There were several kind-hearted passers-by who lent a helping hand, Lu shared, adding that he is grateful that they comforted his wife and assisted in calling an ambulance.
One of them who witnessed the accident told the man that his wife was flung out of her bicycle after being hit by a car.
When Lu asked the car driver if he had run the red light, he said that the former claimed that he did not see the traffic light.
Responding to AsiaOne's queries on Wednesday (Feb 1), the Singapore Civil Defence Force (SCDF) said that they were alerted to the road traffic accident at the junction of Bukit Batok Street 21 and Bukit Batok East Avenue 6.
One person was conveyed to National University Hospital, they said.
The police told AsiaOne that they were alerted to the accident involving a car and a cyclist, adding that investigations are ongoing. 
Burdened by 'ballooning' medical expense 
Unfortunately for Lu, his worries are far from over.
Speaking to Shin Min Daily News, he said that as his wife holds a Long-Term Visit Pass, the accident has caused the couple to incur high medical expenses.
The hospitalisation fee for one night alone yesterday (Jan 31) was $6,000 after subsidies, the Singapore permanent resident said, adding that his wife would need to be warded for at least a week.
"My wife had just undergone an X-ray. She would need to undergo surgery if she's suffering from a head injury, the medical expenses could skyrocket to $30,000," the worried Lu said.
With the business set to close while his wife is in hospital for a week, Lu estimated that losses to the business could be around $6,000. 
The man shared his uncertainties if he could seek the car driver, who was involved in the accident, for compensation to pay for the medical expenses. 
$450,000 raised for Singaporean pastor
In another incident of people being burdened by high medical expenses, the family of a 59-year-old Singaporean pastor started a Give.asia crowdfunding campaign after he was hospitalised in South Korea in October last year. 
The family, who has already used their savings to pay some $150,000 in medical bills, turned to crowdfunding to cover the cost of Low's "ballooning" hospital bill and his medical evacuation back to Singapore.
Each day in the hospital was costing them $2,000.
The crowdfunding campaign ended in January with the total amount raised at $450,480.
ALSO READ: Charity raises over $50k for widow of delivery rider killed in Gambas Ave accident