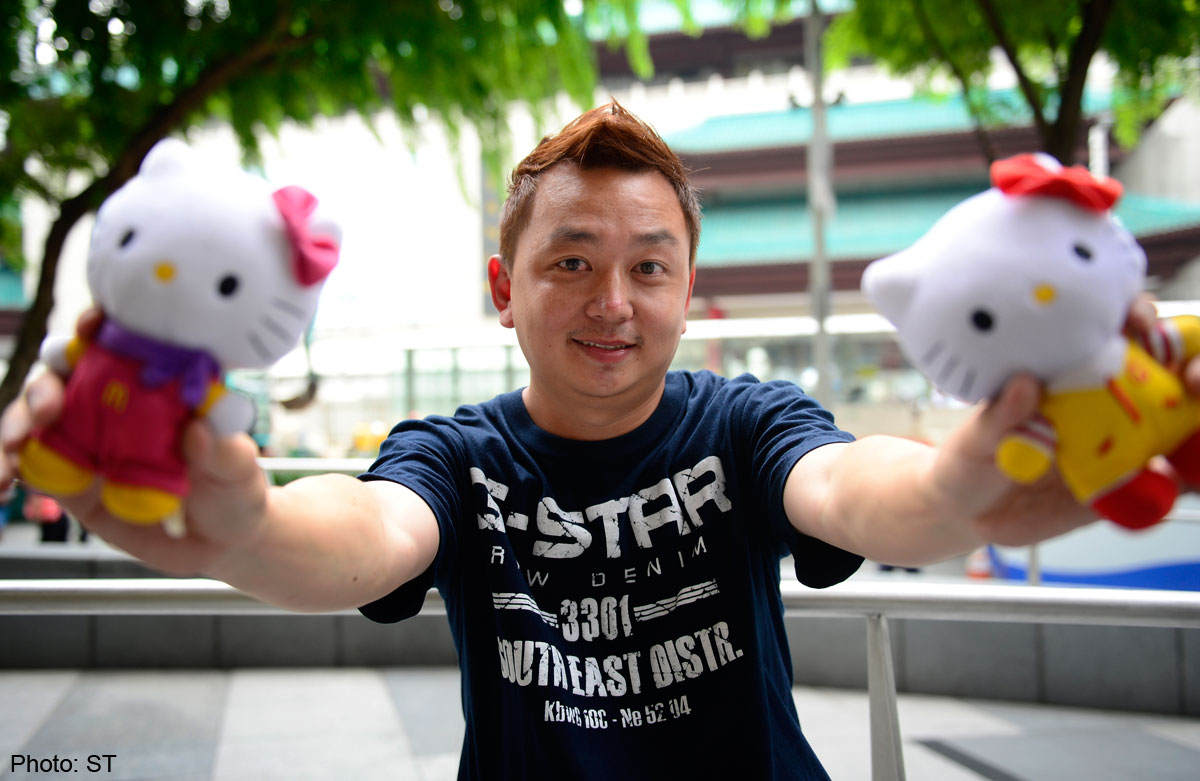 SINGAPORE - He did not even like that cat.
But 18-year-old Matt Tze queued overnight and jostled with hundreds of other Hello Kitty-crazed fans to get his hands on 20 of the soft toys.
It was the year 2000, and the Hello Kitty craze here had taken hold like a fever.
Thousands of people laid siege to branches of fast-food giant McDonald's, which had begun offering different pairs of the round-faced, mouthless cat to customers who bought their Extra Value Meal.
Fights broke out and people fainted from hours of queuing. Then Deputy Prime Minister Lee Hsien Loong called the phenomenon "a bit strange", and told people not to get carried away.
Mr Tze was snapped as he emerged from a McDonald's at Orchard Road clutching his bounty. And the exuberance on his face captured perfectly the nation's obsession with the Japanese icon, which remains undiminished to this day.
But behind that smile is a tale of irony, loyalty and love.
To start with, Mr Tze does not care for Hello Kitty. As a favour to a friend's aunt, the Secondary 4 student and 10 classmates from Serangoon Secondary had feigned illness and skipped school that Thursday morning to get the toys.
The next day, the school's discipline master hauled him up.
"He threw The Straits Times on the table and showed me the photo. I was like, 'Huh?' It was quite big, you know, on the third page," said Mr Tze, now 32 and an interior designer at Fusion Concept Interior.
Exposed, he had no choice but to admit his guilt, especially as he had identified himself and his school in the photo. He had also told then Straits Times photographer Alphonso Chan that ten of his classmates - who were luckily not in the shot - had joined the escapade.
The discipline master demanded he rat them out.
"He asked me, 'Which of your classmates?' I said, 'Oh, I meant ex-schoolmates, not classmates.' "
For his unflinching loyalty, Mr Tze received three strokes of the cane.
He took them gladly, he said.
His sacrifice, it turns out, was motivated by affairs of the heart as well.
Among his partners-in-crime that day was his girlfriend, Ms Xu Kejia, who is now his wife.
They were childhood sweethearts, who met when he was 16 and she, 15.
Mr Tze shrugs off any praise for his actions.
"It could be a fun story to tell the grandchildren," he said.
To this day, he cannot understand why so many people here swoon at the sight of Hello Kitty. His wife and seven-year-old daughter feel the same way.
Queues for the toys formed again at the most recent launch of the toy in April this year, and McDonald's had so many orders online that its website crashed.
Thinking back on the photograph that gave him his 15 minutes of fame, Mr Tze let his true feelings emerge.
"Siao (Hokkien for crazy) eh! For people to go and queue for over 10 hours... I think it's ridiculous."
davidee@sph.com.sg