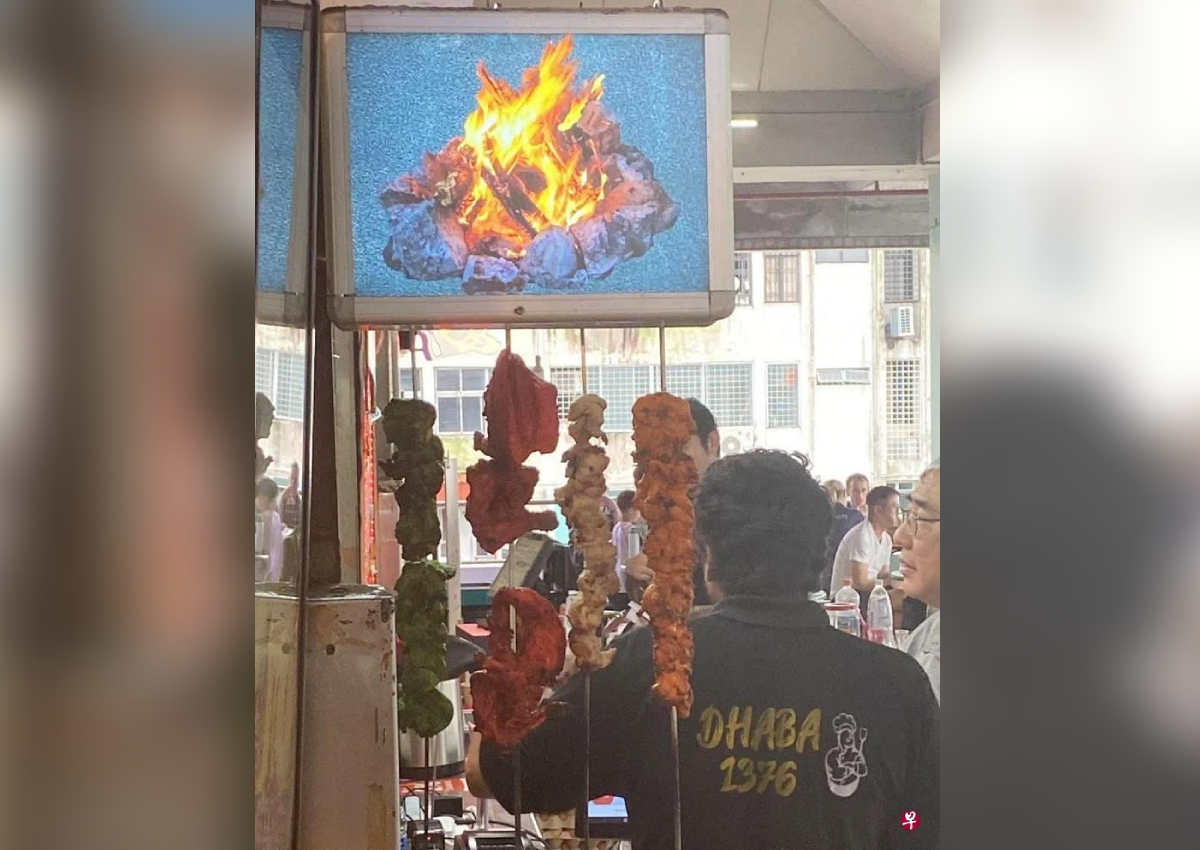 This hawker stall in Beauty World has come under criticism after its method of cooling down grilled meat raises concerns about hygiene.
Speaking to Shin Min Daily News recently, a diner shared that the owner of a stall in Beauty World Food Centre would hang skewers of meat below a signboard.
Besides kebabs, this North Indian stall also sells other fare such as pratas and curries. 
The dusty signboard looked like it has not been cleaned in years, the woman said, adding that she was worried about food safety and other hygiene issues.
When a reporter from the Chinese evening daily visited the stall on Monday (March 6), he noticed that the signboard in question actually belongs to a BBQ stall next door. 
An employee from the North Indian stall was also seen cleaning the signboard.
Speaking to Shin Min Daily News, the 47-year-old stall owner shared that because of the limited space in his stall, he leaves the meat hanging outside to cool them down. 
He has thought about changing the layout of the stall, said the man, who has been running the stall for five years.
But using the signboard to hang his food is only a temporary measure, he said, adding that it's done only during the weekends when there are more food orders.
Unwanted pests at Teban Gardens food court
In another incident of hygiene issues in coffee shops, diners at Teban Gardens Market and Food Centre were disturbed by a video of pesky birds searching for food.
A TikTok video, which a diner uploaded last Saturday (March 4), showed two tray return areas that were stacked with used cutlery and crockery.
Over a dozen birds could be seen pecking away at the leftover food.
https://www.tiktok.com/@tohhongchuah/video/7206521439904599304?is_from_webapp=1&sender_device=pc&web_id=7161994054723814913
In the comments, several netizens said the issue lies with the tray-return policy.
Some also pointed fingers at the cleaners and accused them of "not doing their work".
Speaking to AsiaOne on Monday (March 6), one of the diners at the Teban Gardens food court said that he found the whole thing "very natural".
"Those leftovers are unwanted by us; [the] birds are helping us to clear [the food]," he said, adding that he even found the birds "cute".
ALSO READ: Woman finds worm in laksa from Woodlands stall, netizens wonder if it's part of secret recipe