While most people are staying home during the circuit breaker, a few others are out and about, but not without their face masks on.
However, not everyone is complying with the new measures introduced to curb the spread of the coronavirus.
On April 12, an elderly woman snapped at an enforcement officer at People's Park Centre when he reminded her to put on a mask.
Instead of complying, she told him in a mixture of English and Mandarin: "I don't like people forcing me. Now I go out, I don't care or what [sic]."
In a video clip posted on Facebook, the woman was seen pausing for breath before saying: "Don't agitate me, I have asthma."
The officer explained that he was concerned about her health and suggested that she ask her family members to do shopping on her behalf. Another passer-by reminded her that she should be staying home.
But she retorted: "It's my problem if I die."
Despite their well-intentioned advice, the woman continued: "I have one box (of masks)… but because of something I don't want to wear [sic]."
She also insisted that the rule of wearing a mask when visiting supermarkets, convenience stores, pharmacies and shopping malls started on April 13 when in actuality, it kicked in on April 12.
"Tomorrow onwards, I won't go out."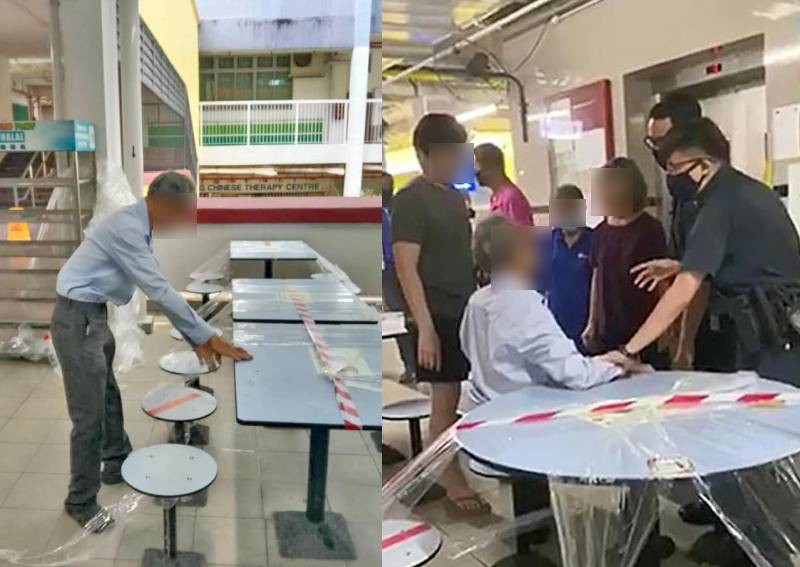 Meanwhile, an uncle frustrated by the sight of cordoned-off tables at the nearby Chinatown Complex Food Centre caused a ruckus on April 13.
In a separate video clip shared by All Singapore Stuff, he was seen tearing off cling wrap off the tables and chairs before he got into a heated exchange with police officers.
A hawker selling roast meat there told Shin Min Daily News that the elderly man runs an electronics store in the same complex and had been tampering with the wrappings over the past few days.
He got bolder and started to tear the cling wrap off the tray return area and the tables. That was when the area's cleaning supervisor called the police for help.
The officers attempted to calm the agitated man down and explained to him that the area had been cordoned off for public safety.
When they asked him if he understood the gravity of the situation, he replied "Yes, I know but we're not Malaysia" in Mandarin.
Since April 7, customers are not allowed to dine in eateries such as hawker centres. Only hawkers can use the table nearest to their stall to take their meals.
In recent days, the multi-ministry task force has called for extra vigilance to protect the elderly who are more vulnerable to Covid-19.
Research published in The Lancet has found that those aged 50 and above who are infected are more likely to be hospitalised, and a greater proportion of those cases are likely to be fatal.
For the latest updates on the coronavirus, visit here.
lamminlee@asiaone.com