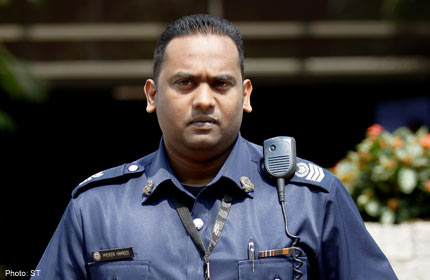 LITTLE INDIA RIOT INQUIRY
The crowd gathered around the bus was "fast becoming uncontrollable", said Senior Staff Sergeant (Staff Sgt) Mydin Sahul Hameed.
He and his partner, Staff Sgt Mak Chung Kit, were the first police officers to reach the scene as they were nearby at the time.
He said at least 100 people were crowding around the bus, and some said their friend had been killed by the driver and they wanted the police to bring him to justice.
"I told them that we would if they allowed us to do our job. I then told them to move back and to allow me to handle the situation," he said.
But they did not heed his advice and told him in Tamil that they were not respected in Singapore. The mob, who were "highly emotional", continued crowding around the bus. Many had slurred speech and seemed to be drunk.
Later, Senior Staff Sgt Mydin joined the human barricade at the bus. As the situation worsened, several officers, including himself, were hurt by projectiles thrown by the rioters.
Get The New Paper for more stories.