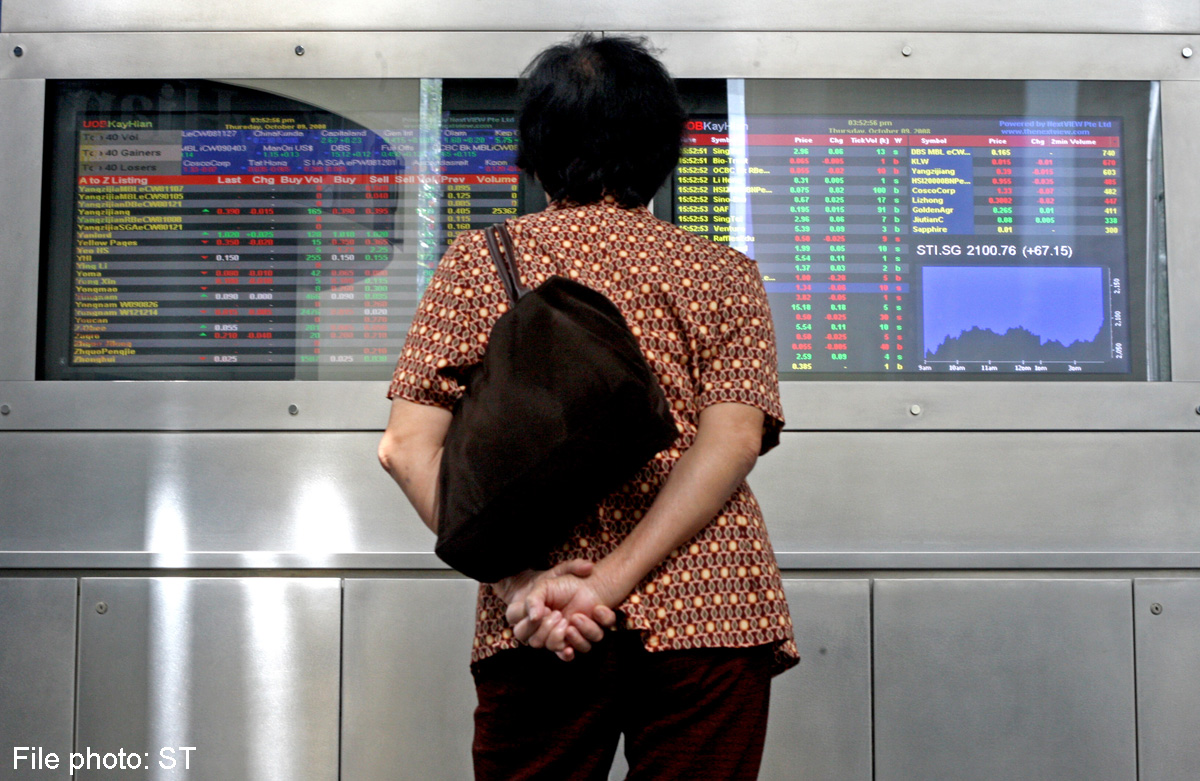 SINGAPORE - Trading was brisk on the local market yesterday but all the activity barely registered on the benchmark index, which ended the day unchanged.
The Straits Times Index closed just 0.02 point lower at 3,133.74. Volume was robust, with 4.04 billion shares worth S$1.13 billion changing hands.
Elsewhere in Asia, bourses were more upbeat as China's central bank added more than US$42 billion (S$54 billion) to the financial system and expanded a lending facility to smaller banks to meet Chinese New Year money demand.
"The impact of the capital injection may last for a few days, and with controls on new listings keeping the market from becoming unsustainably exuberant, investors are becoming more willing to park their money in the stock market," Zheshang Securities analyst Zhang Yanbing told Dow Jones Newswires.
Shanghai surged 2.16 per cent, Tokyo gained 0.16 per cent, Hong Kong rose 0.21 per cent and Seoul advanced 0.33 per cent.
Singapore-listed real-estate investment trusts that have reported healthy quarterly earnings were among the strongest gainers at home.
CapitaMall Trust (CMT) gained a cent to S$1.89, Keppel Reit added half a cent to S$1.165 and Mapletree Industrial Trust (MIT) edged up a cent to S$1.325.
CMT said yesterday that distributable income for the fourth quarter was 18.3 per cent higher than that for the same period a year earlier, while Keppel Reit said on Monday that distributable income for the fourth quarter grew 5.9 per cent.
Barclays Research has a positive rating on MIT, which said on Tuesday that its third-quarter distributable income had risen 12 per cent. Analyst Tricia Song said the trust is the market leader in the flatted-factory space.
Bucking the trend, Ascott Reit slipped half a cent to S$1.23, after saying on Tuesday that full-year distribution rose 15 per cent year-on-year to a record high of S$114.8 million.
CIMB Research has a "hold" rating on the stock, with analyst Tan Xuan noting that the trust's price has rebounded about 6 per cent since plummeting to a low of S$1.17 after its rights issue in November.
Shipbuilder JES International slid 0.6 cent to 18.2 cents. A Voyage Research report yesterday said the firm's growth outlook is positive, given recovering trade and stabilising freight prices.
However, analyst Ng Kian Teck said he is concerned about JES' balance sheet and the commercial feasibility of a huge magnesium mine in China that the firm has invested in.
myp@sph.com.sg
This article by The Straits Times was published in MyPaper, a free, bilingual newspaper published by Singapore Press Holdings.

Get a copy of The Straits Times or go to straitstimes.com for more stories.