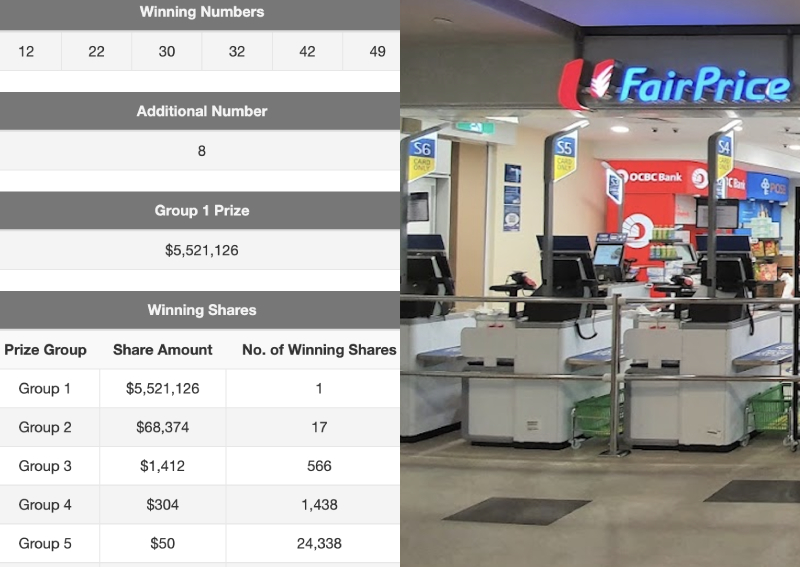 A lucky punter has possibly the best start to the new year — by bagging himself a huge windfall.
How much is in the bag? A whopping $5.5 million, according to the announcement of Friday's (Jan 6) Toto draw on the Singapore Pools website.
What's most astounding was that the winning ticket was a QuickPick Ordinary Entry, meaning the punter placed a $1 bet for a random set of six numbers that were generated from the system.
The winning numbers were 12, 22, 30, 32, 42, 49, with an additional number of an auspicious 8.
The punter had bought the winning ticket at a FairPrice outlet at Canberra Plaza.
Aside from this winning ticket, the same outlet had previously sold three Group 2 winning tickets in 2022.
There have also been others who have recently won big with just a $1 lottery bet.
Last November, a punter landed a $5.68 million windfall by placing a bet at a Prime Supermarket outlet along Chai Chee Road.
And in January 2022, two lucky punters shared the Toto grand prize of around $10 million.
One ticket was bought at an authorised retailer located at Orchard Plaza, while the other was bought at Tampines Mall via QuickPick System 7, with a minimum bet amount of $7.
ALSO READ: 'Rare chance, and I threw it away': Woman asks garbage disposal workers for help after losing winning 4D ticket
No part of this story or photos can be reproduced without permission from AsiaOne.