'Maybe our salary more than yours': Delivery rider flexes his $6,500 earnings, rants about being looked down on
PUBLISHED ON
February 23, 2023 9:29 AM
By
Melissa Teo
Does your salary define your worth?
For delivery rider Ifah Wan, some people apparently turn their noses up at his blue-collar work delivering food because of perceptions of unattractive pay.
But fed up with being looked down on, he shared in a TikTok video on Wednesday (Feb 23) about how much platform workers like him can earn.
"Yes, it's true, I have to admit that we don't have a basic salary. But then, do you know how much is our salary average?" he asked at the start of the one-minute video. 
Ifah goes on to explain that if riders were to work "full-time for around eight to 10 hours a day non-stop", their takings can "easily reach" $6,500 a month. 
Ifah also said that it isn't necessary for riders to work seven days a week. 
"You can actually work four days a week but maybe longer hours." 
"So please don't look down on us because maybe our salary is much more than yours," he concluded. 
Some netizens didn't take too well to Ifah's video, and accused him of looking down on others instead.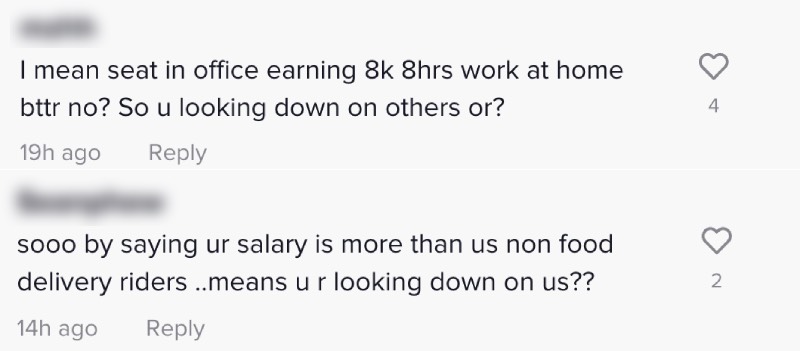 Ifah clarified to one netizen that he was not boasting and that he was just "annoyed" with people who don't think highly of delivery riders. 
But there were also netizens who expressed concern towards Ifah and told him that while he is in a good place now, he should not depend on being a delivery rider forever. 
To that, Ifah clarified that he is just doing delivery orders as a side hustle and that he actually has his own business. 
There were even netizens who praised Ifah for his hard work, thanking him and other delivery riders for bringing them their food. 
And then, there were some delivery riders who told Ifah to not expose their salary or they would have to declare their income. 
AsiaOne has reached out to Ifah for more details. 
'Not a job for everyone' 
Last December, a food delivery rider went viral for claiming that he earned $865 in two days. 
"Being a food delivery rider is often seen as a menial job, but it's legitimate income in exchange for hard work," said the rider Billy Cane, a Malaysian who does deliveries in Singapore. 
While the money sounds good, Cane warned that being a food delivery rider is not for everyone. 
The man revealed that he worked more than 12 hours on Dec 11, from 8am to almost 9pm, to complete 36 orders.
Apart from that, he's had to carry heavy objects – bags of rice and more than 20 bottles of 1.5-litre mineral water – as well as travelling long distances for long hours till his knees hurt for weeks.
There were also times where he would have to skip meals while working. 
"There are still many reasons [on why being a delivery rider is tough], but I won't list them because it would [make the job] unattractive," he said. 
ALSO READ: Food delivery rider claims he made $8,500 in one month - is that even possible?
melissateo@asiaone.com
No part of this article can be reproduced without permission from AsiaOne.