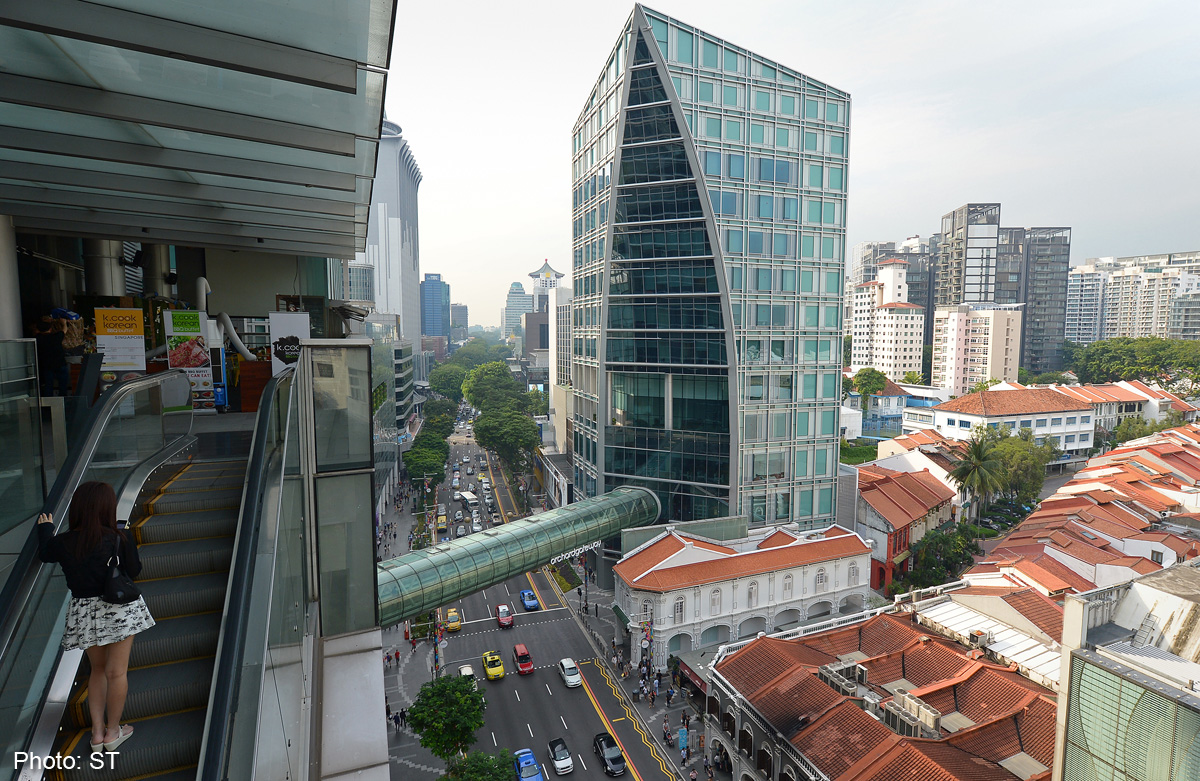 Although progress has been slower than hoped for, an ambitious plan to transform Orchard Road into a megamall connected entirely by a network of linkways is inching ahead.
By next year, at least three more overhead and underground linkways will go operational, providing direct routes for those on foot to stroll seamlessly from mall to mall.
A link bridge between The Centrepoint and Orchard Point, for instance, was completed recently and will open once it is certified by the authorities, said The Centrepoint.
Basement and overhead walkways that connect The Heeren and the new 268 Orchard Road (the former Yen San Building) have already been built and can be used when the new mall is expected to open in the second half of next year.
Paragon is also likely to be linked up with a soon-to-be built residential and commercial development that replaces the old Cairnhill Place carpark. The Cairnhill property's owner, CapitaLand, told The Sunday Times that it is in talks with Paragon to build an overhead linkway.
These new links are part of efforts by mall operators to revitalise Orchard Road by making the shopping district more inter-connected.
There are currently nine underground walkways and two overhead links among 13 shopping centres in Orchard Road. These include the first-ever Orchard Gateway glass skybridge over the main thoroughfare.
An Urban Redevelopment Authority (URA) spokesman said that the priority is to ensure that pedestrians enjoy a seamless and connected pedestrian experience, where covered walkways and elevated linkways complement underground pedestrian links.
"These links create a multi-level network to enhance pedestrian connectivity and convenience,"she added.
But convincing building owners to build underground in recent years has been more of a headache.
The Government in 2012 tried to persuade them to construct another 12 underground linkways, like the passages connecting Paragon, Lucky Plaza and Ngee Ann City.
Then, URA said it would offer higher grants to building owners to do so, and would even give bonus retail floor space in the linkways. Building owners are also not allowed to redevelop or conduct major structural works for any building where the URA wants an underground linkway, unless the owners' redevelopment plans include the link.
But since they cost four times more than overhead link bridges to build, none of the underground passages materialised, although more overhead ones have popped up.
Swee Cheng Holdings, which owns The Heeren, however, is bucking the trend. It said it has built knockout panels that can make way for future expansion of underground tunnels that can link to Faber House or even Somerset MRT station.
Whether overhead or below ground though, shoppers welcome being able to walk with ease from building to building.
Said advertising executive Karen Lee, 38, who heads to Orchard Road at least once a week: "It will be less of a hassle to move around and I don't have to worry about the weather or jostling with people at traffic junctions or when crossing the road."
jermync@sph.com.sg

Get a copy of The Straits Times or go to straitstimes.com for more stories.