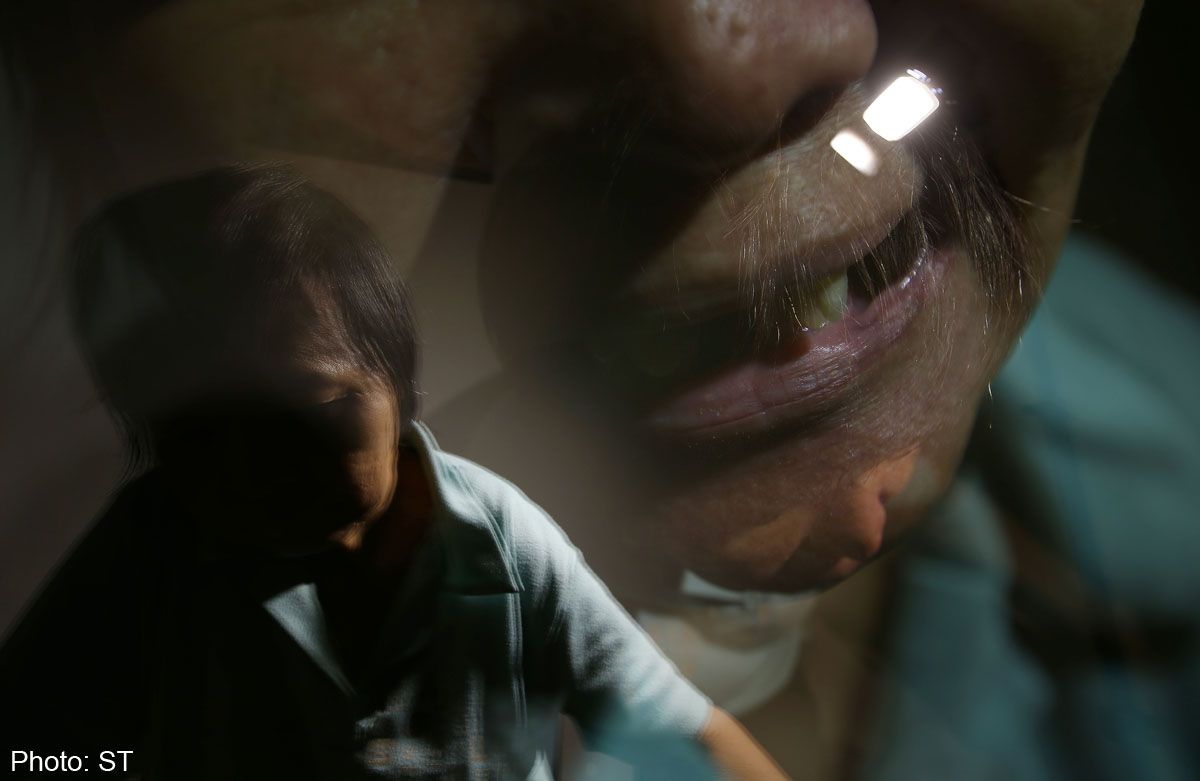 An elderly widow entrusted the sale of her Housing Board flat to her only child, only to have her daughter pocket the proceeds, dump her mother in hospital and disappear.
Three years on, the daughter is still missing. The mother is still alive, with dementia and in a nursing home.
Around a third of close to 100 victims of elder abuse were cheated of their savings or property or harassed for money by family members, according to a new study by Trans Safe Centre, a voluntary welfare agency which specialises in the issue.
More than half of the victims were physically abused - beaten up, punched, pushed or scratched - and seven in 10 reported being psychologically abused, facing threats, taunts and insults.
Eight in 10 victims were women, usually mothers, while half of the abusers were sons, and a fifth of them, daughters.
The study by social workers Odelia Chan, Ho Gang Hiang and Tan Ching Yee looked only at "substantiated" cases of abuse, where there was physical evidence of wrongdoing or where the abuse had been witnessed by a third party. The victims were aged 60 and above.
While there were fewer cases of financial exploitation than verbal or physical abuse, the numbers may well rise with the increase in the number of better-off older people, said Ms Chan, the main author of the Trans Safe report.
"It's happened in countries like the United States. More cases may well happen here," she said.
Those who face physical or verbal violence can take out court-sanctioned personal protection orders (PPOs) against their abusers, but these orders cannot prevent financial abuse, noted Ms Chan.
Minister for Social and Family Development Chan Chun Sing announced during a visit to Trans Safe last Thursday that Singapore would have a new law next year to better protect vulnerable adults, including the elderly.
Social workers like Ms Chan hope the new law will strengthen protection against financial abuse.
She spent two years trying to find the woman who disappeared after selling her mother's flat. "We lodged a missing persons report and spent months trying to track her down, but with no luck," she said.
The centre has seen cases of adult children fleeing overseas after pocketing the proceeds from the sale of their parents' flats.
The study found that older people are abused not only by caregivers stressed by the burden of providing constant care and financial support.
In fact, 30 per cent of the abusers were financially dependent on their elderly victims. Less than a quarter of the victims were financially dependent on the abuser.
Ms Tan, the centre director, said that in many cases, relationship problems exist before the abuse begins. But financial abuse is by no means the only area of concern.
She recalled how a social worker found an elderly man sprawled on black garbage bags on the floor of a flat a couple of years ago.
He was all skin and bones, wearing only a diaper and delirious from the lack of food and water.
A photograph she showed of the man when he was found is too distressing to be published. He was taken to hospital and recovered, but died subsequently.
"Our social worker spent more than four hours on the eve of a public holiday trying to convince the family to allow her access to the old man," said Ms Tan. "Had they refused, there would have been nothing we could have done."
The centre's report recommends mandating access to vulnerable adults who are not in a position to seek help themselves.
Ms Tan hopes the new law will do just that.
There are no recent official estimates of how many elderly people are abused in Singapore, but Trans Safe Centre saw 60 new cases in the first six months of the current financial year, double the number it saw in the previous year.
Pave, the lead agency for family violence, said it has seen 25 cases, including several of sons harassing their mothers for money.
More parents are also applying for PPOs against their children. There were 254 applications last year, up from about 160 a year in the mid-2000s.
The available numbers may well be only the tip of the iceberg.
Ms Tan said it is especially hard for parents to speak out against their children, so few are willing to report such cases. "You can divorce an abusive husband, but you can never divorce your own child," she said.
One of her centre's clients is Madam Tan (not her real name), a retired dishwasher who says she has been abused and assaulted by her unemployed son and his wife.
The younger couple live with Madam Tan in her three-room flat. She is only 57, but looks a decade older.
She said that after an argument over money in May, her daughter-in-law twisted her left hand and pushed her, fracturing a finger. The younger woman, she claims, is mentally ill.
After another argument in July, she said, her daughter-in-law hit her head repeatedly against the iron grille on the front door. It knocked out a front tooth and left her with a bleeding scalp and gums.
"They are too poor to buy their own flat, but they have made my life hell," she told The Sunday Times during a teary interview, clutching a plastic bag full of police and medical reports chronicling the abuse.
She is trying to evict the couple. The Sunday Times did not contact the son and his wife to avoid compromising Madam Tan's safety.
"Sometimes I feel so scared that I cannot sleep at night," she said.
radhab@sph.com.sg

This article was first published on Nov 2, 2014.
Get a copy of The Straits Times or go to straitstimes.com for more stories.