Those living in a foreign country would understand the struggles of keeping up with different currencies, especially when they're making payments.
One such individual is Hana, a Thai-Japanese exchange student in Singapore who recently found herself without the correct bills to pay for her Grab ride.
The 20-year-old undergrad from Monash University in Malaysia had ringgit on her, but not Singapore dollars.
Instead of finding the situation troublesome, the driver showed Hana kindness, an act which she shared about in a TikTok video on Monday (March 13). 
In the clip, the driver was seen counting a stack of Singapore dollar notes while muttering in dialect. 
Next to the driver were the two RM50 (S$15) notes that she had passed him. 
"I accidentally only brought Malaysian Ringgit. But the uncle was so kind to receive ringgit," she wrote in the caption. 
https://www.tiktok.com/@hanae_nakaa/video/7209731132156415233
After confirming that she should get back $2 in change for her $24 fare, he passed her the change.
"Is it okay uncle?" a concerned Hana asked as the driver reassured her it was all right. 
She then thanked him profusely in Mandarin. 
Just as Hana was about to leave the car, the driver even suggested that she should call a taxi for her next ride as they accept physical credit card payments, unlike Grab. 
Passenger doesn't have Singapore bank account
Speaking to AsiaOne on Tuesday, Hana explained that she had gone back to Malaysia two weeks ago, so she had ringgit on her table. 
"I accidentally brought [the ringgit out] thinking they were Singapore dollars," she said. 
The young woman only realised this blunder when she tried to pay for her ride and the Grab driver pointed it out. 
"It's blue and [the value was RM50] so it looks similar [to Singapore's $50 notes]," Hana explained. 
And since she is an exchange student, Hana doesn't have a bank account in Singapore and hence she could not try other payment options such as PayNow or PayLah. 
She also offered to pass the driver her phone number so she could ask her friend to help transfer the money to him, but he told her: "Never mind, I can accept ringgit." 
Kind strangers still exist
In the video's comments section, several netizens praised the driver for showing kindness to Hana. 
One, however, said that not all drivers would be this considerate.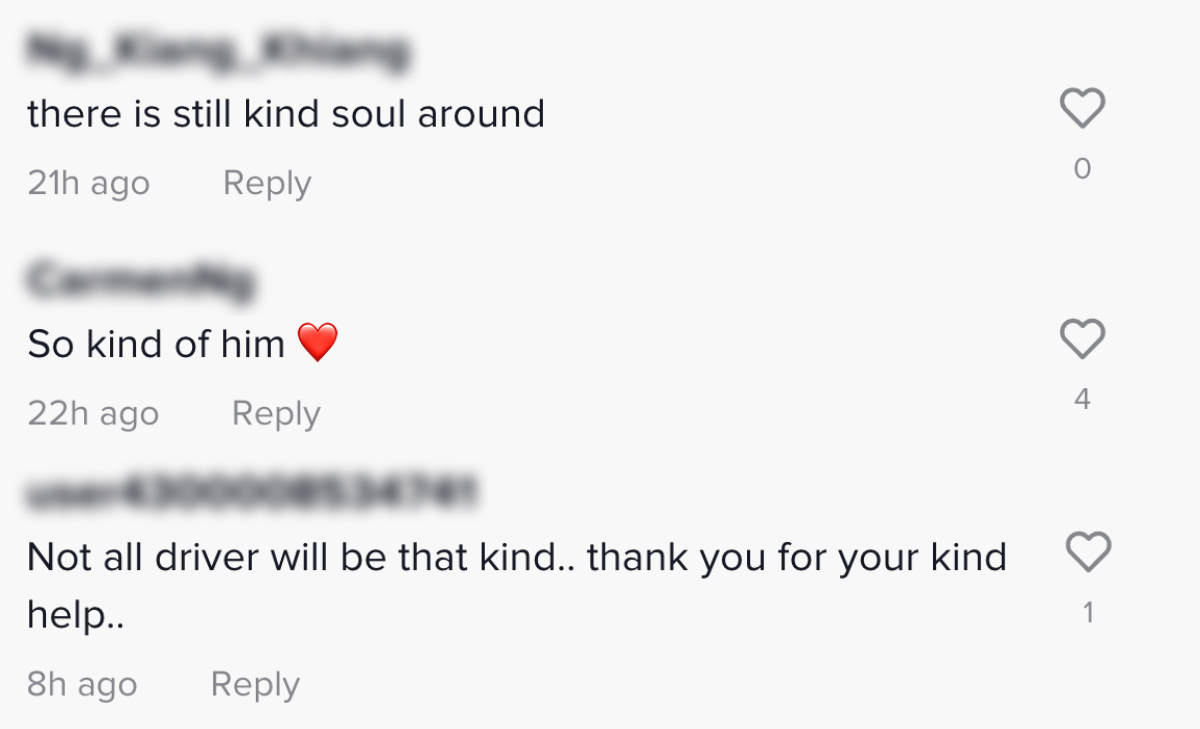 But what stood to others was how Hana could've gotten the math wrong when calculating how much change she should've received.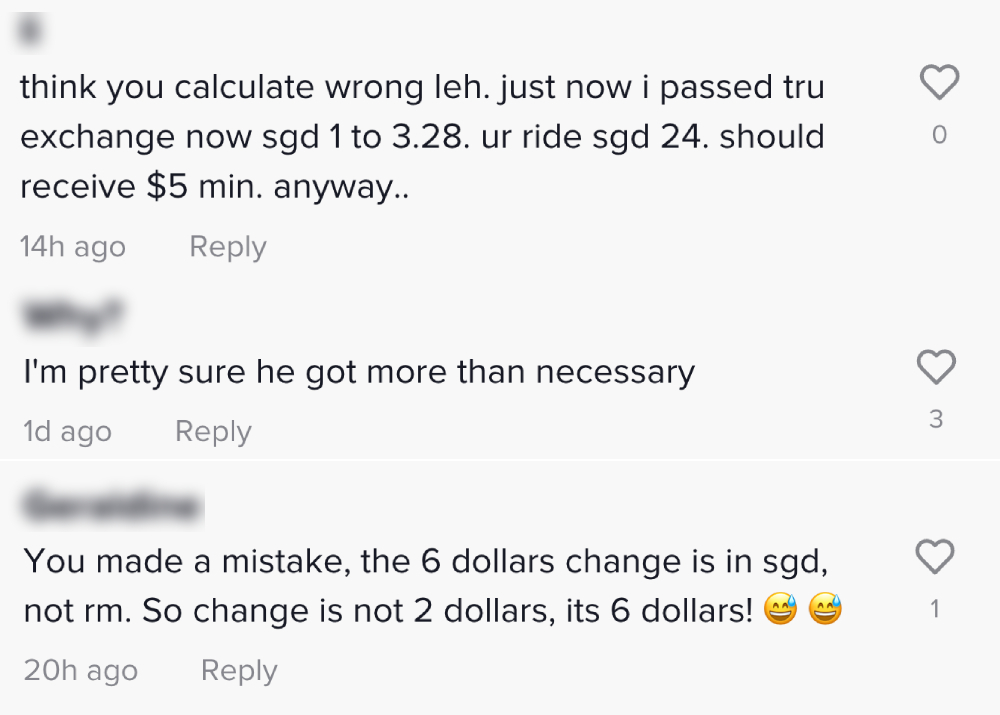 ALSO READ: Singaporean man buys milk powder for driver's son while holidaying in Bali
No part of this story or photos can be reproduced without permission from AsiaOne.